Home security cameras are an essential security device for today's smart home and GearBrain has tested many of these devices. But we've never put a security camera with 350-degree panning capability into trial — until now. Meet Samsung Wisenet SmartCam A1 Indoor Home Security Camera, a Wi-Fi enabled indoor security camera with full HD monitoring, 2-way communication plus additional features which turn this device into a do-it-yourself (DIY) home security system. The company sent us a device to test and here is what we found.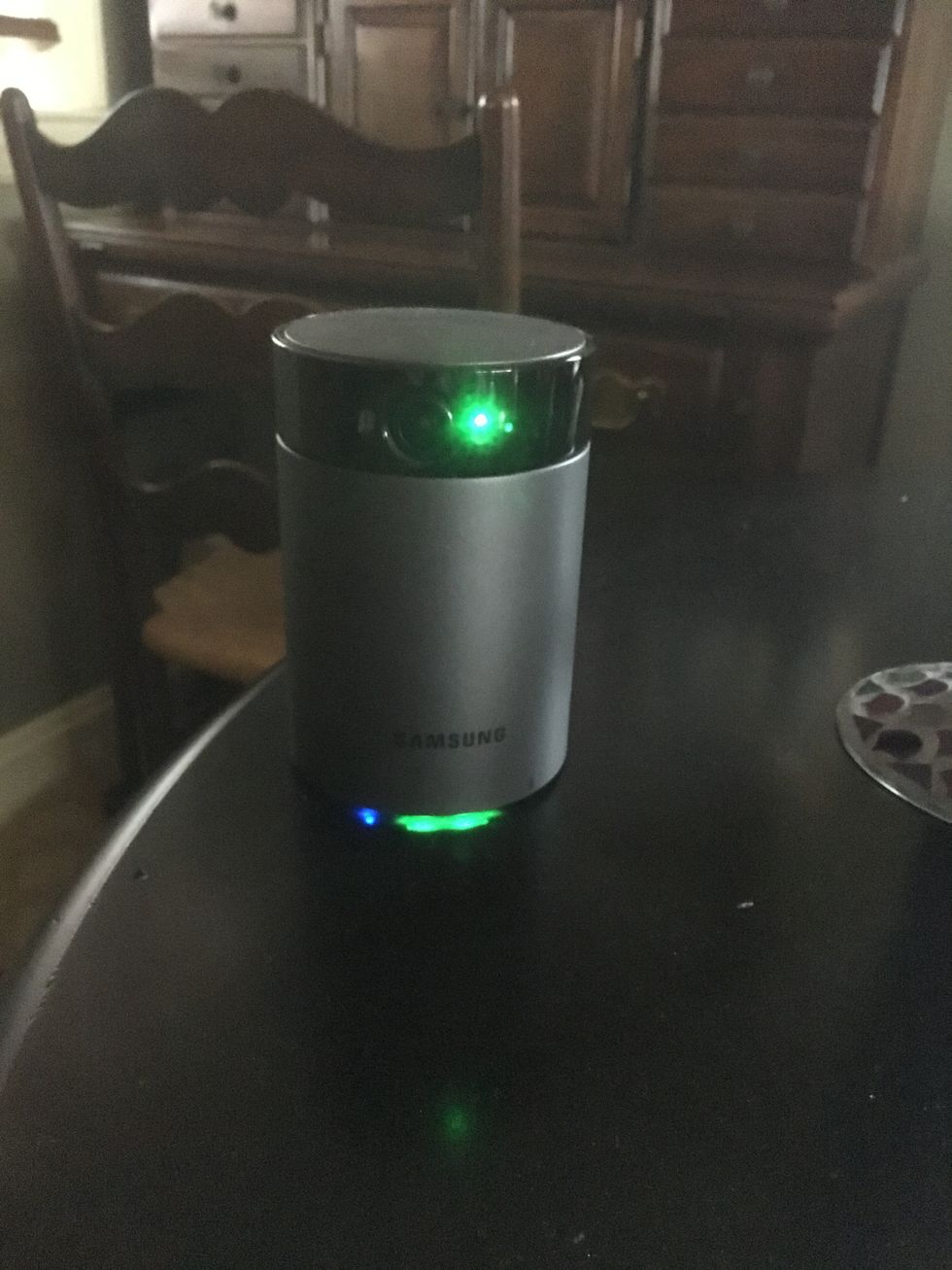 Samsung Wisenet SmartCam A1 Security Camera
What is the SmartCam A1 Security Camera?

SmartCam A1 security camera is a good standalone camera, and a respectable device for consumers looking for a DIY home security camera or system. When unboxing the SmartCam Security Camera, you'll find a station hub, indoor station camera, station hub power adapter, Ethernet cable, Quick Start Guide and a warranty card.
The A1 security camera sits on top of the station hub and offers 1080p full HD monitoring. The camera, when taken off the station hub, has an individual field of view (FOV) of 130 degrees which is very good for a home security camera today. But when on the base, the camera provides 350 degrees (175 degrees in either direction) panning. This is the first Wi-Fi enabled home security camera GearBrain has tested — and we have tested many security cameras — that can pan 350 degrees in full 1080p HD inside your home. This is a nice feature to have in a security camera. We just wish it could do this when it's not on top of the station hub.
The SmartCam A1 security camera is Wi-Fi enabled and is dual band. If you have either a 2.4Ghz or 5Ghz modem, the camera will work. We tested both and the 5Ghz modem had less of an audio delay, but everything else was equal.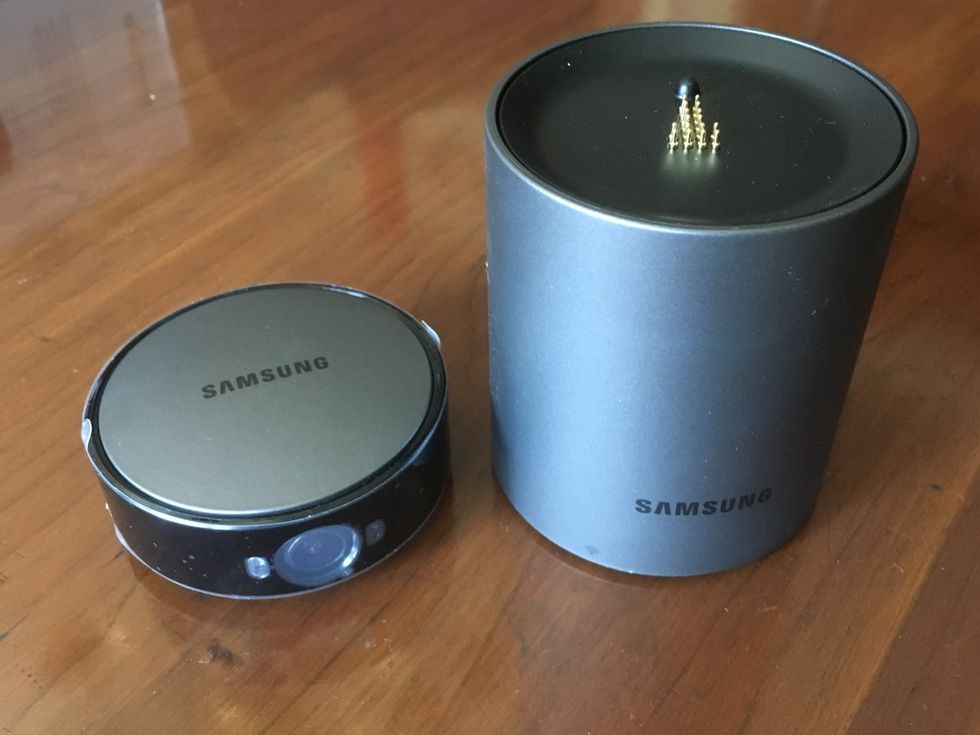 SmartCam Station Hub and HD security camera.
Features

The SmartCam A1 Security Camera has much to offer the person looking for a DIY home security solution in one camera. We really like the A1 Security Camera's audio and motion detection features, which sends you text notifications via the SmartCam app. You can program three different alarm sounds — at different sound and sensitively levels — in the app: a police siren, alarm and dogs barking. You can also schedule when you want to arm and disarm your camera — and when armed, the camera will record video if motion is detected.
When the A1 Security camera is armed, and you're alerted to motion detected in the space, you can flip to live video in the SmartCam app to see what's happening. A1 Security Camera starts to track the motion on its own too, a feature we like. You can also speak to anyone you see in the live feed — perhaps try to scare them to leave — but you can't sound the alarm unless you click off the microphone icon and activate the alarm. That felt strange. We wish the live feed allowed alarm activation as you're talking to someone — but you can only use one icon at a time in the app when viewing the live stream.
Many security cameras record video but charge to store this data in the cloud. Because the SmartCam A1 security camera doesn't store video feeds, there aren't any fees. Instead the A1 Security Camera stores any recorded videos locally on an SD memory card. (You'll need to buy that — it's not included in the kit.) Make sure you get an SD Card with up to 128GB of data: the maximum amount the camera itself will store.

The SmartCam A1 Security Camera allows support full HD monitoring of streaming videos, with 1080p and three HD settings: low, medium and high. On the low setting, we found the imagery very distorted when we zoomed in to the picture. The medium and high settings were very clear. The ability to zoom? That was a plus for the camera, which has a 4X zoom — particularly great for closing in tightly on a person's face or an object in a room. Night vision is also a nice feature and you can easily see up to 24 feet in the dark as well as a well-lit room.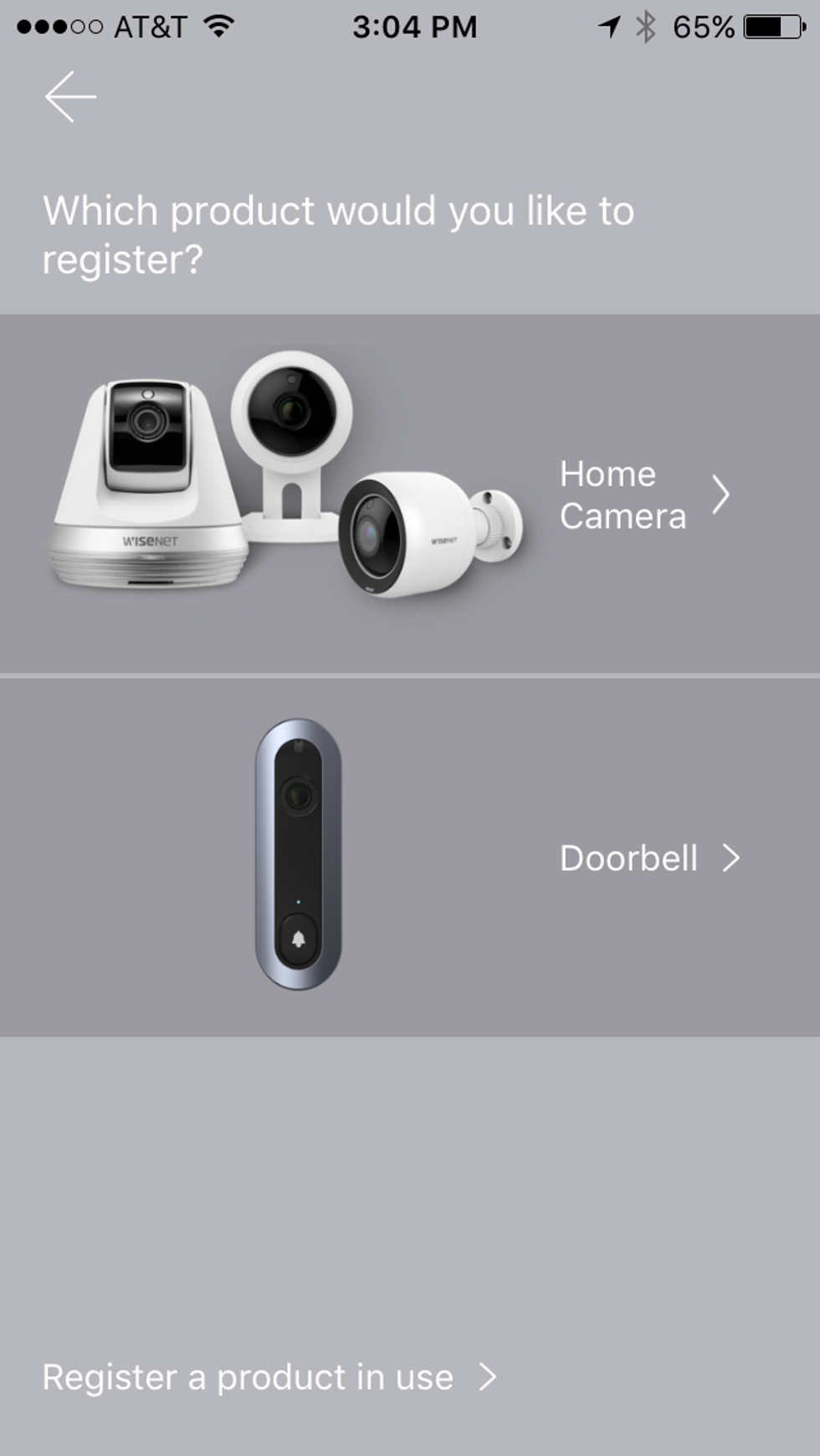 Samsung SmartCam app.
SmartCam A1 security camera also supports two-way communication. As we mentioned above, using the mobile app, you can press the microphone icon and talk to whoever is in the room through the camera's built in microphone like a walkie-talkie. The sound is crisp but there is a three second delay. When you're finished speaking, take your finger off the microphone icon to hear someone talking back to you.

Testing the microphone, we heard the delay but we found people near the camera could hear us clearly. You can also adjust the volume on both sides via the SmartCam app. One good thing to note: people in the room don't know there is a delay, which is ideal if you're actually dealing with an intruder and calling authorities at the same time.
All DIY home security type of systems or cameras send text notifications when motion is detected. But the SmartCam A1 home security camera sends alerts for both motion and audio, which worked during our tests. But recording only worked in these cases if we'd armed the camera. If the camera is disarmed, it won't record motion. It's also simple to turn these notifications on and off (if you find them annoying) and we also recommend adjusting both the audio and motion sensitivity, along with arming and disarming scheduling in the SmartCam app. You really want to make sure your alarm goes off when you actually need it.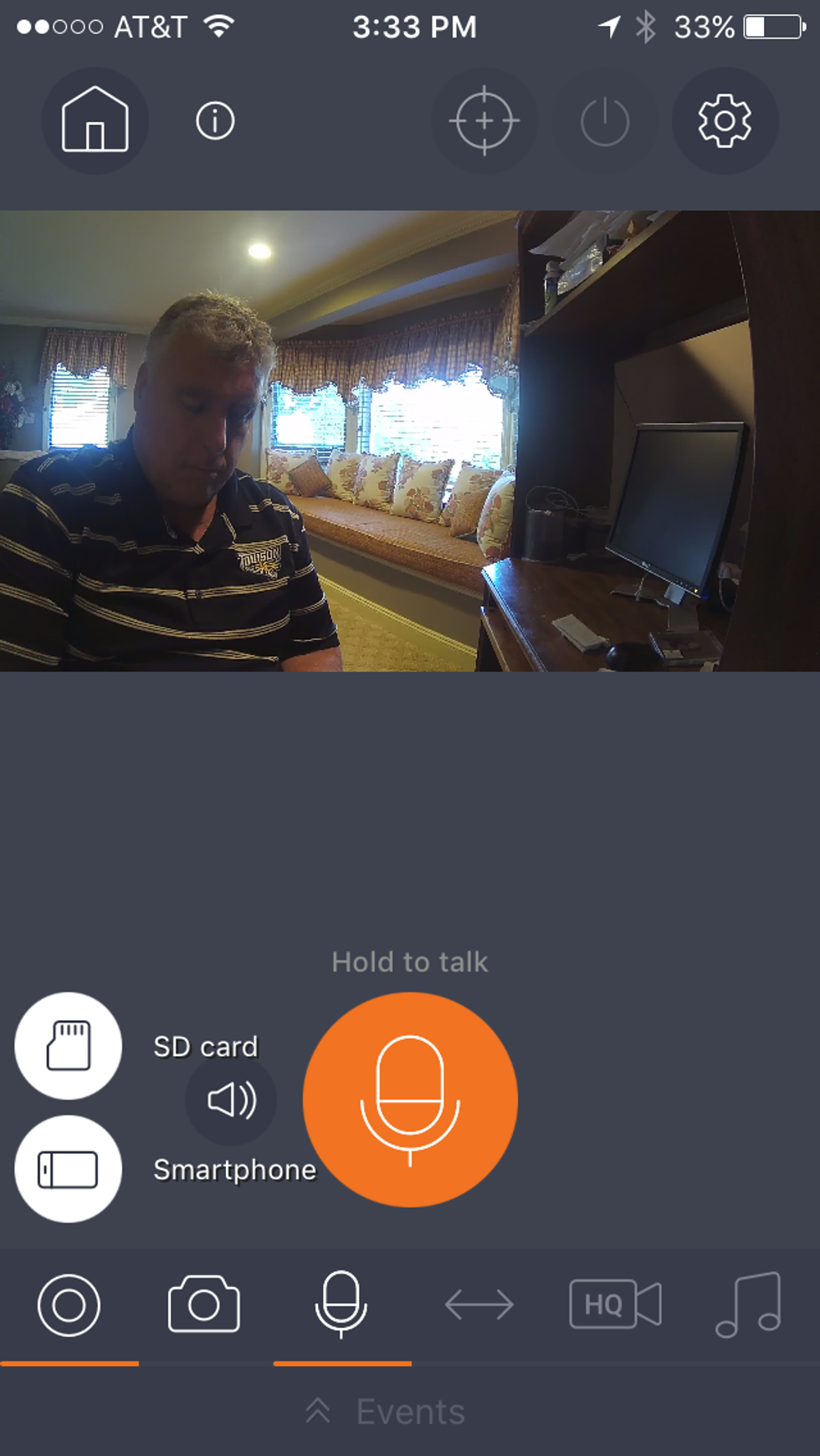 SmartCam app offers two-way communication via built-in microphone.
Non-Features

When building a smart home, you really want your devices to work with each other. That's key. We were surprised to find that there weren't any home automation integrations for the SmartCam A1 Home Security Camera. Yes, the device can be used as a standalone DIY home security system. And yes, you can add an unlimited number of A1 security cameras together to form your own DIY home security system. But consumers want — and need — the flexibility to add best of breed connected devices to their smart home system. Samsung says integrations aren't available right now with other smart home systems and devices like Apple HomeKit, Samsung SmartThings or Harmony Hub. However, integrations may be coming soon.
In some cases, brands are getting around smart home compatibility issues by using IFTTT applets to help integrate their devices with others. The SmartCam A1 camera does not have an IFTTT applet — nor do they have any on the drawing board either. The company has said this might be something in the future for them. But nothing is available today.
Specs
The SmartCam A1 Home Security Camera dimensions are 4.5 x 4.5 x 9.5 inches and requires high speed internet connection via a Wi-Fi router (8.02.11 b/g/n). The SmartCam mobile app is for iOS (8 or higher) and Android OS (5.0 or higher) devices. You can download the SmartCam app from either Google Play or Apple App Store. The camera retails for $178.99 on Amazon.
Summary

The Samsung Wisenet SmartCam A1 home security camera is a standalone DIY home security system. It offers incredible panning (350 degrees), good FOV, and has the essential elements for a home security network you want to monitor yourself: two-way communication, auto motion tracking, night vision and no fees.
We would have liked the system to work with other smart home devices — perhaps an integration with either a smart light manufacturer or a smart lock. The company does manufacturer a smart video doorbell which GearBrain is in the process of testing. But for those who already have smart home devices — like smart lights or locks — and want to add a DIY home security system or camera, this is not the camera for you.
However, If you're looking for a good indoor DIY home security system, with an all-in-one camera, then you can consider the Samsung SmartCam A1 camera. It's inexpensive, has solid features like two-way audio, and monitors a large area in your home. Just remember: with a DIY home security system you need to call the authorities when needed because the camera can't do that for you. You need a professional monitoring service to complete the call.
Pros: No fees, 350 degrees panning, 1080 HD monitoring, motion/audio detection, 130 FOV, microSD slot with max 128GB, night vision, dual band Wi-Fi connection, 2-way communication and 3-hour battery life for camera only.
Cons: No home automation integrations, no IFTTT applets, indoor use only, camera only pans when on station.