After many months of speculation, rumors and leaks, Spotify has finally announced its first hardware device, called the Car Thing.
The Car Thing is designed to put a simple touchscreen display with a rotating control dial on the dashboard of your car. It features voice control, so you can say 'Hey Spotify' to pick the next playlist, and it connects to your smartphone via Bluetooth for a data connection. It is then powered from your car's 12V socket or USB port.
Read More:
Spotify is giving the Car Thing away for free, but only in the US for now and only to customers it picks out from a waiting list, who are then asked to pay $7 for shipping. It's an approach that certainly feels more like an experiment for now, rather than the start of a major pivot to audio hardware from Spotify.
It isn't clear how many Car Things Spotify plans to give away for free, but after this initial stage it expects to sell the product for $80.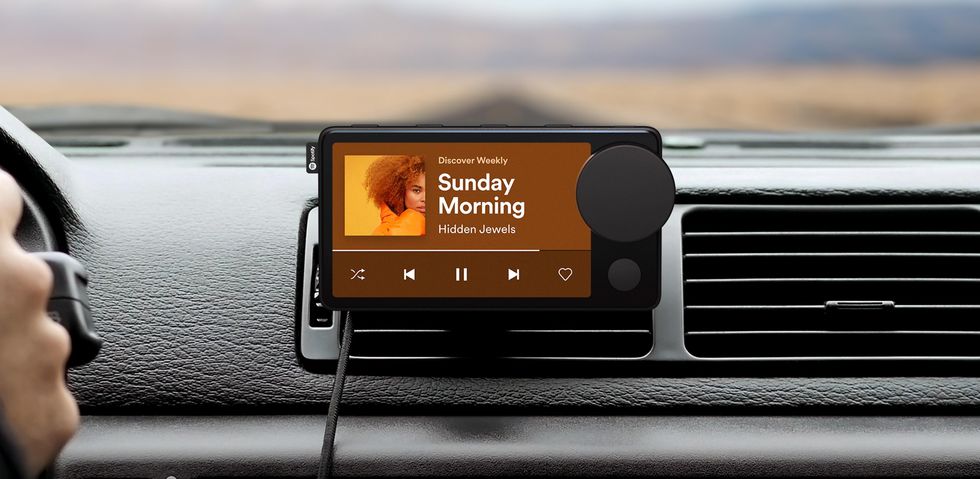 The Car Thing has voice control, just say "hey Spotify"Spotify
Spotify is going after customers with a car that doesn't have a native Spotify experience, or an app available through systems like Apple CarPlay and Android Auto. For the millions of people who send music from their phone to a car, this could make for a good solution. However, Spotify music controls already feature in the Google Maps smartphone app, creating an interface for navigation and music in one.

We wonder how many people would use their smartphone for navigation then also fit the Spotify Car Thing to the dashboard for music too.
Addressing those who own an older car that lacks smartphone integration, Spotify says: "we developed Car Thing because we saw a need from our users, many of whom were missing out on a seamless and personalized in-car listening experience. No matter the year or model of your vehicle, we feel everyone should have a superior listening experience."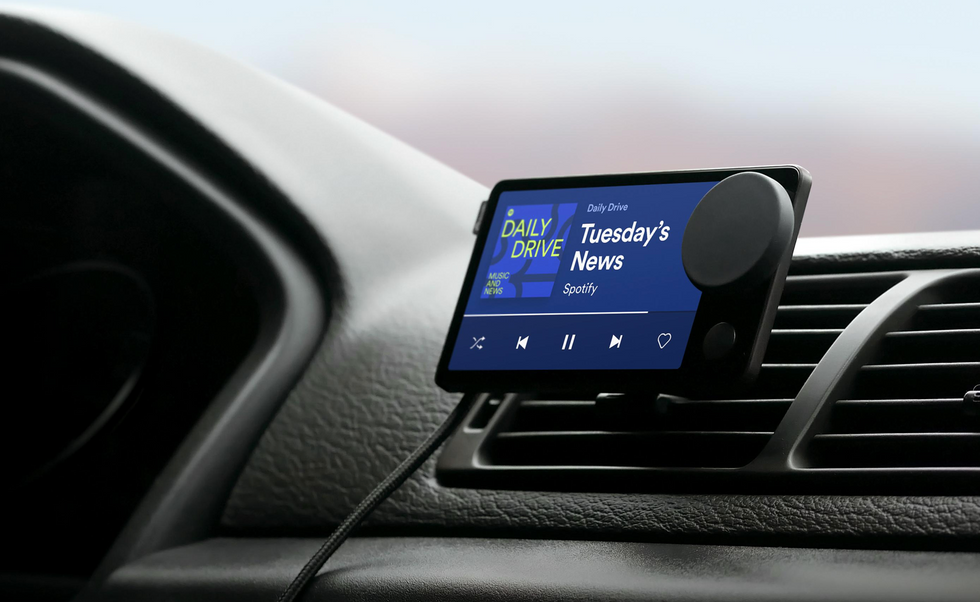 A large dial can be used to control the Car Thing without looking away from the roadSpotify
Instead of relying on a third-party voice assistant like Alexa or Google Assistant, Spotify has created a simpler system where "Hey Spotify" gets the device's attention. You then just ask for the music you want, by stating an artist, song, genre or playlist, and it'll start playing.

The large physical dial is a bid to make it safe for drivers to navigate through music without being distracted by a fiddly touchscreen display. There are also four preset buttons to help you get to your favorite playlists more easily.