Like GearBrain on Facebook
It's time to remember yet another new prompt for speaking with your gadgets – this time, 'Hey Spotify' to interact with the music-streaming smartphone app.
Instead of being a fully-fledged voice assistant like Siri and Alexa, what we have here is a way to control the Spotify app without touching your phone, and without asking another assistant to do it for you.
Read More:
Rumors of Spotify voice control first landed back in March 2020, after a voice search feature was debuted back in 2019. Now, the function has started to arrive on the handsets of some uses. GSMArena reports how the Hey Spotify wake word arrived on a Samsung Galaxy S21 of theirs this week.
Landing via a notification in the Spotify app, the wake word works in a similar way to Alexa within the Alexa app. As such, the Spotfy app needs to be running and your smartphone needs to be unlocked – essentially, you need Spotify permanently on the screen.
The app then opens your smartphone microphone and keeps it open until it hears the 'Hey Spotify' wake word. After that, you can ask the streaming app to play whatever music you want by naming an artist. Before the function is activated, the Spotify app asks for permission to record and transcribe the audio heard after it hears you say 'Hey Spotify'. In a bid to appease privacy concerns, the app also states: "Audio will only be recorded after we hear 'Hey Spotify'. Your voice input and other information will be sent to Spotify."
Naturally, the most obvious use case for this feature is while driving with your smartphone in a holder and playing music with the Spotify app open.
While convenient, however, there currently isn't much incentive to use this function instead of whatever voice assistant you normally communicate with. Siri, Alexa and Google Assistant can all be used to play music through Spotify.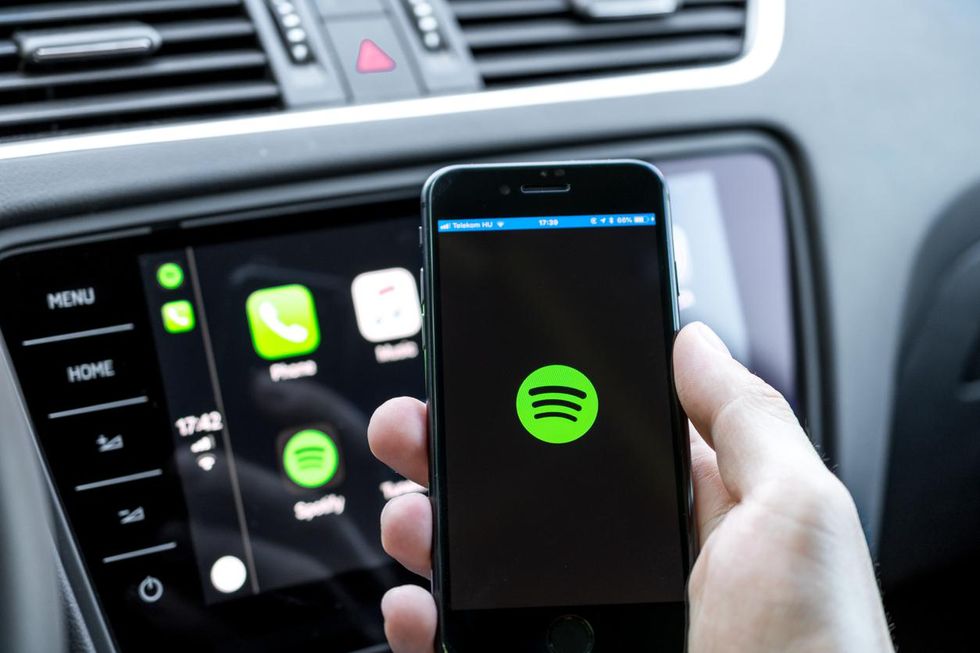 The new feature makes most sense while streaming music in the cariStock
But the potential here is interesting. This could well be paving the way for Spotify to finally launch its first long-awaited hardware products, which might include a device for playing music in the car. Such a product has been rumored for years, and was previously acknowledged by Spotify as the Car Thing. In January 2021 an FCC filing by Spotify included a new hardware device described as a "voice controlled accessory for phone/Spotify App with supporting display and buttons." It is then later described in the filing as "the Car Head Unit. Powered from a 12V outlet."

This suggests Spotify is planning to launch a car head unit that uses its music streaming service, and would potentially replace the need for the driver to use their car's own music system.
Given the new Hey Spotify function, we would expect to see this appear on the head unit too, if that ever actually launches as a product Spotify users can buy. With new cars increasingly offering easy app integration via systems like Apple CarPlay and Android Auto, we feel this is a device (aimed at cars that don't have such a system) that Spotify should launch sooner rather than later.
The Hey Spotify wake word comes just a month after 'Hey Facebook' was added as a way to control smart home devices via the social network's Portal smart display.
From Your Site Articles
Related Articles Around the Web
Like GearBrain on Facebook