Like GearBrain on Facebook
Delayed from May, Tesla is to hold an event called Battery Day on September 22, where it is expected to announce breakthrough technology for powering its electric vehicles.
The event will take place at Tesla's Fremont, California facility at 1:30pm PT and will be an in-person occasion, but strictly limited to a small number of attendees due to Covid-19 social distancing requirements. Attendees can apply online and will be chosen at random.
Read More:
Tesla is holding the Battery Day event on the same day as its latest shareholder meeting, both of which have been pushed back from earlier in 2020 due to the pandemic.
It was already known that Tesla has plans to begin producing its own battery cells, instead of buying them from Panasonic then using them to create the battery packs for its cars.
It was also previously reported that Tesla has plans to announce updates to its battery chemistry, likely improving the energy density, and therefore delivering more range from the same size and weight of battery, compared to those it uses today.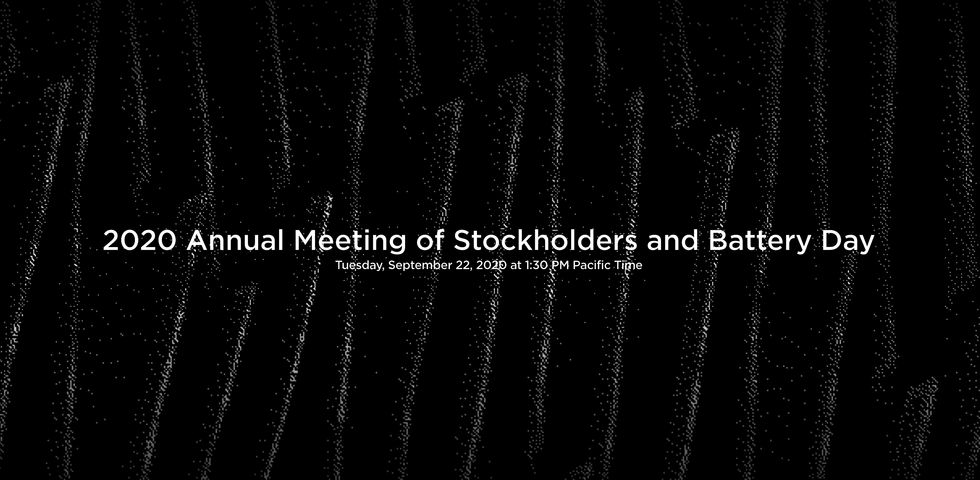 Tesla Battery Day page features imagery potentially of silicon nanowiresTesla
A web page set up for Battery Day uses a background image that appears to represent silicon nanowires, above, which have been used to create batteries with higher energy density and longer life, but have yet to be commercialized, reports Electrek.

Musk tweeted on Monday about his plan for producing batteries with much-improved battery density, up to 400Wh per kg, which is considerably more than the 260Wh/kg Tesla's current batteries are capable of.

In reply to a tweet mentioning the potential for electric planes once density reached 400Wh/kg, Musk said: "400Wh/kg *with* high cycle life, produced in volume (not just a lab) is not far. Probably three to four years."
400 Wh/kg *with* high cycle life, produced in volume (not just a lab) is not far. Probably 3 to 4 years.
— Elon Musk (@elonmusk) August 24, 2020
Panasonic, a supplier of battery cells to Tesla, has previously said it hopes to increase the energy density of cells by 20 percent in five years. This prediction now appears to fall some way short of Musk's plans for a 50 percent increase in three to four years.

All of this is good news for the future of Tesla vehicles. But it also makes us wonder if Tesla has plans to begin selling its own cells, or complete battery packs, to other automakers in the coming years.
We also wonder which of the many vehicles on Tesla's road map will be the first to benefit from the new battery technology expected to be announced on September 22. The Roadster has been pushed back, seemingly until at least 2022, and the Cybertruck is still likely some way from reality. Promising huge performance and long range, both could benefit from increased energy density, despite being at opposite ends of the automotive spectrum.
From Your Site Articles
Related Articles Around the Web
Like GearBrain on Facebook