Like GearBrain on Facebook
Tesla has revealed its highly anticipated electric pickup, called the Cybertruck.
But the launch, which took place in Los Angeles last night, did not go entirely to plan, as Tesla's design chief accidentally smashed two of the truck's windows when trying to demonstrate how tough they are.
Read More:
After first dropping a metal ball on a regular car window, causing it to smash, Tesla boss Elon Musk asked for the same ball to be dropped from a greater height onto the truck's window, causing it to merely bounce off. The audience whooped and cheered, of course.
But to further prove his point, Musk then granted Tesla's chief designer, Franz von Holzhausen, permission to throw a metal ball at the windows of the truck on stage. The window then smashes, with Musk saying: "Oh my f***ing God...maybe that was a little hard."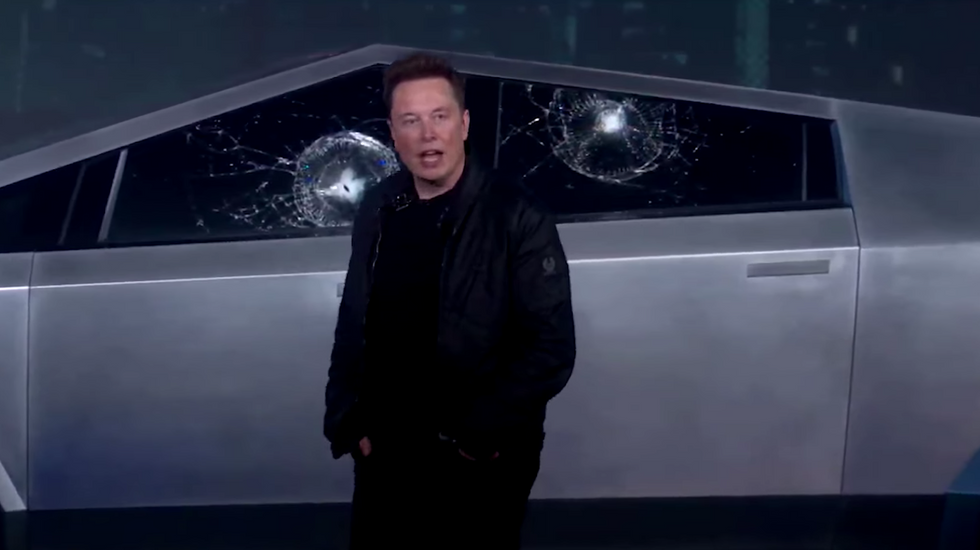 Elon Musk stands in front of the truck and its smashed windowsTesla
Not phased by the PR gaffe, von Holzhausen then throws a ball at the truck's rear side window, which also promptly smashes. "It didn't go through, that's the plus side," Musk said as the audience gasped. "Ah, not bad. Room for improvement," he added.

Designed with inspiration from Blade Runner, the truck won't enter production until late 2021, Tesla says, despite customers being able to place a $100 deposit today. The truck is said to have better utility than a traditional pickup, like a Ford F-150, America's best-selling vehicle, and the performance of a Porsche 911.
Musk said the angular truck drew inspiration from the Lotus Esprit sports car of the 1970s, which famously turned into a submarine in the James Bond movie The Spy Who Loved Me. Musk bought one of the Lotuses used in the movie at auction for $1m back in 2013. His initial plans to give it Tesla power and make it actually switch between car and submarine have yet to become reality.
Ahead of the Thursday launch event, Musk tweeted to say a pressurized version of the Cybertruck would be the "official truck of Mars", and that Tesla is working to line a route from London to Shanghai with Supercharger stations.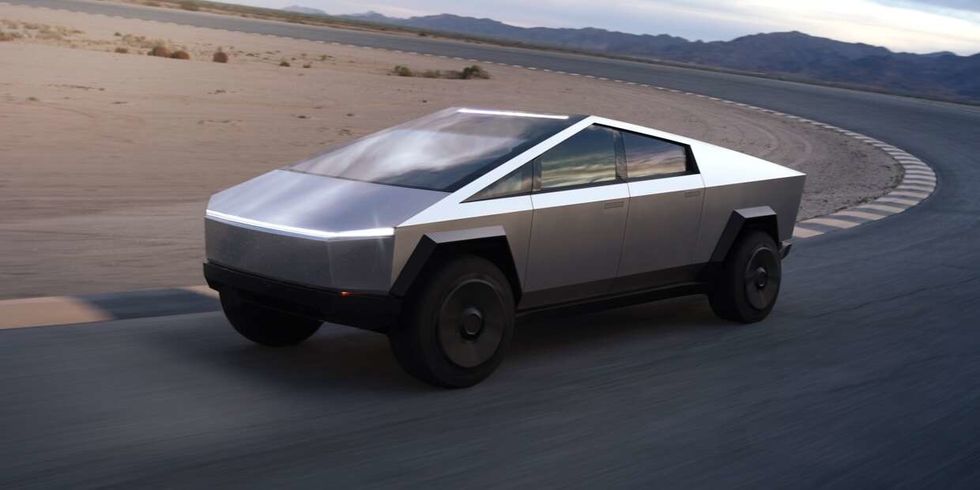 The Cybertruck promises up to 500 miles of rangeTesla
Although questions remain over the strength of the truck's glass, Musk says the stainless steel body is bulletproof and forms an exoskeleton around the outside of the vehicle. Tesla says blemishes can be wiped away with wire wool. Musk said of the metal body: "It is literally bulletproof to a 9mm handgun."

Three versions of the Cybertruck are on offer, with claimed ranges of 250, 300 and 500 miles - the latter being over 100 miles more than what any of today's Teslas (or any electric car) is capable of. The company hasn't said what size of battery packs the truck uses, but took its usual bullish approach to performance.
The entry-level Cybertruck has a single motor powering the rear wheels and a claimed 0-60mph time of under 6.5 seconds. The mid-range truck has a dual-motor, all-wheel-drive system and a 0-60mph time of under 4.5 seconds. The flagship, priced from $69,900, has a new three-motor drivetrain and a claimed 0-60mph time of under 2.9 seconds.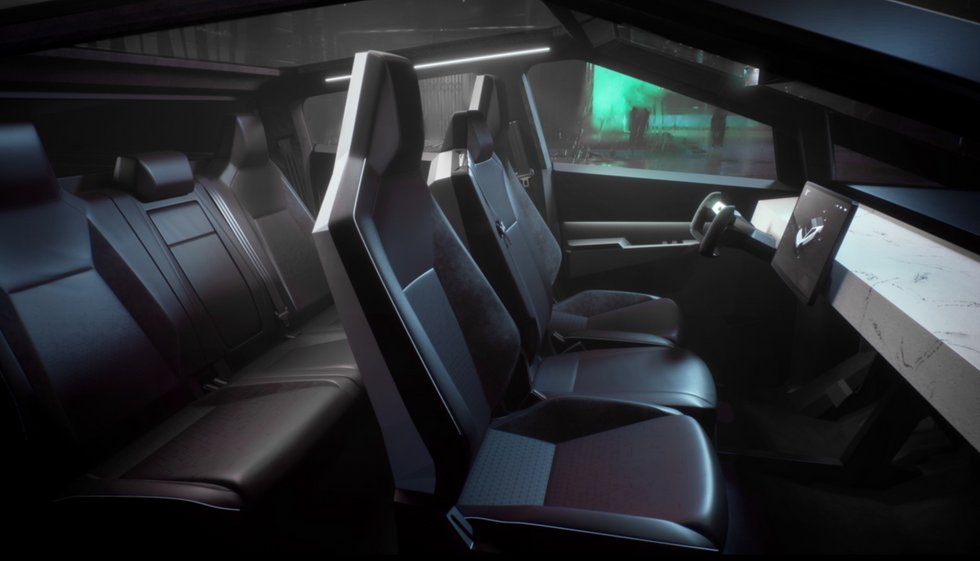 Cyber truck interiorTesla
Inside, the Cybertruck has seating for six across two rows of three, and the dashboard features a large touch screen display similar to that of the Tesla Model 3, but with a new user interface.

All versions of Cybertruck have 100 cubic feet of storage, a 6.5 foot long lockable bed (which Tesla calls the vault), and the ability to tow between 7,500 and 14,000 pounds, depending on the model. All versions also come with Autopilot, adaptive air suspension, and ground clearance of up to 16 inches, so should offer strong off-road performance.
Pioneer AVH-1300NEX Multimedia DVD Receiver with 6.2" WVGA Display/Apple CarPlay/Built-in Bluetooth/SiriusXM-Ready/AppRadio Mode
From Your Site Articles
Related Articles Around the Web
Like GearBrain on Facebook