Like GearBrain on Facebook
Once synonymous with pickup trucks and V8s, the 2019 Los Angeles Auto Show opened its doors to more electric cars than ever before seen at the event.
Manufacturers from Audi and Ford, to Porsche and Volkswagen, all had battery-powered vehicles on display, alongside a spattering of plug-in options from startups like Bollinger, Faraday Future and Karma.
Read More:
This year's show finds itself sandwiched between two major EV announcements taking place elsewhere in Los Angeles. First, Ford revealed the Mustang Mach-E at its own event a couple of days before the show opened, then, Tesla will have a turn in the spotlight to reveal its electric pickup truck.
Here are some of the EV highlights from the 2019 Los Angeles Auto Show:
Audi E-tron Sportback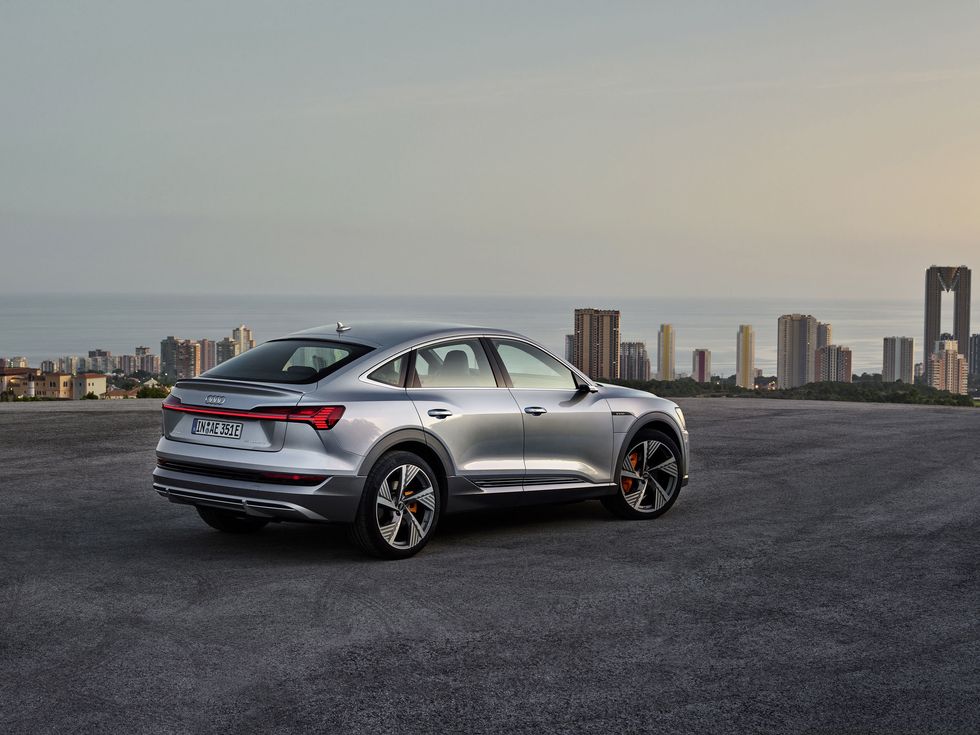 The Sportback has a range of 277 milesAudi
The Sportback is the second member of Audi's E-tron range, and its second fully electric car. Much of the design, both inside and out, is shared with the original E-tron SUV, but the new model has a sloping roofline that gives it more of a coupe stance.

The roofline also reduces aerodynamic drag and adds 6.2 miles to the car's electric range. Alterations to the brakes, battery and powertrain also add a few miles, bringing the total to 277 on the WLTP test cycle, up 22 miles from its E-tron stablemate but still somewhat short of the Tesla Model X and smaller 370-mile Ford Mustang Mach-E.
Bollinger B1 and B2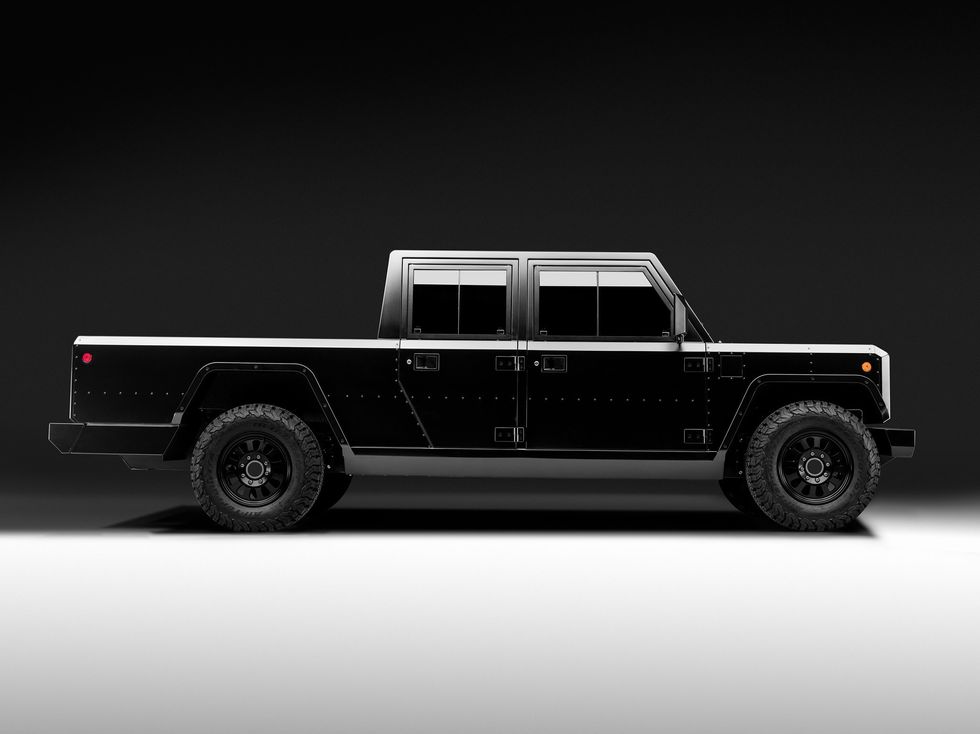 If Arnold Schwarzenegger made electric cars...Bollinger
An American startup, Bollinger used the LA Auto Show to reveal a pair of tough and chunky electric off-roaders. These are called the B1 SUV and B2 pickup, with the latter reminding us of the equally mad Lamborghini LM002 — only without that particular car's V12 engine.

Each vehicle uses the same 'skateboard' chassis, with a motor driving each axle and a large 120 kWh battery taking up most of the floor. Total power is just over 600 horsepower and Bollinger claims a 0-60 mph time of 4.5 seconds, and a 100 mph top speed. A gearbox with high and low ranges, plus front and rear locking differentials, mean the B1 and B2 should work as well off-road as they do on.
The Bollinger duo is priced from $125,000 in the U.S., with pre-orders open now, but production not due to begin until 2021.
Faraday Future FF91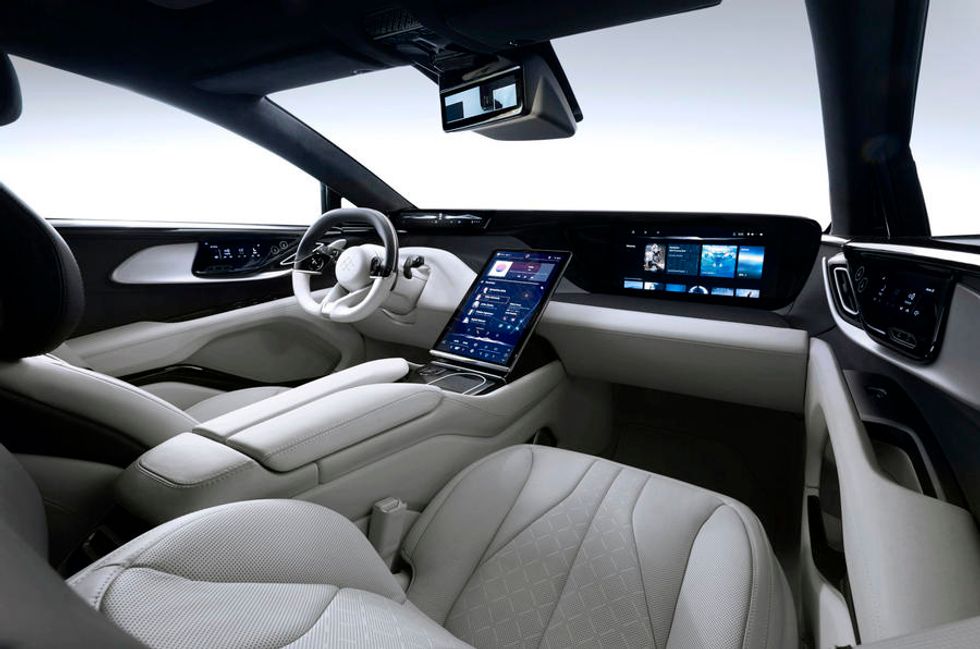 Surprisingly still in business, FF is aiming for production in 2020Faraday Future
If you'd assumed Faraday Future, once the darling of the electric car startup industry, had breathed its last breath, you wouldn't be alone.

But no, the company is still alive and used the Los Angeles Auto Show to reveal the inside of its FF91 car for the first time. Turning car technology up to a new level, the interior features no fewer than 11 computer displays, taking the place of a normal car's three mirrors, and almost all physical controls.
The screens include a 15.4-inch infotainment display, an 11.6-inch digital instrument cluster, 10.1-inch display in the place of a central rear view mirror, and a 27-inch display mounted centrally behind the front seats for the enjoyment of rear passengers.
Revealed back in 2017, the car is now expected to go into production in 2020, says the company.
Ford Mustang Mach-E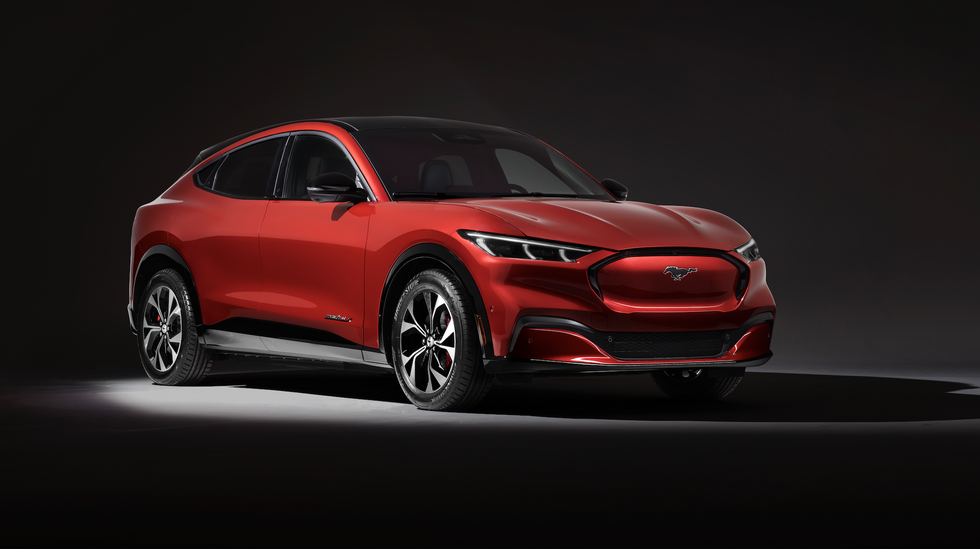 The Mach-E is priced from $43,000Ford
On the eve of the show, Ford revealed its first proper electric car, the Mustang Mach-E. Although using the name of Ford's iconic muscle car, the Mach-E is actually an SUV, but one which the company claims includes genuine Mustang DNA.

Prices start at just under $45,000, and extend up to a little over $60,000 for the flagship GT model, complete with Ferrari-baiting performance from its pair of electric motors and 99kWh battery pack.
Range is up to a claimed 370 miles on the WLTP cycle, which is similar to what Tesla is promising for the similarly-sized Model Y, due out next year.
Inside, the Mustang Mach-E features an all-new interior and infotainment system not seen on any Ford before. At the heart of this system sits a 15.5-inch portrait-orientated touch screen, running a new version of the company's Sync system, which includes Apple CarPlay and Android Auto.
The car can be ordered now with a $500 deposit, but deliveries aren't expected to begin until the end of 2020.
Karma SC2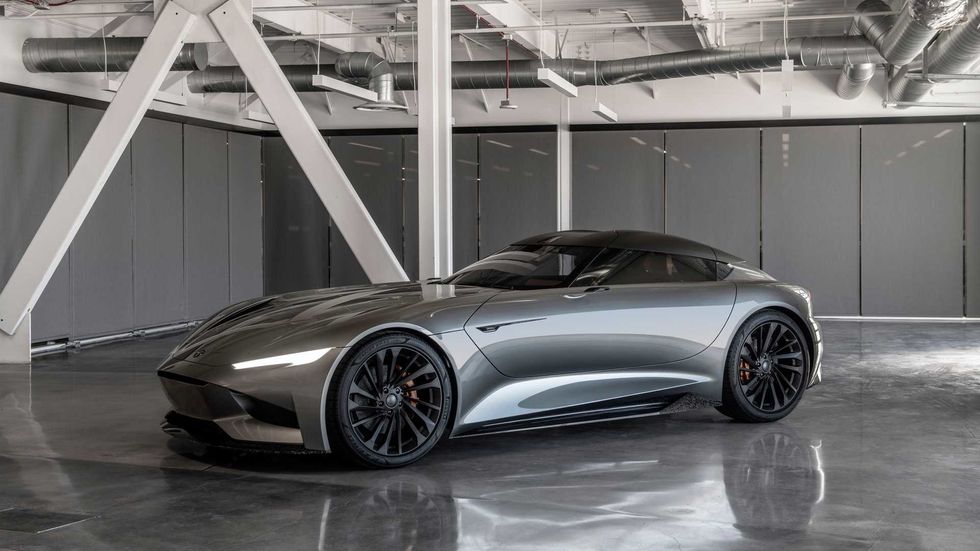 The SC2 is only a concept, for nowKarma
No auto show would be complete with a selection of far-out concepts, and for LA this year that box was ticked by the Karma SC2. This beautifully proportioned concept features upwards-opening doors and is powered by two electric motors.

Karma claims the total power output is just over 1,000 horsepower, and that will mean a 0-60mph time of less than 1.9 seconds, putting it on par with the 2020 Tesla Roadster and $2 million Pininfarina Battista.
Power comes from a huge 120kWh battery pack mounted in the floor, and range is a claimed 350 miles — but, this being a concept, you'll have to take that with a pinch of salt for now.
There is no word on price and when (or if) the SC2 will actually go on sale.
Pininfarina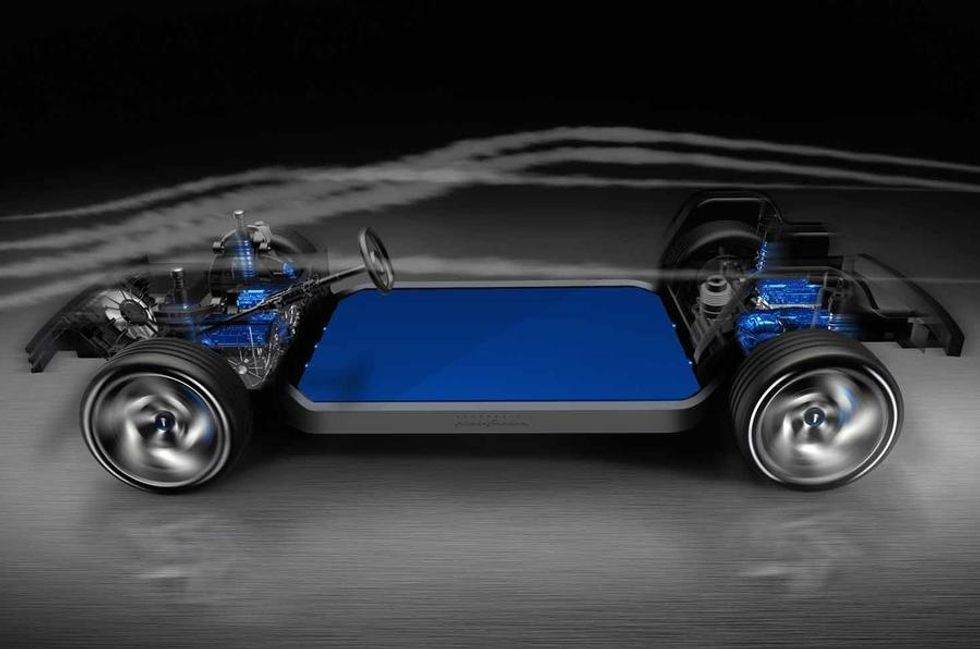 The company says its future cars will all share the same EV platformAutomobili Pininfarina
Automobili Pininfarina used the Los Angeles Auto Show to tease its future lineup of electric cars, which will follow on from the Battista flagship and be somewhat more affordable than that car's $2m price tag.

Next, the company plans to produce two more fast and stylish luxury EVs, both using the same scalable EV platform. These will launch before 2025, the Italian company says, without giving any further details.
Porsche Taycan 4S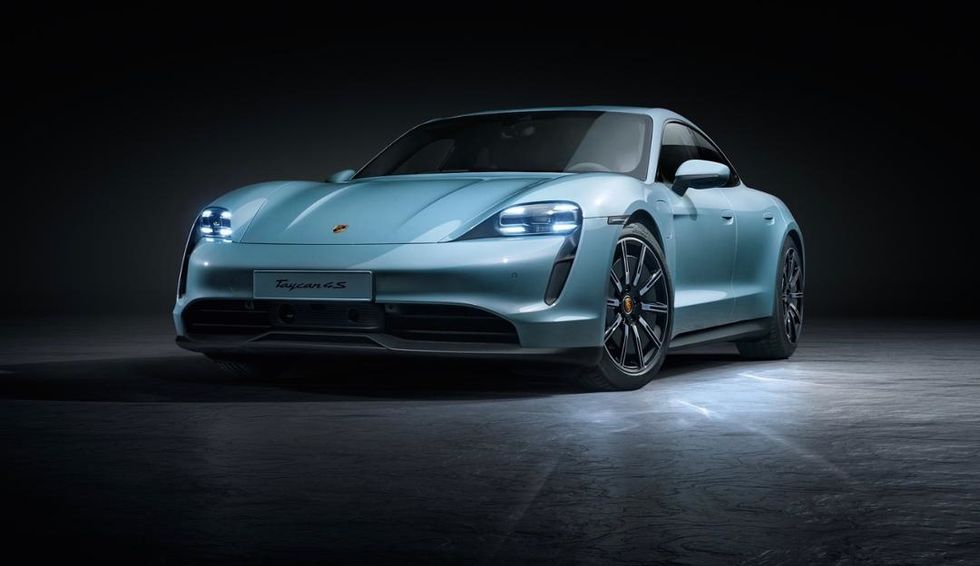 The 'affordable' electric Porsche starts at $103,800Porsche
Announced a couple of weeks ago, the entry-level Taycan 4S made its public debut in LA this week. Sitting below the Turbo and Turbo S models of Taycan, the 4S is somewhat more affordable, starting at $103,800 — significantly less than the $150,900 Turbo and $185,000 Turbo S.

For that lower price, buyers get an 80kWh battery pack, a 0-60mph time of 3.8 seconds, and a range of 253 miles on the WLTP cycle. You can expect that figure to be a bit lower once the EPA has made its calculations. The 4S 'Battery Plus' model gets a 93.4kWh pack and a WLTP range of 287 miles.
Volkswagen ID Space Vizzion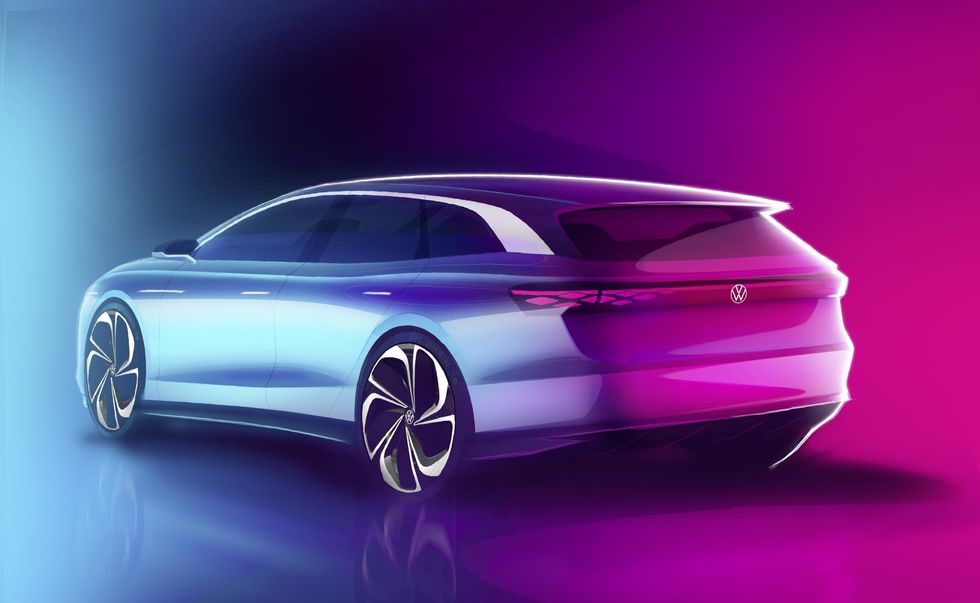 Space Vission concept uses apple skin for its interiorVolkswagen
Previewed online before the show, a highlight of the Volkswagen stand in LA is the ID Space Vizzion. A concept car for now, the Space Vizzion is likely a good indication of what a future electric wagon will look like.

Although wagon sales have been knocked into touch by SUVs in recent years, we're glad to see Volkswagen keeping the form factor alive. This is because the long wheelbase and lower height make it the perfect platform for an electric car — maximizing battery space while minimizing aerodynamic drag.
Inside, passengers are bathed in light flooding through the glass panoramic roof, and LED mood lighting is installed along the insides of the doors. The car has a "completely digitized cockpit" and minimalist interior made from sustainable materials — one of which VW has trademarked AppleSkin, an artificial leather "with a proportion of residual matter from apple juice production," the company has said.
VW recently put its first ID concept into production as the ID.3 hatchback, so we have faith that other members of the ID concept family, including the Space Vizzion, will arrive in dealerships in the next couple of years. The car has a claimed 300 miles of range.
Tesla Cybertruck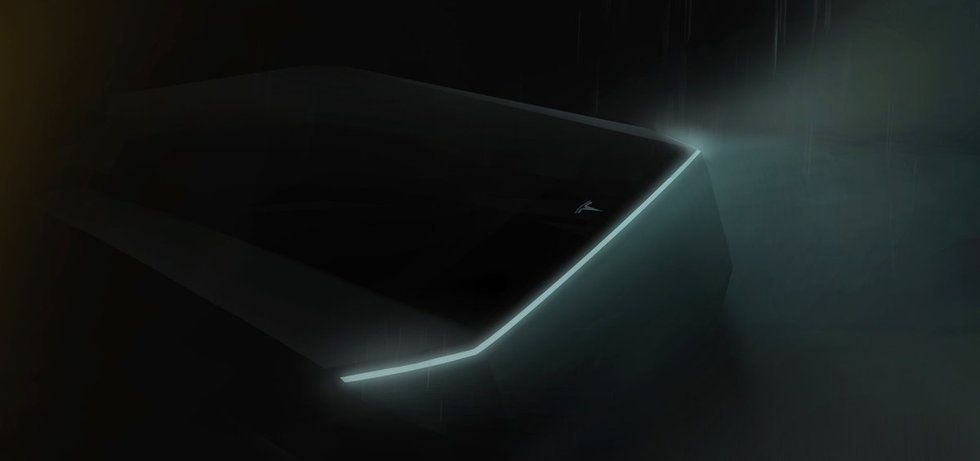 Tesla teaser image of what the Cybertruck might look like Tesla
Finally, although not at the auto show itself, Tesla will no doubt steal some of its limelight on November 21, 2019 when it reveals its new pickup truck.

Described by boss Elon Musk as a 'cybertruck' with Blade Runner design cues, the all-electric truck is said to blend the utility of a Ford F-150 with the sports car performance of a Porsche 911.
Musk says the truck will offer seating for six and a range of between 400 and 500 miles, putting it way ahead of any other EV on sale today. There will also be a 24V outlet for powering tools from the battery pack, Musk says, and it will be priced from $50,000.
The truck will be revealed Thursday at a launch event in Hawthorne, California next to the Space X facility, a company also helmed by Elon Musk.
Level 2 EV Charger by EV Gear | 30 ft Portable Plug-In Charger, 110v - 240v | Includes Level 1 Adapter | Works with all Electric & Hybrid Cars such as Chevy Volt/Bolt, Nissan Leaf, Prius Prime, Tesla
From Your Site Articles
Related Articles Around the Web
Like GearBrain on Facebook