Like GearBrain on Facebook
Lilium, the German startup developing a vertical take-off flying taxi, has increased its latest funding round to $275 million, pushing its valuation beyond $1 billion.
Having raised $240 million in March, the Munich-based firm today announced a further $35 million of funding from Baillie Gifford, the century-old Scottish asset management firm that has also invested in Amazon, Tesla, Airbnb, Spotify and SpaceX.
Read More:
With a 7.67 percent stake in the electric car company, Baillie Gifford is the second-largest investor in Tesla, behind boss Elon Musk.
The healthy funding round comes amid a global pandemic and just days after Kitty Hawk, another flying vehicle startup, announced the cancellation of its Flyer. Partly backed by Google founder Larry Page, Kitty Hawk will now focus on its second vehicle, called Heaviside. Lilium, however, gives it more room to continue working on its vehicle.
"The funds raised during this round give us the security to weather the challenging economic landscape we see around us and we're grateful to be able to stay fully focused on our mission," said Lilium's chief financial officer Christopher Delbrück.
Delbruck also reaffirmed Lilium's business plan of introducing "emissions-free, regional air mobility to the market as early as 2025."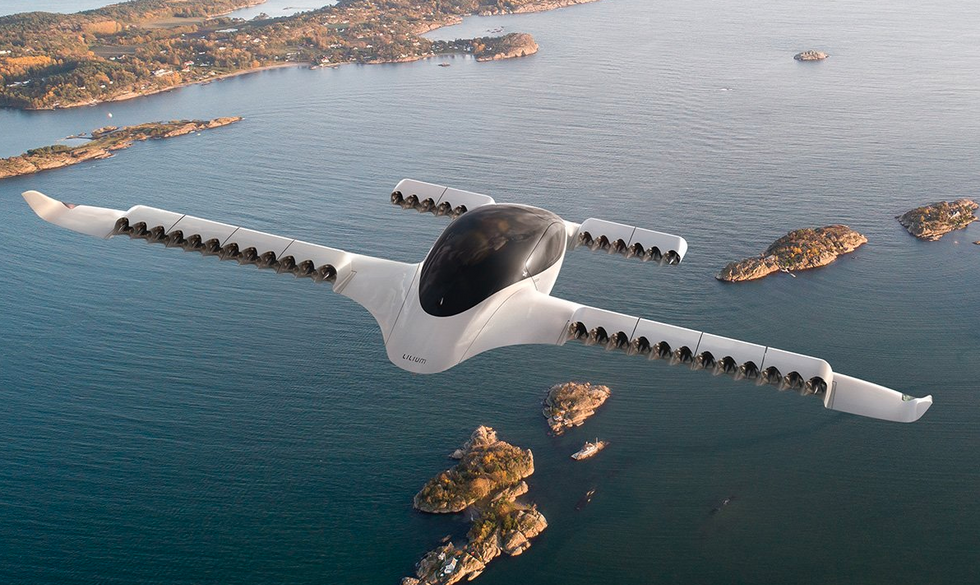 The Jet is powered by 36 electric motors Lilium
Lilium's first vehicle, called the Jet, took to the skies in its first test flights in October 2019. It is powered by 36 electric motors that allow it to take off vertically, hover, fly, then land vertically— and all while being quieter than a conventional helicopter. The Jet has seating for a pilot and four passengers, although for now it is being tested by remote control.

The October tests saw the plane fly at over 62mph, but Lilium hopes by its 2025 commercial launch the Jet will have a top speed of almost 190 mph and a range of 190 miles. The Jet will be manufactured at a 3,000 square-meter production facility in Munich.
Lilium sees a future where the aircraft will be requested with a smartphone app, then take off and land at purpose-built landing pads in major cities. Lilium has suggested the Jet could travel from New York to Boston in 60 minutes, or to Philadelphia, New Haven or The Hamptons in 15 minutes.
"We are delighted to support the remarkable team at Lilium in their ambition for developing a new mode of transport," said Michael Pye, an investment manager at Baillie Gifford. "While still at an early stage, we believe this technology could have profound and far-reaching benefits in a low-carbon future and we are excited to watch Lilium's progress in the years ahead."
Megear/Zencar Level 1-2 EV Charger(100-240V,16A) Portable EVSE Home Electric Vehicle Charging Station Compatible with Chevy Volt, Nissan Leaf, Fiat, Ford Fusion (NEMA6-20 with Adapter for NEMA5-15)
From Your Site Articles
Related Articles Around the Web
Like GearBrain on Facebook