Electric flying taxis have taken a step closer to reality this week, with German startup Lilium announcing it has completed its first phase of test flights.
Called the Lilium Jet, the vehicle is powered by 36 electric motors. Earlier tests in May this year saw it take off and hover, before returning to the ground. But now the company has shown how the jet transitions from hovering to flying forwards.
Read More:
The latest tests saw the plane fly at over 100 km/h (62 mph), and Lilium says it is on track to make the vehicles commercially available in 2025. At that point, the aircraft will be capable of flying at up to 300 km/h, and have a range of 300 km (186 miles), the startup claims.
During the 100-plus test flights it has completed so far, Lilium has used its remote-controlled aircraft to simulate engine and flap failures, make 30 degree turns, and climb and descend vertically at a rate of up to 500 feet per minute.
The company also announced this week the completion of a 3,000 square-meter production facility at its headquarters in Munich, Germany, where prototype aircraft will be built. A second, much larger factory is planned for when the company launches its commercial flying taxi service next decade.
Intended to carry passengers by the year 2025, the finished aircraft will have space for a pilot and four commuters — and so won't be flown autonomously or remotely, as the test vehicles are currently.
The Lilium Jet uses its 36 electric motors to take off vertically like a helicopter; the motors then rotate to face backwards, pushing the Jet forward like a conventional plane, before rotating again and allowing it to descend vertically. This means the aircraft does not need a runway for takeoff or landing.

Lilium sees a future where the aircraft will be requested with a smartphone app, taking off and landing at purpose-built landing pads in major cities. Lilium has suggested the Jet could travel from New York to Boston in 60 minutes, or to Philadelphia, New Haven or The Hamptons in 15 minutes.
Daniel Wiegand, Lilium co-founder and CEO, said: "We are taking tangible and concrete steps towards making our vision of regional air mobility a reality and we're doing it on time. We believe that regional air mobility has the potential to be a remarkable force for good in society and we can't wait for what comes next."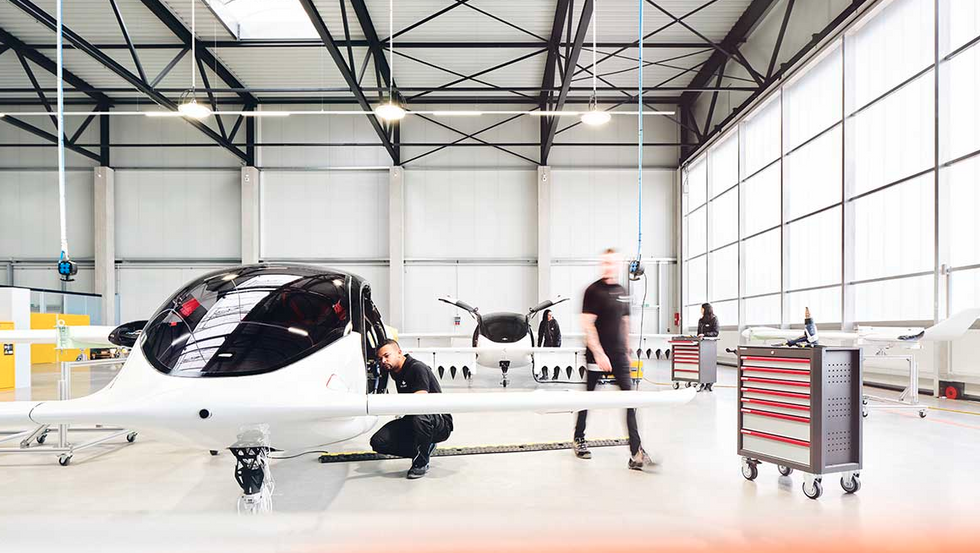 Lilium has completed a 3,000 square meter factory in Munich, GermanyLilium
Lilium is just one of several companies planning the future of aviation. Potential rivals in the flying taxi space include Uber and Volocopter, plus car manufacturers Aston Martin, Audi and Porsche, and airplane giants Airbus and Boeing.

Kitty Hawk, an electric plane startup partly funded by Google co-founder Larry Page, claimed earlier this month how the eight motors of its aircraft are
100 times quieter than a helicopter
. The four-year-old startup also said its single-seat test plane, called the Heaviside, can travel the 42 miles from San Jose to San Francisco in 15 minutes, at an average speed of 168 mph.