Last updated: October 26, 2016
Happily, this is a no-tools DIY job. But you'll need a computer and a little imagination to complete the job well. The good news is that installing one is neither expensive nor something that you need a degree in computer science to accomplish. In fact, it can take as little as 15 minutes and cost about $50 to set up.
Here's what you'll need:
Personal hotspot with data account (We're using the Verizon Ellipsis Jetpack.)
Cigarette lighter USB adapter
Short USB cable
Velcro for securing it in place
Time: 20 minutes
Tools: Hands and an open mind
The key to running a hotspot is power because, while the device comes with a battery, it will need to draw power from the car to stay charged. (A big bonus is that when you get to your destination, you can take the hotspot out of the car and use it in your hotel room, campground or wherever you are.)
The hotspot runs on 5-volts, usually supplied by an AC adapter or a computer connection and a micro-USB cable. Rather than use the AC adapter, though, we'll be using the car's 12-volt electrical system and an adapter to bring it down to 5-volts.
You'll need to follow the power and have an open mind as to where the hotspot goes. For instance, you can run a new power line from the car's fuse box and put the hotspot wherever you want, but chances are you won't need to.
Options for installing
All cars are different and some, like Chrysler's minivans have a USB power outlet in the dashboard, making this project ridiculously easy. All you need to do is plug in the hotspot and you're set. My Audi allroad doesn't have USB power, but does offers several places with car current and room to stash the hardware.]
The simplest place to plug in the hotspot is the ashtray. Just pop out the insert and put the device there. The Verizon Ellipsis Jetpack will be upfront and centrally located, as well as having a cigarette lighter outlet for power. On the other hand, smokers will hate doing this for obvious reasons.
You can also choose the glove box and, here I'm lucky because my car has a proprietary connector to the car's stereo and a nice flexible netted area to cradle the hotspot. The extra cable costs about $80 from Audi or about $15 from several online places. It has a USB plug at one end and Audi's proprietary MMI connector at the other, putting out just enough electricity to power the hotspot.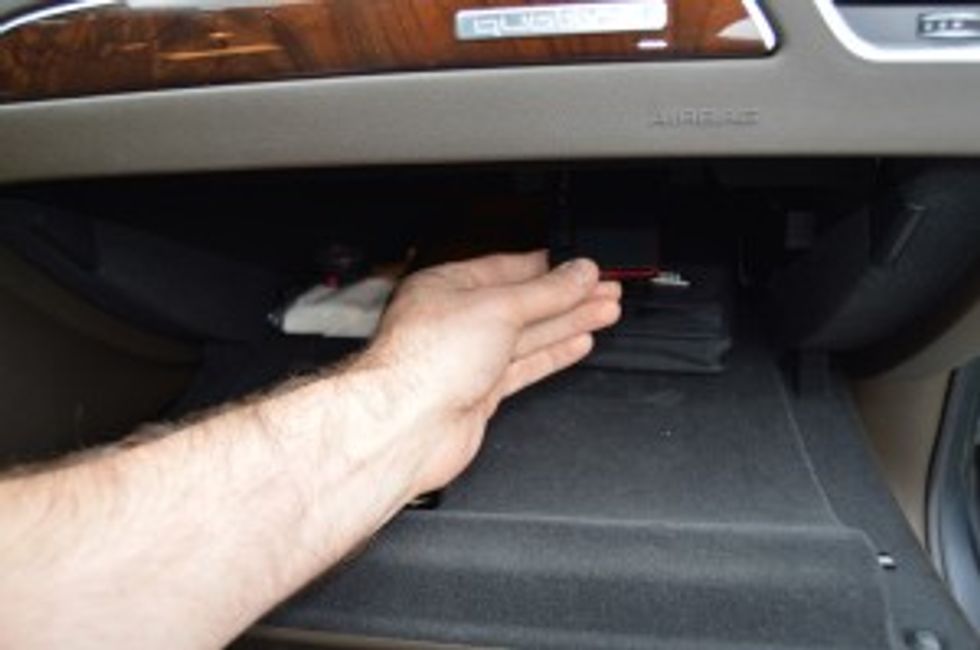 I'm going to take a third route, though. Between the front seats is a divider with a compartment and a cigarette lighter outlet. It's plenty of room for the hotspot and the cable with enough room left over for other driving-related items.
My first task is to plug in a cigarette lighter power adapter. This will convert the car's 12-volt output to 5-volt USB power that charges and operates the hotspot. I'm going to use a dual-outlet power adapter so that I can also charge my phone.
After plugging everything in, I put a strip of Velcro on the bottom of the hotspot. This will hold the device firmly to the soft lining of the center divider. If the surface where you want to attach the hotspot is too smooth, use the complementary Velcro side to securely hold the hotspot in place.
Hotspot test drive

Everything is now in place, so let's make sure our hotspot works. I fire up an Internet-enabled device, here I'm using my tablet, and connect it to the hotspot. After picking the network name that the hotspot came configured with and typing in the preset encryption passcode, I'm connected and online. Not bad for 15 minutes work.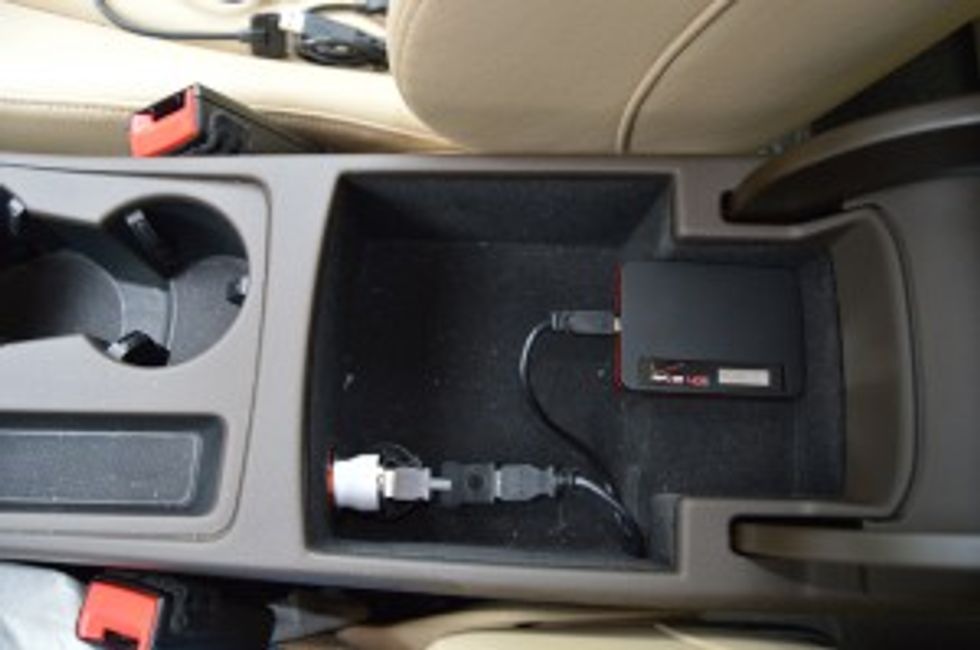 We're not done yet, though, because the hotspot's set up needs to be tweaked to make it more secure. After all, you don't want hackers chasing you on the highway.
Start by opening the hotspot's configuration pages. Using a connected computer, type the hotspot's IP address: 192.168.1.1. This lands you on a Web page that describes the device, has instructions and shows everything from data usage to how many devices are connected.
To get in, click on Jetpack Settings and type in the encryption passcode as the password. To be on the safe side, it's a good idea to change the equipment's password as well.
At this point, tap on Wi-Fi and type in any name you want to use for the hotspot as well as your own password and what type of encryption you want to use. The device connects with 802.11b, both g and n clients, and can use the latest WPA2 encryption techniques for security.
There's lots of configuring you can do here, like changing the transmission channel, but for the most part the Verizon Ellipsis Jetpack works well with its native settings. It's now a road warrior.
All told, it took about 20 minutes to turn my family ride into an Internet-ready car. The Web is no longer something we use only at home or work, but something we take with us wherever we go. Road trip, anyone?
Check out GearBrain's Verizon HumX Review: First OBD2 Scanner with 4G Wi-Fi Service to learn about the newest mobile hotspot device from Verizon.