Like GearBrain on Facebook
Modern TV viewing at home requires three components: access to broadcast programming such as that found on NBC, PBS and the like, plus cable content such as ESPN and HBO, streaming content such as Netflix — and then a DVR to record and time-shift any broadcast viewing.
Many Americans have to jury rig this triad of 21st century TV necessities, pairing a cable box with DVR capabilities — along with either a smart TV or a streaming media box such as a Roku or Amazon Fire.
Or, you can just combine access to all your TV content into a single box, the TiVo 4K-compatible Bolt Vox.

TiVo's reason for existing is the ability to integrate standard broadcast and cable fare — plus streaming content and a DVR — into one box with just a single HDMI connection. You eliminate the TV or AV receiver input that switches between different content boxes, and get universal (and objective) content searches — rather than paid content first, like Amazon does.
The Bolt, however, is the latest set top box from a company that actually invented the DVR in 1999. The device adds two new functions that raise its content and control IQ: its own Vox voice search/control and Amazon Alexa integration. Both features have their virtues, but both also need some work. For instance, Bolt offers Alexa skills, but only to voice-control the TiVo — and there isn't any smart home integration as there is with the new Amazon Fire TV Cube.
Fortunately, TiVo Bolt's overall one-box-to-rule-them-all TV-watching convenience is not diminished by the occasional hiccups of its Vox voice command or the limitations of its Alexa implementations.
TiVo Options

Bolt comes in three DVR configurations: 500GB, enough to store 75 hours of HD content ($199.99); 1TB/150 hours ($299.99); and, 3TB/450 hours ($499.99). The 500GB and 1TB Bolts each are equipped with four tuners, which means you can record four shows simultaneously while watching a fifth from your DVR, and the 3GB Bolt is built with an ultra-convenient six tuners. By comparison, most cable set-top boxes (STBs) with DVR offer only dual-tuners, which may be insufficient for recording everything you want to watch on Sunday nights.
In addition to the Bolt box, you also have to pay for TiVo's service, which includes a two-week electronic program guide (EPG) and a plethora of TiVo smart extras, in addition to whatever you pay for cable. You can pay for TiVo service monthly ($14.99), annually ($149.99), or "all-in" for lifetime service ($549.99).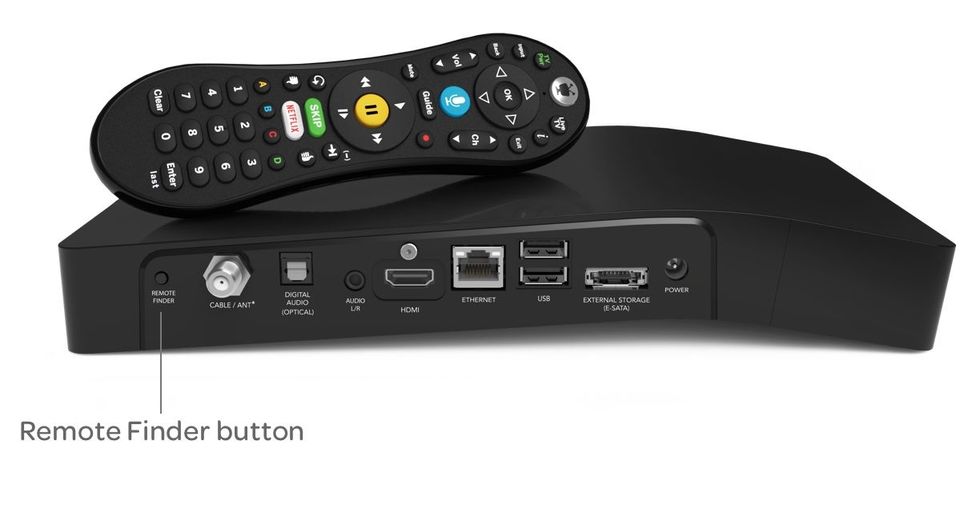 TiVo Bolt includes a Remote Finder button that helps you locate the deviceTiVo
If you are a cable subscriber, you'll have to pay a couple bucks a month (how much depends on your cable provider) for a CableCard, which slots into the bottom of the Bolt, to give you access to your cable programming. Many cable customers will also need a separate cable tuner box, available from your cable provider — and you might pay extra for this device too.
Physically, whoever designed the TiVo was not thinking practically. The black Bolt is small – just 11.4 inches wide by 7.3 inches deep by 1.8 inches high – but it's unusually wave-shaped, which means you won't be able to stack another STB on top of it. (We concede, this may be the point.) You can connect the Bolt to your home internet network via an ethernet cable or Wi-Fi, either 2.4GHz or 5GHz.
TiVo's hour glass-shaped remote works over radio frequency rather than infrared, which means you don't have to point it directly at your TV. You can program the remote to control TV power and volume (or the volume on an AV receiver or sound bar). Plus, on the rear of the Bolt is a Remote Finder button, which, when pressed, produces a synthesized tune from the remote to help you find it. (Note to TiVo: that really does need to be MUCH louder.)
Bolt's remote includes three new buttons: a blue Vox – voice control – microphone button, a dedicated SkipMode button, and a white Netflix button for direct access to the popular streaming service.
TiVo Cost/Benefit Analysis

An argument can be made that TiVo is worth its price and fees for its extras. Aside from its multitude of tuners, there are four functions unique to TiVo that increase its value proposition over standard dumb cable boxes:
SkipMode: Press the "Skip" button on the Bolt remote (or intone "skip" using the Vox voice control) to leap past commercials on most programs on around 20 broadcast and cable stations, once the program has been completely recorded.
QuickMode: This speeds up recorded action 1.3x normal speed without losing the audio – the broadcasters sound just a bit higher-pitched – handy for zipping through recorded sports.
Series-recording intelligence. TiVo will auto record a series episode even if it starts at 9:02pm instead of exactly at 9 pm, adjustments most cable boxes are too stupid to make, resulting in missed episodes.
The TiVo smartphone app: TiVo's app lets you not only to watch recorded programs on your mobile device, including "live" programs as long as you've started to record them, but download recorded shows for offline viewing, including shows from premium channels under certain conditions.
TiVo also tracks what you watch and record, not in a spooky "we know what you're watching" kind of way, but in a machine learning way so the system can make viewing recommendations when you're hankering for something new or different to watch.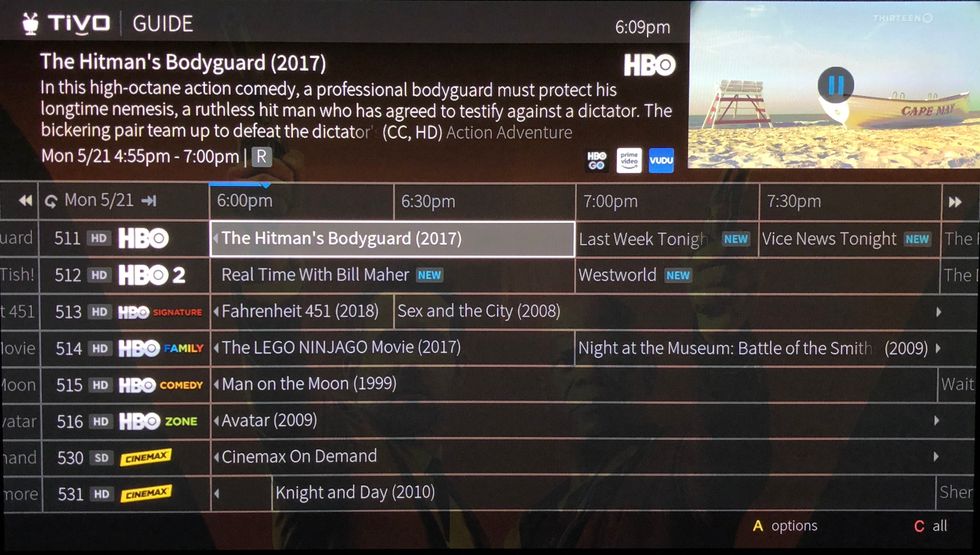 TiVo has changed its guide with the new BoltGearBrain
TiVo Interface
TiVo has completely redesigned its interface and electronic program guide for the Bolt — not necessarily for the better. Overall, the new interface remains as self-exclamatory as the old, but a lot more graphic – you can chose DVR recordings from its listing or poster art, and lists of episodes are laid over a translucent image representing the series.
But I loved the old, spartan TiVo interface, which stacked channels on its EPG vertically. You can see what is currently playing on eight channels, along with the next eight programs on the selected channel, and you could move ahead in the guide in half-hour increments to see exactly what's on now.
This unique vertical interface has been replaced by a more familiar horizontal electronic program guide grid. You can still see the content of eight channels, but only two hours into the future on each, and the grid moves in chunky two-hour blocks. This navigation means that you often have to counter-intuitively scan down the middle to see what's on now.
Streaming content apps also are now arrayed in a grid as well rather than a list. This isn't a huge issues since TiVo includes only 21 content apps (so far). TiVo trails far behind its streaming competitors such as Roku, Amazon Fire and Apple TV, which enumerate their available content apps by the hundreds. TiVo does provide the big five streaming apps – Netflix, Amazon Prime Video, Hulu, YouTube and Vudu Premium — but other selections are limited. There's HBO Go, for instance, but not Showtime Anytime; for sports fans, TiVo offers only the MLB.TV and WWE apps.

In addition, while you get overly hyperbolic program descriptions, the names of the primary actors, present in the descriptions in the old interface, are missing in the new, requiring you to drill into "Info" to find out the cast and director. The old interface used an easier-to-read "bold" white-on-black type, while the new uses a thinner white-on-black font.
These, however, are quibbles. If you're new to TiVo, you only have your clunky old cable box's interface to compare it to, and TiVo's new interface is far superior in ease of navigation, system control and access to content.
Bolt's biggest navigation upgrade, of course, is its Vox voice control capabilities and its Amazon integration.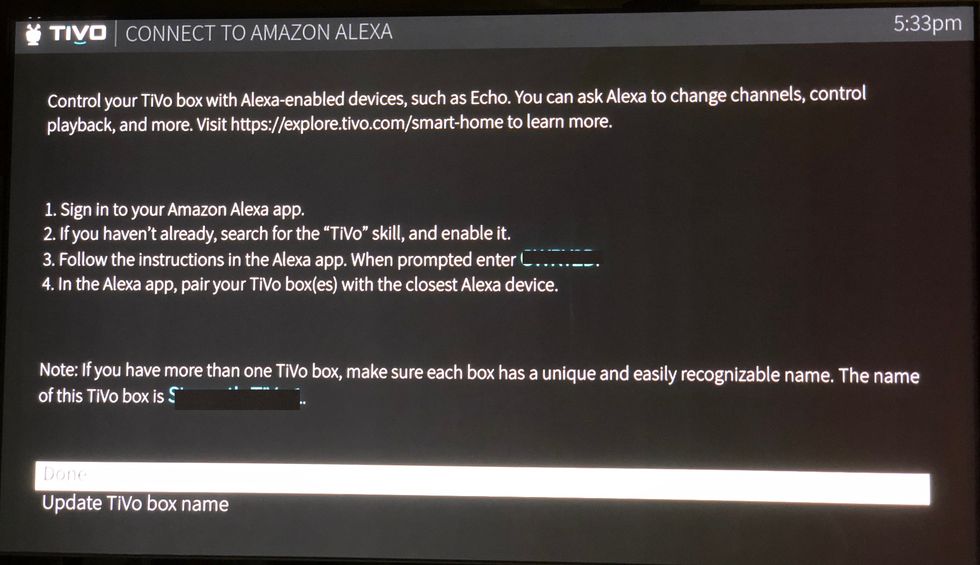 Bolt's big update is its integration with Amazon AlexaGearBrain
Alexa Integration
TiVo's Alexa skills can be paired with not only the Bolt, but to the company's legacy Roamio (now available only in an over the air version – no cable programming access – for cord cutters) and Premiere STBs.
According to TiVo: "You can ask Alexa to change the channel, 'Alexa, watch CBS,' or launch a streaming app, 'Alexa, open Netflix.' You can even skip commercials for SkipMode enabled shows, by saying, 'Alexa, skip commercials.' Amazon Alexa can also manage simple media controls like volume (up or down), stop, play, pause, fast-forward or go back, which jumps back eight seconds in programming."
All of that is nice, but I'm not sure the real-world usage are worth the effort.
Alexa integration set-up is easy: there's a set-up app mixed with the other streaming media apps that contains instructions and a six-digit pairing code. You locate the TiVo skill in the Amazon Alexa app on your smartphone, then simply enter the code, and that's it. You can enter other codes to pair additional TiVo boxes as well.
Then things get a bit more complicated. The first hint that maybe all isn't as it should be is that Alexa can't even pronounce "TiVo" correctly – it puts the emphasis on the second syllable ("tee-VOE") rather than the first.
You can supposedly ask TiVo watch by channel name, but after adding Alexa, I've asked my Echo to tune HBO and NBC and a host of others. After a pregnant pause, however, Alexa usually tells you it can't locate the requested channel. As a result, you have to ask it to tune to a specific numerical channel.

My complaint, though, is less functional and more practical. It's just a lot easier and faster to punch the channel number into the remote than to ask Alexa and wait for the change – or no change, depending on how Alexa feels at the moment.
Alexa's minimal voice assistance is a cool boon for those who own TiVo Roamio and Premium STBs (and I assume it'll improve over time) which lack their own voice control, but it's pretty redundant for the Bolt Vox.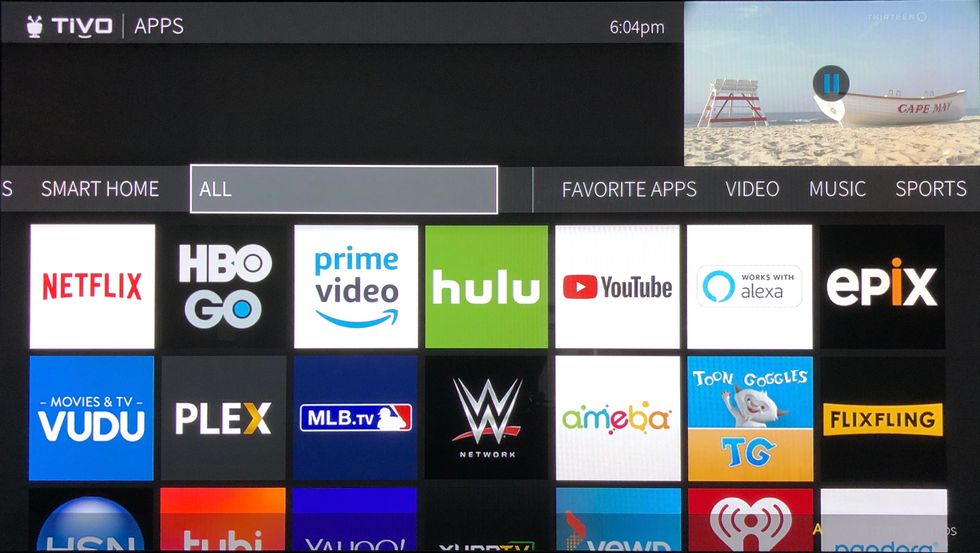 Bolt lets you access content from multiple brands including YouTube, Netflix, MLB.Tv and HSNGearBrain
Vox Voice Control
Pressing the Vox button on the Bolt's TiVo remote produces an on-screen Vox icon and activates the remote control's microphone. From any screen in the TiVo interface – or just while watching a show – you can intone an actor or director's name or program title to search, or ask to see specific genres of shows ("Show me romantic comedies"), even a movie quote. You can narrow choices to specific platforms (i.e. "Action movies on Netflix"), and even ask follow-up questions ("…with Bruce Willis").
With Vox, there's no waiting for Alexa to wake up and act on your command. You simply push the Vox button on the remote, wait a split second for the Vox icon to appear, and speak. Better than Alexa, Vox changes the channel via its number and its name with no problem, and performs all the prescribed vocal commands flawlessly. But, as noted, it's just easier to manually press buttons on the remote then go through Vox, especially since, as with all voice assistants, your command syntax has to be spot-on or nothing (or, worse, the wrong thing) happens.
Vox does perform nearly flawless content searches, which you'll use frequently once you get to using it. Just say the name of an actor, director, genre, year, even a specific program or movie title, and within a second or so, you get a list of matches from all sources – broadcast/cable, the streaming content apps, stuff you recorded to the DVR. If the discovered program is available from multiple sources, TiVo will list the most convenient and least pricey options first, such as from your My Shows DVR list.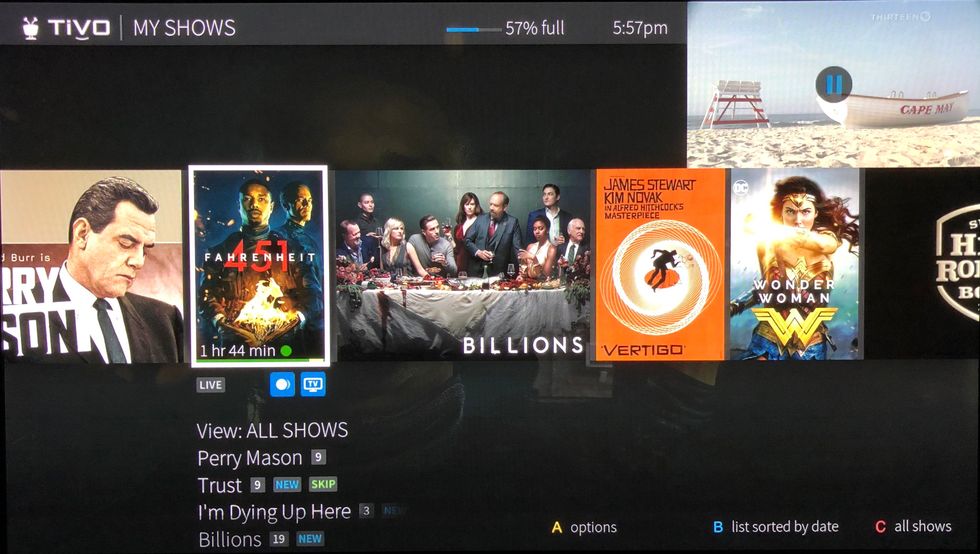 If your show is available, Bolt will bring up the least expensive option firstGearBrain
I found that Vox understood me most of the time. It had a problem with titles that are years – the CNN documentary series "1968," for instance, produced a list of movies from 1968, with similar results when I searched for the movies 1941, 1984, 2001, 2010 and 2012. I'd estimate that TiVo understood names and commands around 90 percent of the time, with some odd misses.

A search for the Robin Williams: Come Inside My Mind, for instance, produced not the HBO documentary, but a 2013 mental health documentary called Inside My Mind, and options for Robin Williamson, a name shared by an actress with one nameless credit ("restaurant patron," according to IMDb), a silent comedy director, and the Scottish musician – but not the comic icon. A search for Sasha Baron Cohen's Who Is America? yielded not the new Showtime series but a program called Who Is An American?
Vox also had some trouble with generic names and words. For instance, "poker" produced no results despite the plethora of TV poker shows (including the just completed World Series of Poker), while the top results for "baseball" were Cape Cod League Baseball, the MLB.TV app and several upcoming local games. However the MLB All-Star Game, which was airing the evening, did not appear.

These are minor misunderstandings, however, and don't diminish the overall convenience and alternative to that annoying grid alphabet you have to tap one-by-one.
Summary
Overall, TiVo Bolt Vox is a more complete and holistic TV consuming platform than cable or satellite. It's got more DVR options and functionality than most other cable and satellite choices, and every function is enhanced by its Vox voice command capabilities, as occasionally twitchy as they are at the moment. Taken as a separate single-box broadcast/streaming/DVR solution, TiVo is really the only or best solution because there's nothing else like it, and if you've got a 4K TV, highly recommended if you can justify and afford the costs.
But integration with Alexa – such as being able to stream video from your Alexa-compatible Wi-Fi security cameras on the TV to which your TiVo is connected – or lack thereof, is disappointingly non-existent and a missed opportunity.
Pros:
Voice search, and Amazon Alexa control
Combined cable, streaming media, DVR in one box
Universal cable/streaming search results
Cons:
Only 21 streaming content apps
No smart home functionality, and spotty Amazon Alexa control
CableCard required for cable TV access, and pricey
Like GearBrain on Facebook