Like GearBrain on Facebook
Amazon's bid to take over your living room and install Alexa in every corner of your home took another step forward recently with the new Fire TV Cube, a streaming device with Alexa and the ability to control your TV, sound bar and cable box with your voice.
At least, that's what the Fire TV Cubs is supposed to do. The $120 device relies on infrared to send commands to nearby devices (like your TV and cable box), turning voice commands like "Alexa, put on ESPN" into the TV switching on and the channel appearing.
Read More:
The Fire TV Cube's review embargo dropped today (June 21) and, while the first batch of reviews hover around the 3.5 or four-star mark, there is still work to be done before you can consider putting that pile of remotes away once and for all.

Wired begins brutally with: "Alexa, can you pass the remote?", and adds that Amazon's assistant inside the Fire TV Cube is "sluggish and buggy in the context of TV control."
The review, which awarded 3.5 stars, adds: "Using voice for more than simple controls is annoying. Not all popular content apps support voice. Still no native YouTube on Fire TV."
On balance, Wired praises the Cube's ability to switch your TV on and off, along with Amazon's "rigorous parental controls". But the publication questions whether voice controls are even right for a TV interface, as Alexa demands you bark commands like "Scroll to the right" and "show more" repeatedly to navigate through content.
These criticisms were echoed by TechHive, which says: "While the hardware does a fine job of recognizing voice commands, Alexa often fails at searching for content, is inconsistent at controlling video playback, and doesn't yet work with a large number of apps." In fact, voice control is only supported by 15 Fire TV apps for now.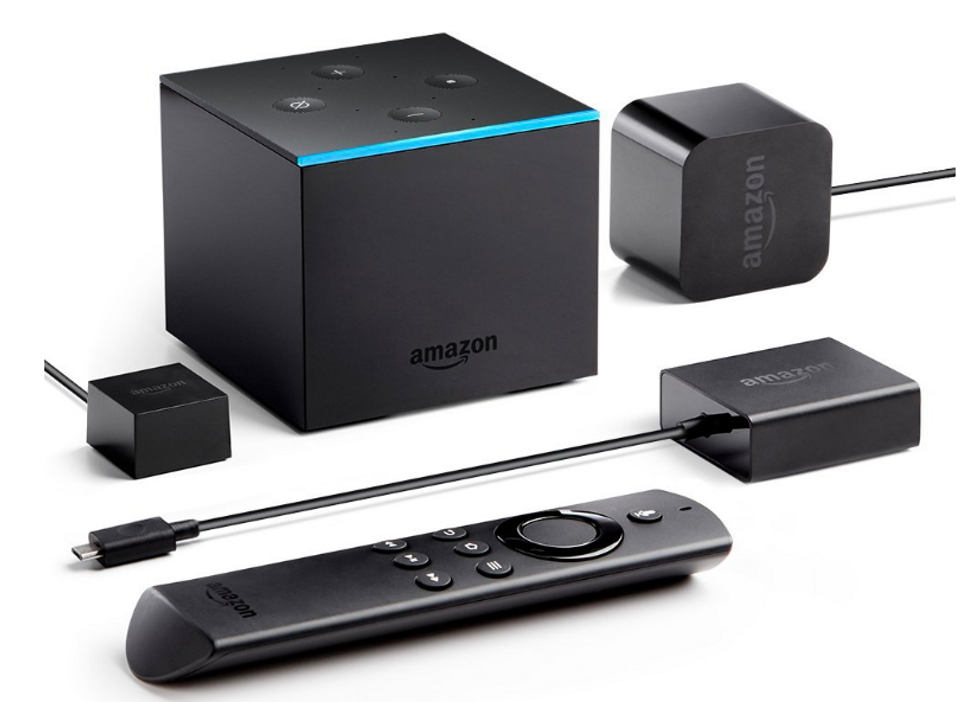 Fire TV Cube unboxedAmazon
The three-star review describes launching videos with Alexa as "glorious - when it works", and praised how the Fire TV Cube uses your TV like a giant Echo Show, displaying text, video and images to complement Alexa's answers to your questions. Ask about the day's news headlines, for example, and highlights from broadcasters will appear on your TV.
But there are some serious downsides, says TechHive, including: "Alexa is embarrassingly bad at genre search and inconsistent at playback controls."
While menu navigation caused problems for many, asking Alexa to just start playing something gave better results. Tom's Guide says: "When you know what you want to watch, you just want to be watching it already. So, when I said: 'Alexa, play Luke Cage,' and the Fire TV Cube responded by opening Netflix and starting the show at its first episode, I felt a sense of satisfaction. Even though I've never been a fan of voice-based assistants, I found that Alexa is an exceptional TV navigator."

Also exceptional, according to Tom's Guide, is the setup process for getting the Fire TV Cube to talk to your TV and cable box. Alexa can also control soundbars and A/V receivers, and can switch on some other devices, like the PlayStation 4.
Getting the Cube to play nice with your A/V kit will depend on where they are positioned. The Cube blasts out infrared signals from its four sides, plus from an included extender which plug into the device.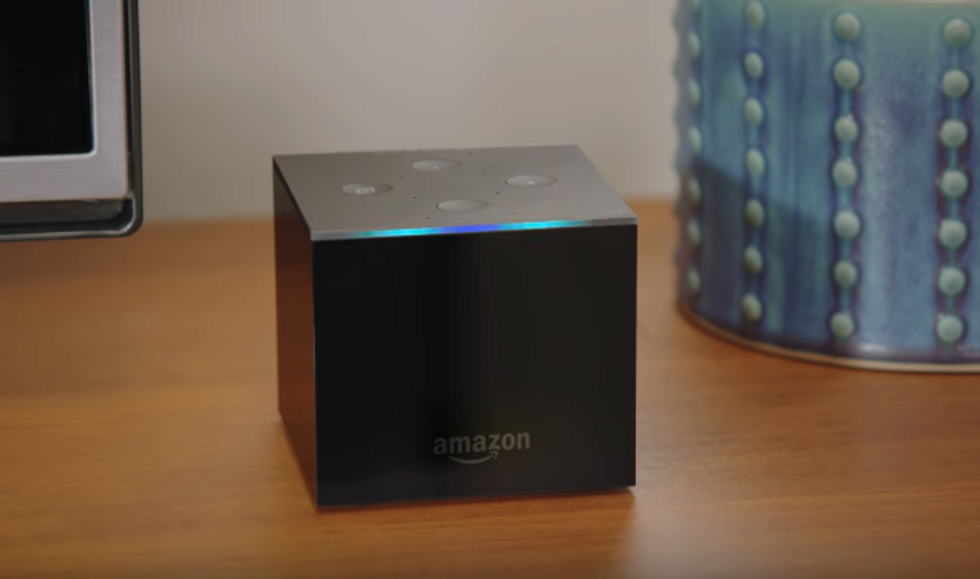 Amazon Fire TV CubeAmazon
But this isn't a perfect solution. The Verge explains: "IR blasters are a legendarily dumb technology with a host of issues - commands can get interrupted by sunlight...and the IR blasters on the Cube need to have some kind of line of sight to the devices you want to control. If your cable box and Blu-ray player are in a closed cabinet, you'll have to use the included IR extender...All of those limitations mean you have to still use remotes, and use them often."
Although the Cube is an Alexa device, it doesn't offer all of the same features as Amazon's Echo smart speakers. For example, it cannot make phone calls.
Another area of complaint from reviewers focused on the remote control bundled with the Fire TV Cube, which is identical to that which Amazon gives away with the Fire TV 4K and Fire TV Stick. The remote has media playback controls, directional buttons and a microphone for talking to Alexa if you don't want to shout across the room. But it has no volume buttons.
The Verge describes the remote's lack of volume, mute and TV power buttons as "a gross oversight by Amazon and forces you to keep various other remotes accessible to perform those actions without using your voice...The inclusion of a remote is also an admission by Amazon that voice commands aren't always the most convenient or intuitive way to control something. Many times it's just faster to grab the remote and skip a track, select an item, or pause a video than wait for an Alexa voice command to be heard and processed."

TechHive also had issues with the included remote. "Worst of all, Amazon still isn't including volume-control buttons on its Fire TV remote controls...TV remote controls are now table stakes on every streaming box and stick in the $50-and-up price range; it's inexcusable that Amazon omitted those controls on a new premium Fire TV product in 2018."
Another issue is how an HDMI cable is not included in the box, so you'll need to buy one before the Cube can work. CNBC described this omission as "baffling", but went on to generally praise the device more than most. "I already love walking into my living room and turning on the TV without having to find a remote," CNBC said, adding: "It's a solution so good that I hope Google and Apple copy it soon, and we can stop worrying about remotes once and for all.
Other conclusions were less glowing. Wired summed up: "The Fire TV Cube feels like a bit of an oddball in the mix [of Amazon products]. It's a bet on our voice-filled future, but in its initial form, the stuff beyond basic commands gets lost in translation."
And don't for get to check out The GearBrain to see everything that works with Google Assistant and Amazon Alexa.
Like GearBrain on Facebook