Like GearBrain on Facebook
LEGO is asking kids to become ghost hunters with a new augmented reality app that will turn play sets into haunted spaces. Called Hidden Side, each of the eight kits will turn into a different item, a school, a bus and even, of course, a graveyard. But once you hold up a smartphone or tablet with the AR app launched, players will find ghosts milling about in a haunted scene only they can fix.
LEGO is launching the sets as part of New York Toy Fair, opening this weekend, where toy makers hawk their wares and show off what they hope will be the favorite play things of children for the coming year. (GearBrain will be reporting from Toy Fair 2019 in coming days.)
Read More:
This isn't LEGO's first foray in AR. The brand has set out kiosks in its stores, where buyers could hold up a LEGO kit and virtually see what the set would like like fully built in 3D. The company hinted at using Apple's ARKit 2.0 to bring augmented experiences to its toy sets during Apple's WWDC event in 2018. The LEGO Ninjago AR app which works with the Dragon Hunter sets, is one of the first examples of AR content tied to its toys.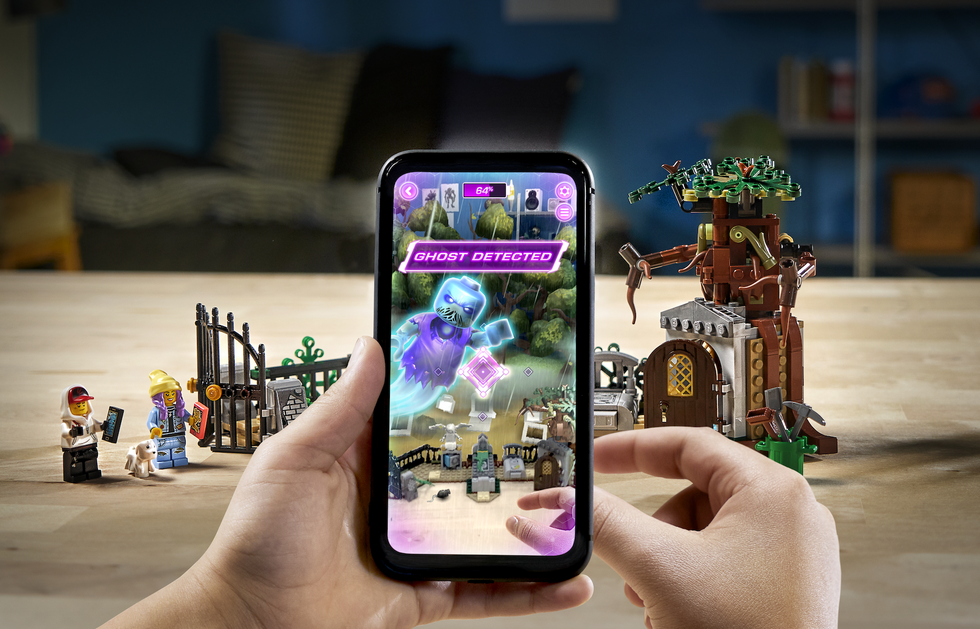 With a new AR app. LEGO Hidden Side will transform sets into haunted scenesLEGO
This new AR experience is designed for a specific group of sets, which together build a town called Newbury. In the app, players are teamed with two characters, Parker and Jack, both whom are from the town and need help to catch the ghosts that have taken over. The sets and the app are designed for children ages 7 and up, so the ghostly apparitions aren't expected to be too frightening for youngsters.
The sets and app will be available starting August 2019, and while there aren't any details about pricing, LEGO said the app will work on both iOS and Android devices.
"Our years of experience pioneering the convergence of technology and physical play have taught us that kids expect exciting play experiences that move seamlessly between physical and digital worlds – something we call fluid play," said Tom Donaldson, senior vice president, Creative Play Lab at the LEGO Group. "At our core we focus on tactile building, but AR presents opportunities to enhance physical LEGO play with new action and mastery elements. We're breaking the mold of gaming-first AR play experiences to create a new type of play where the physical world actually influences the AR layer, instead of the other way around."
Like GearBrain on Facebook