Like GearBrain on Facebook
Ubtech's latest robotic kit is part of its Mythical Series, a dragon with wings that flap, and can be programmed to breathe LED fire. The $129.99 Firebot Kit, part of Ubtech's Jimu robot line, is a build your own adventure — you have to put the time in to reap the fun. Sent one by Ubtech, we invested a couple of days to snap the hundreds of pieces together. The result? A toy that's best for family members who like to play together, or those who are fond of making something on their own.
DIY Dragon
Build your own kits are common today — you can find sets of blocks that turn into the Taj Mahal, a classic Volkswagen and even a rocket that sent astronauts to the moon. Kits that turn into robots that you've built yourself, and let you code your own programs, are harder to find.
Ubtech, however, is known in this space for kits that can build a dog or a construction tank — and then operate as a robot. Even more? You can code your own movements through the company's Jimu app (made for both iOS and Android devices) letting beginning coders create their own series of actions.
GearBrain plays with the Jimu Firebot Kit, dragon robot youtu.be
The Firebot Kit hits all these points, a project just challenging enough to not get finished in one sitting, easy to find actions to eek out some fun quickly and a way to expand the finished object — in this case a dragon — into a toy you can code on your own.

Putting Firebot together
You're going to want to download the Jimu app before you even open the box. This is the same app that operates other robots from Ubtech's Jimu line, so if you've built one of their robots in the past, you can just open this again.
You'll want to select Firebot this time, though, and open up the digital instruction book. Keep in mind that while the app will say there are only 31 steps, each one of those steps is broken into about eight to 10 mini-steps. In other words, it's a mistake to open this at 9 pm and think you're going to have a finished dragon built before bedtime.
UBTECH JIMU Robot Mythical Series: Firebot Kit/ App-Enabled Building & Coding STEM Robot Kit (606 Pcs)
There were more than 600 pieces in this specific kit, with a lot of these tiny parts looking like the other, differing only very slightly. And we're not ashamed to say we had to rip apart our build — twice — to pull out the wrong pieces. What would have been smarter was to organize, and check, that we had every piece before we started, and then placed each in a bowl or box. We've done that before, but we didn't do that this time, and building this dragon took a bit longer than needed.

We also found that the app wouldn't remember our place each time we stopped — a slight irritation, and we suggest that if you're planning to work on this robot over a number of days, to pause after fully completing a specific step, so you can fast-forward easily to that point when you start up again.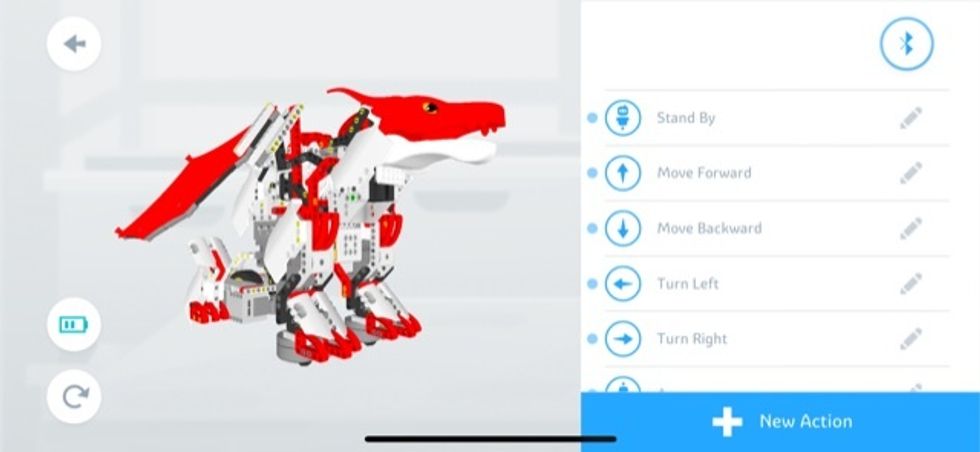 You can select pre-programmed actions in the Jimu app, or code your ownGearBrain
Programming

Not only can you play with the Firebot Kit once you've built the dragon, you can create your own actions as well. But the pre-programmed options are pretty fun, whether you're making the robot erupt, soar, roll forward or back.
New actions you want to create are tied to the different motors, and you build them by dragging and dropping different features you want the robot to be able to do right in the app. There's reason to take try your hand at some light programming — that's the way to take advantage of two extra features: a touch sensor and the LED light. You can see the LED light in action when you turn the dragon on — the lights, buried into its mouth, flash different colors. But you can add more ways for those lights to appear through coding.
Price
The Jimu Robot is $129.99, although you need a smartphone to operate the app.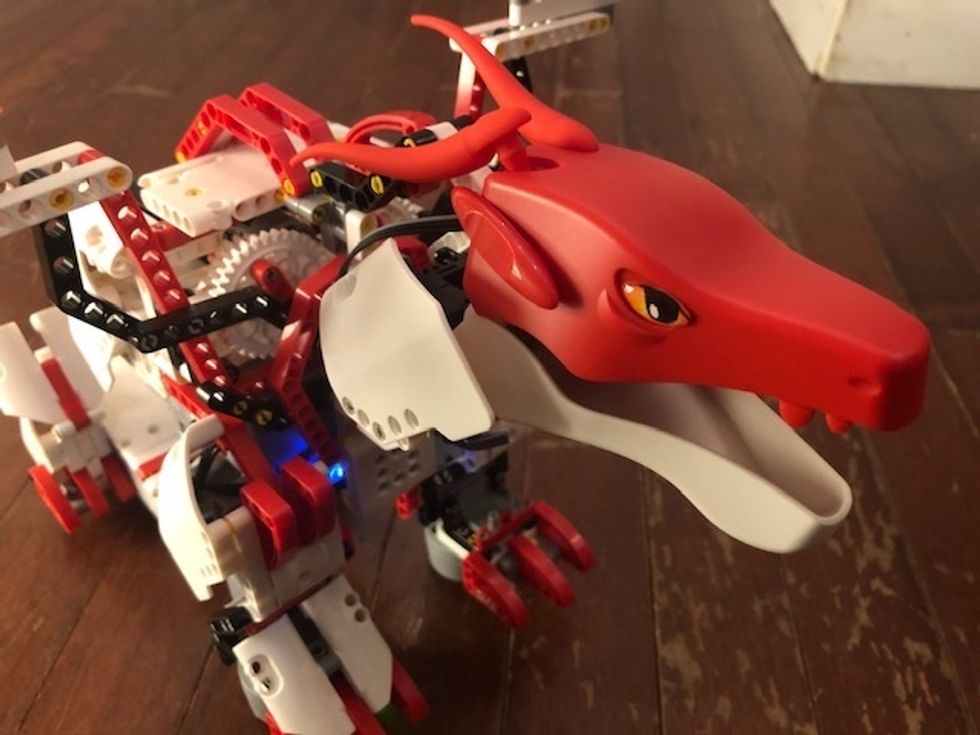 With wings that flap and a mouth that snaps, the Firebot Kit is a fun robot to build with childrenGearBrain
Best for…

The Jimu Robot kits are great for children who like build their own toys, and who enjoy unpacking hundreds of parts and seeing them unfold into a working object they've put together themselves. What's particularly solid about the Firebot Kit is you can build the dragon, play with actions already set up — or take an extra step and write your own code to give the impression of it breathing fire, or to avoid obstacles in its path through the built-in sensor.
This is certainly a challenging kit, really perfect for parents who may want to build something with their children. With an age range of 8-years-old and up, it's also a good option for older elementary school-age kids who love tinkering. Frankly, we think robots are always great toys. But robot dragons that flap their wings and breathe LED fire? That's just cool.
Pros:
A robot you can build yourself and program
Fun features include LED lights and wings that move up and down
It's a dragon robot
Cons:
Price
App doesn't remember where you left it, forcing you to start from step one
Parts are small, easy to lose and mistake
UBTECH JIMU Robot Mythical Series: Firebot Kit/ App-Enabled Building & Coding STEM Robot Kit (606 Pcs)
From Your Site Articles
Related Articles Around the Web
Like GearBrain on Facebook