Like GearBrain on Facebook
Richard Branson's Virgin Hyperloop has completed the world's first passenger test ride of a levitating pod heralded as the next generation of high-speed travel.
The idea of a hyperloop transportation system, where pods levitate above a track using magnets and are propelled through a vacuum tube at the speed of an airliner, was first described by Tesla boss Elon Musk back in 2012. It was hoped the system would one day speed passengers from Los Angeles to the San Francisco Bay Area in just 35 minutes, at up to 760 mph.
Read More:
Despite interest from a range of companies all keen to make Musk's dream a reality, hyperloop technology hasn't got off the ground as quickly as hoped.
Now though, Branson's Virgin Group, which is also pressing ahead with its space tourism plans through Virgin Galactic, has completed its first hyperloop passenger ride.
The company announced on Sunday (November 8) it had completed the test at its DevLoop test track in Las Vegas, Nevada, where two Virgin Hyperloop employees completed a 500 meter test run and reached 107 mph. Virgin Hyperloop has previously hit 240 mph in unoccupied testing, not far behind the 300 mph of the current fastest magnetic levitation train system, the Shanghai Maglev. Its eventual goal is 670 mph.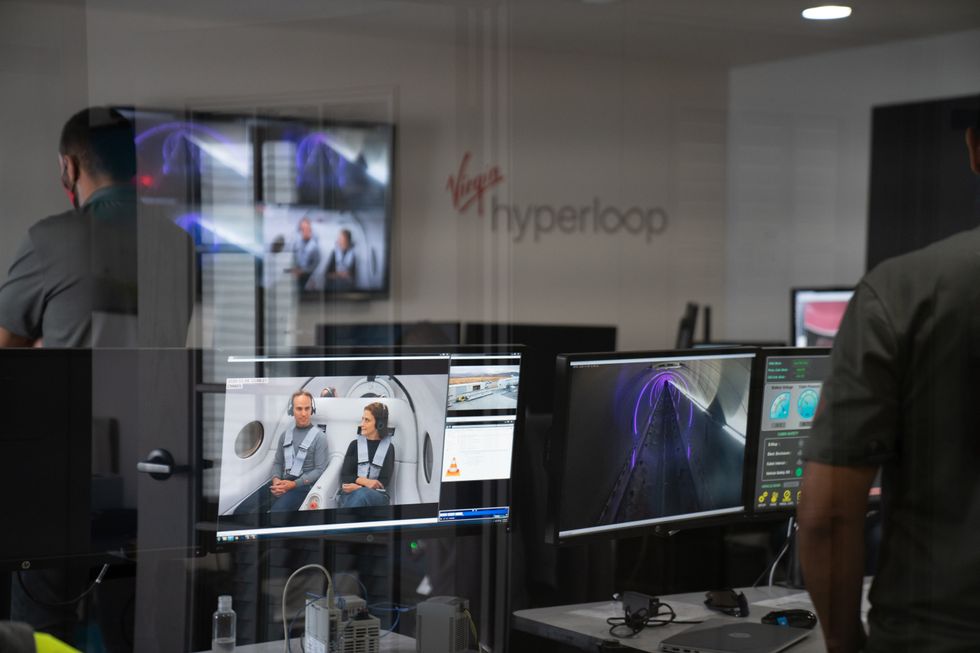 The vehicle travelled at 107 mph through a 500 meter near-airless tubeVirgin Hyperloop
The vehicle had previously run on the same track, through a near-airless tube, over 400 times during unoccupied testing.
Branson said: "For the past few years, the Virgin Hyperloop team has been working on turning its ground breaking technology into reality. With today's successful test, we have shown that this spirit of innovation will in fact change the way people everywhere live, work and travel in the years to come."
The first passengers to ride on a hyperloop system were Virgin Hyperloop co-founder and chief technology officer Josh Giegel, and Sara Luchian, director of passenger experience.
They rode in a two-seat test vehicle called the XP2. Virgin Hyperloop says the production vehicle will be much larger, with seating for 28 passengers. The company plans to create a transportation system that is near-silent, will receive its safety certification by 2025, and begin commercial operations by 2030.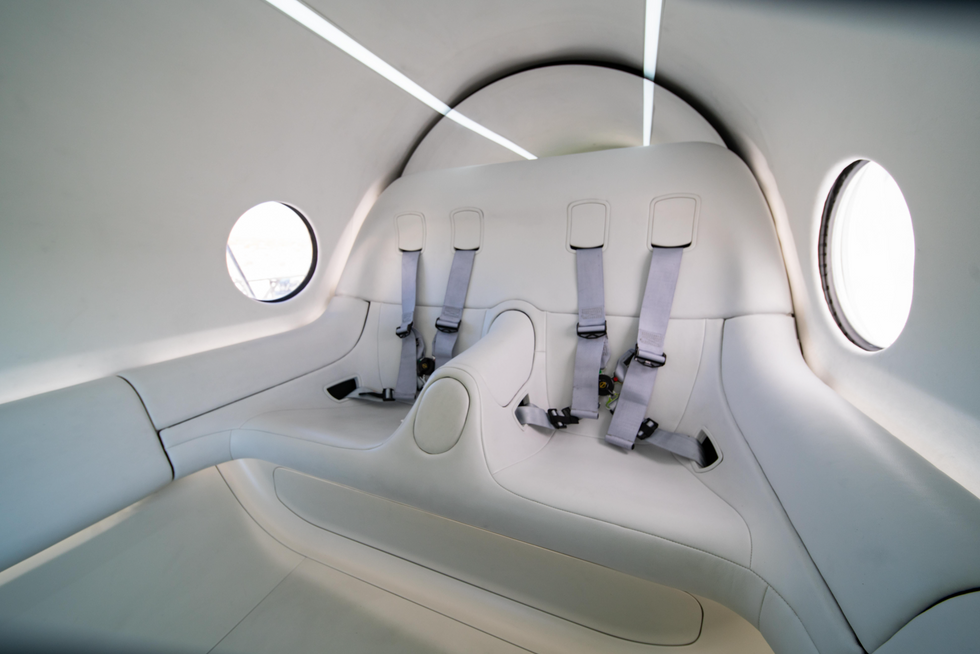 The test vehicle has two seats, but the commercial version will have 28Virgin Hyperloop
Virgin Hyperloop began life as Hyperloop Technologies in 2014, before switching its name to Hyperloop One in 2016. A year later, the Virgin Group made a significant investment in the company, leading to its rebranding to Virgin Hyperloop. The firm is one of several hoping to turn Musk's original plans into a functional and financially successful transportation system.

If all goes to plan, such a system could see passengers travel between major cities faster than via commercial aircraft, and significantly quicker than using a conventional train.
Giegel, a former SpaceX engineer, said after the passenger test: "When we started in a garage over six years ago, the goal was simple – to transform the way people move. Today, we took one giant leap toward that ultimate dream, not only for me, but for all of us who are looking towards a moonshot right here on Earth."
Powerbeats Pro Wireless Earphones - Apple H1 Headphone Chip, Class 1 Bluetooth, 9 Hours Of Listening Time, Sweat Resistant Earbuds - Black
From Your Site Articles
Related Articles Around the Web
Like GearBrain on Facebook