Volvo has a long history as a vehicle safety pioneer, and as the Swedish company prepares to launch its first electric car, that stance now means a focus on protecting batteries as well as passengers.
The electric XC40, to be shown in public for the first time on October 16, will be the company's first EV, but is based on its existing compact SUV, rather than being a completely new vehicle.
Read More:
What is new, however, is how Volvo has approached safety, given the different physical requirements of an electric car, which has no engine in the front, but instead carries a large and heavy lithium battery in its floor.
DUOSIDA Level 2 Electric Vehicle Charger 240V, 16A
Described by Volvo as "one of the safest cars on the road," the electric XC40 features a new and unique safety structure which is designed to protect passengers and battery alike. The latter is important here, as electric car makers need to ensure that, in a collision, the battery is not damaged, as this can lead to a fire which spreads through the cells of the battery pack and can be difficult to put out.
Volvo says: "The battery is protected by a safety cage which consists of a frame of extruded aluminum and has been embedded in the middle of the car's body structure, creating a built-in crumple zone around the battery."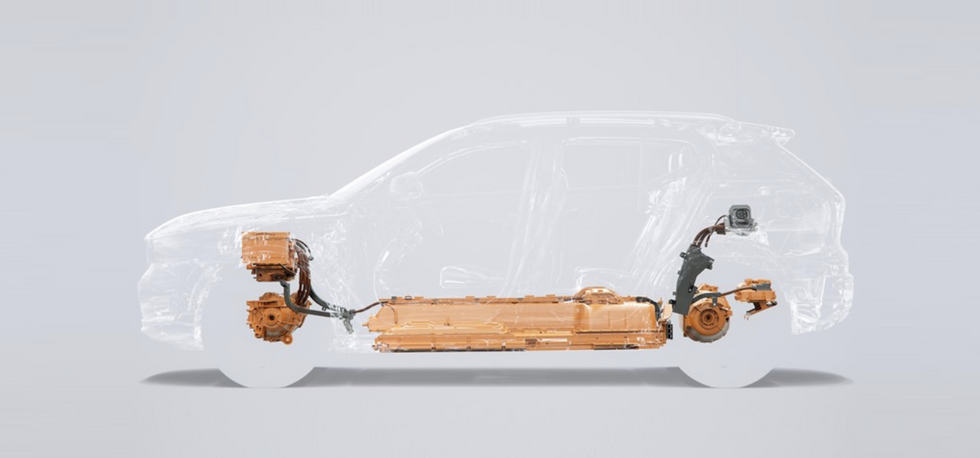 The XC40 will be revealed in full on October 16Volvo
As with most other electric cars, placing the heavy battery in the floor of the vehicle helps to reduce its centre of gravity. This helps with handling, but also makes it less likely that the car will roll over when the driver swerves to avoid something at high speed.

The car has electric motors at its front and rear, each driving one axle. Volvo says how the electric powertrain "has been integrated in the body structure to realize a better distribution of collision forces away from the cabin and reduce the strain on people inside the car [in the event of a collision]."
As well as physical safety, the electric XC40 also features new computer-controlled active safety systems. Volvo says it is its first car to be fitted with a new Advanced Driver Assistance System (ADAS), including a new sensor platform and software. The company says this includes the use of radars, cameras and ultrasonic sensors, but hasn't gone into more detail on the system, and what it is capable of, just yet.
Speaking about the system, Volvo said: "Because of its scalable nature it can easily be deployed further and lays the foundation for the future introduction of autonomous drive technology."