What happens when you want a $30,000 electric family car, but don't want a Tesla? To some, this may sound like a preposterous question. After all, why wouldn't you want a Tesla Model 3, the brand's die-hard fans surely yell. But there are great options, including the Kia Nero EV, which shines brightly as an affordable option with plenty of features worth considering.
Read More:
To be honest, not everyone wants to live in a future where their car is as minimalist and tech-heavy as the Tesla. Not everyone wants to control their windshield wipers with a touch screen; not everyone wants Autopilot, or to buy into Elon Musk's dream. Frankly, not everyone wants to worry about delivery delays, spare part delays, and quality control.
Some people — many people — just want a car that takes their family safely and comfortably from A to B. The fact that their car is electric could well be inconsequential.
This is where the Kia Niro EV step in, with a car that forgoes the huge touch screen to control everything, and brings back the steering wheel, mirrors and climate control that adjust just as they do in your current car. You can jump in the Kia Niro EV and drive right away; and you certainly don't need to log into a smartphone app and pair to the car like a Bluetooth speaker.
Starting the car is as simple as sitting down, rotating the gear select dial to D for drive, and pressing the accelerator.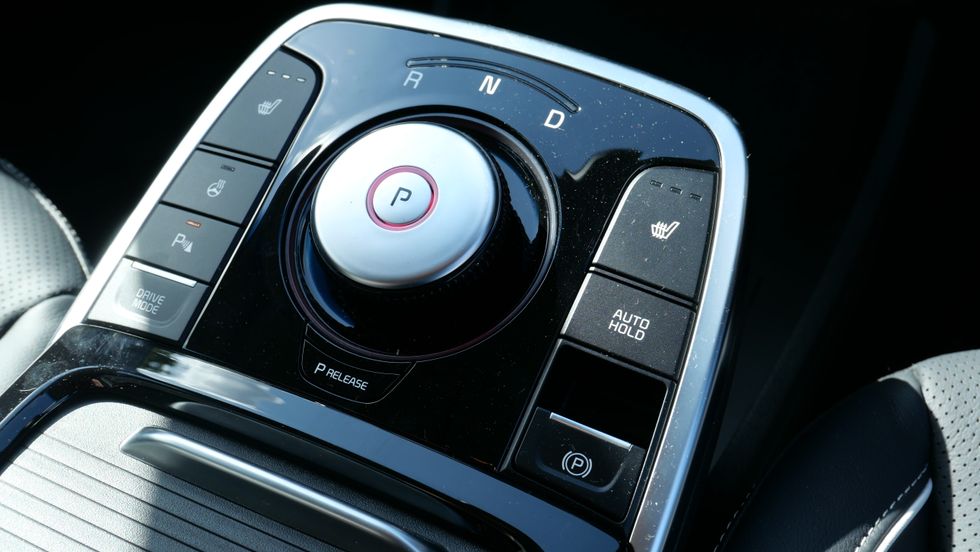 The Kia's rotary gear selectorGearBrain
At this point, you do not get the same supercar-embarrassing acceleration as a Tesla. Not even close. But does that really matter? The Kia still surges forward, silently and with confidence to 60 mph in 7.5 seconds (the same as the new electric Mini Cooper). With 201 horsepower and 291 lb ft of torque, the Niro is quick enough to give you a thrill, but doesn't launch itself forward so violently that your children spill drinks all over the leather seats.

A word of warning while we're talking about performance; avoid engaging sport mode. This turns the accelerator into a hair trigger which causes the car to lurch forward with every microscopic movement of your right foot. This is fine if you stamp on it at the lights, but somewhat nauseating if trying to make progress in flowing traffic; you're best leaving the car in its default setting.
Find a more dynamic road and the Kia handles flat and true, thanks to a relatively low weight (for an EV) of 1,812 kg, and with the 457 kg battery mounted in the floor, keeping the center of gravity nice and low.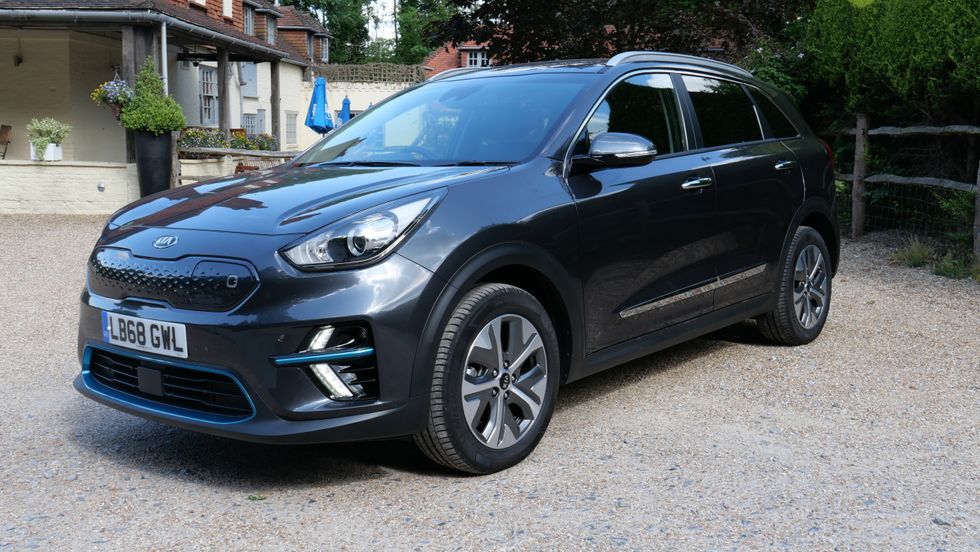 The Kia's 457kg battery is located in the floorGearBrain
Leave the Kia in its standard mode and you get a car which is quiet and comfortable in a way electric cars excel. The regenerative braking system, which slows the car by harvesting energy back to the battery when you lift off the accelerator, negating the need to use the brakes in most situations, can be adjusted via paddles behind the steering wheel. Looking and feeling exactly like the paddles to operate a sports car's gearbox, a pull on the left increases the strength of the regenerative braking, while a pull on the right decreases it.

There are three levels to choose from, plus zero, where the car coasts when you lift off the accelerator, like a non-electric car. Personally, we left the system at its strongest, knowing it is extending the car's range as much as possible, and making the brakes almost redundant. We suspect the discs and pads of an EV must last forever.
Speaking of range, seemingly the be-all and end-all of today's electric cars, the Kia clocks in with an EPA-rated range of 239 miles. That's just a mile short of the regular $39,900 Tesla Model 3, but a little behind the 310-mile Model 3 Long Range, which starts at $49,900 before incentives. And remember, Tesla cars are no longer subjected to the full $7,500 federal tax cut (unlike the Kia). The list price, before any incentives and potential fuel savings, of the Niro EV is from $38,500, compared to $39,900 for the Model 3 and equally priced Model Y compact SUV, due out in 2020.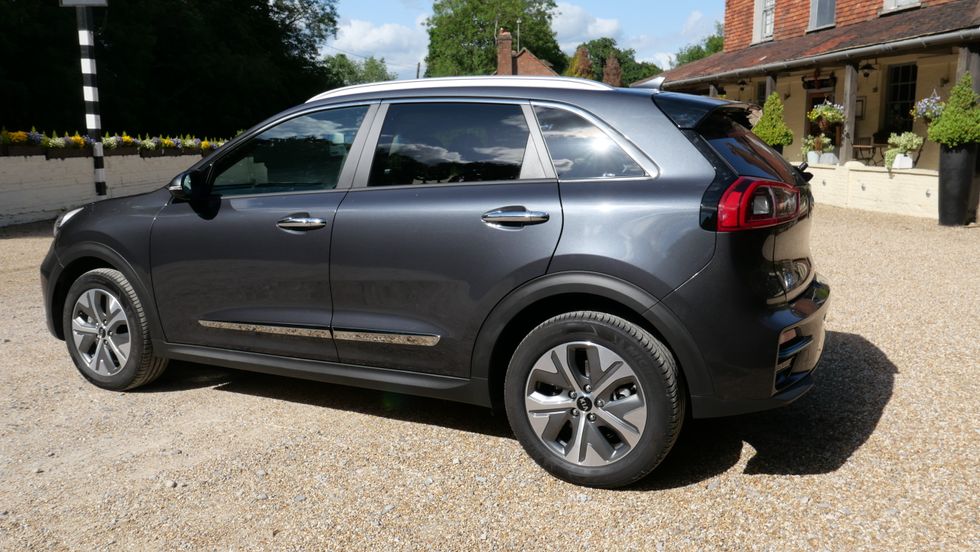 The Niro EV has an EPA-rated range of 239 milesGearBrain
Charging is where Tesla can still play its trump card, as the Supercharger network continues to outshine anything else on the market. The Kia — and all other electric cars, at least for now — cannot use Superchargers, and instead must use the public charging network, which is operated by a range of companies and offers varying speed and reliability.

This will improve, of course, and Volkswagen's Electrify America charging network (plus the Ionity network in Europe) will soon rival Tesla's Superchargers, and in some cases work even more quickly.
Inside, the Kia and Tesla differ like night and day. The Model 3 comes from an unknown and unfamiliar future, while the Kia is reassuringly familiar. Its interior is modern and smart, but feels like that of most other cars from 2019, instead of the barren minimalism of the Tesla.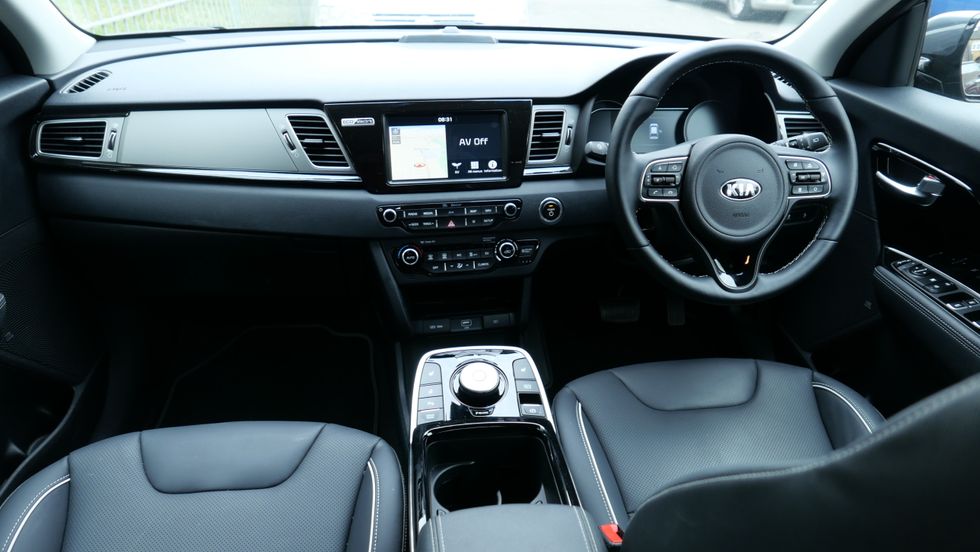 With buttons and switches, the Kia's interior is reassuringly familiarGearBrain
The Kia has a 7-inch touchscreen as standard, upgradeable to eight inches with the $44,000 EX Premium trim level, and there's a six-speaker sound system as standard or an optional eight-speaker Harman Kardon system. That screen can be used to display Apple CarPlay and Android Auto — both of which are missing, and more obviously so than ever, in all Teslas.

Standard equipment on both versions of the Niro EV include a rear parking camera, blind spot collision warning, driver attention warning, and forward collision avoidance assist (also known as emergency low-speed braking.)
As for autonomous driving features, the Kia doesn't have Tesla's Autopilot system, but can still keep itself in lane on the highway, maintain a driver-defined speed and distance from the vehicle in front, and there's a system for handling the stop-start of crawling traffic.
These driver assistance features may lack the razzmatazz of Autopilot, which can follow the navigation system and even change lanes to overtake slower traffic. But, again, this is not a car for early adopters desperate to drive the cutting edge (although often beta) technologies. Our only real concern was with the lane-keep system, which sometimes got confused when we legally crossed road markings without indicating, then reacted by blaring loudly and attempting to move the steering wheel. Thankfully, this can be turned off — permanently, if you wish — with the press of a button.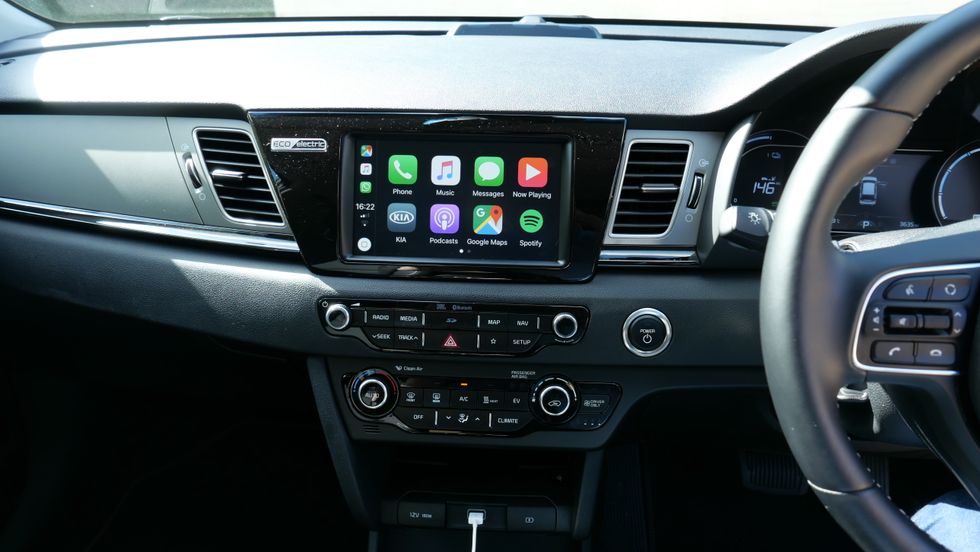 The touchscreen offers Apple CarPlay and Android AutoGearBrain
Verdict

There is a great deal to like about the Kia Niro EV. It is competitively priced, spacious and practical enough for a car of this size, and has one of the longest ranges of 2019 (Tesla aside, but even then there isn't much in it.)
The Kia won't blow a Ferrari into the weeds, won't entertain you with classic Atari games, or take over the driving for you like a Tesla. But those features don't appeal to everyone. Many drivers just want a new car, and if it happens to be electric then that's a great bonus. Others want an electric car, but one which feels familiar and doesn't try to show off at every opportunity.
The Kia fits this brief perfectly, and does so without making an unnecessary song and dance about it. It just quietly gets on with the job of being a car.
Pros
Great range
Lots of premium kit comes as standard
Well priced
Cons
Sport mode is unnecessary
Autonomous systems not a match for Tesla
Reliant on public charging network