Like GearBrain on Facebook
The Volkswagen Group and Mobileye, a division of Intel, plans to launch a driverless ride-hailing service as soon as 2019.
The service will be rolled out in Israel, home of Mobileye, the computer vision company formerly used by Tesla and acquired by Intel for $15.3 billion in 2017.
Read More:
An announcement made by Intel this week claimed the electric vehicles will be provided by the VW Group, then fitted by Mobileye with "full turn-key hardware and software self-driving system validated for level-4 driverless capability."
Level four autonomation is the second-highest level and not yet commercially available from any car manufacturer, technology company, or taxi service. A level four vehicles is capable of driving itself almost all of the time, including on the highway at any legal speed, as well as in towns and cities where the road layouts are more complex.
Single-lane roads away from metropolitan areas are also something a level four vehicle can theoretically navigate unaided. However, poor weather and usual events (like unexpected roadworks and complex diversions) could prove too much for a level four vehicle. Meanwhile, level five is completely theoretical for now, but is used to describe a vehicle capable of driving itself anywhere and in any conditions.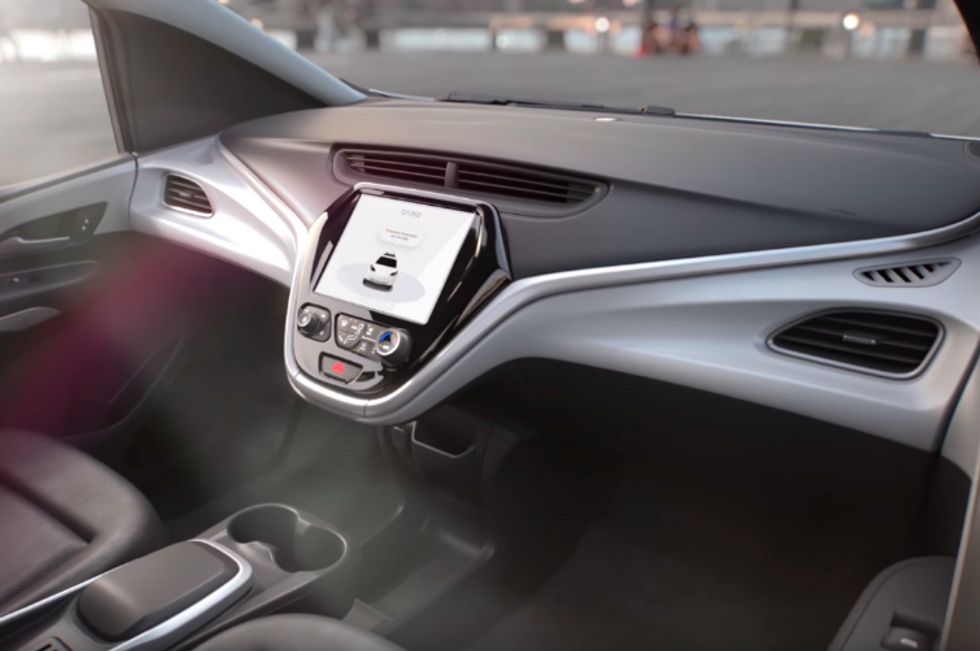 An image by GM showing what a driverless car could look likeGeneral Motors
If the service is deployed as quickly as Intel predicts, it will pose a threat to other autonomous ride-sharing services being developed by General Motors and Waymo, the driverless car company owned by Google parent Alphabet and already being used by the public - albeit with safety drivers onboard. Uber rival Lyft began a trial of a driverless taxi service in Las Vegas earlier this year, and had already completed 5,000 journeys by August.
The Intel ride-hailing service is supported by the Israeli government, while Champion Motors - an importer of VW Group vehicles to Israel - will be responsible for fleet logistics and infrastructure related to the autonomous taxi service.

Volkswagen has not said what vehicles will be used for the service, however an image published alongside the news this week, at the top of this article, suggests an all-new electric car will be used. The VW Group is an automotive giant, owning Audi, SEAT, Skoda, Bentley, Bugatti, Lamborghini, Porsche and Ducati, along with VW's commercial vehicle division, and truck firms Scania and MAN.
Deployment of the service will kick off in 2019 and, Intel says, "roll out in phases reaching full commercialization in 2022."
The local government has committed to offer legal and regulatory support for the service, as well as sharing infrastructure and traffic data, and access to infrastructure as needed.
The fleet of electric autonomous vehicles will "grow quickly from several dozen to hundreds," Intel said.
"We firmly believe that self-driving electric vehicles will offer Israel and cities around the world safe, clean and emission-free mobility, which is accessible and convenient," said Volkswagen Group chief executive Dr. Herbert Diess.
Mobileye chief executive Amnon Shashua said: "Our service aims to intelligently and dynamically adapt to the urban mobility needs of the 21st century, catering to the mobility-mileage demands within the city while minimizing the direct/indirect incurred societal costs - air and noise pollution, congestion and safety."
GearBrain Road Trip Gadget Guide www.youtube.com
From Your Site Articles
Related Articles Around the Web
Like GearBrain on Facebook