In 2021, Walmart will begin to offer truly driverless deliveries using autonomous vehicles, in partnership with Gatik.
The move will be a step forward from its current practice of employing safety drivers to sit behind the wheel of its self-driving vehicles, ready to intervene if there is a problem.
Read More:
But from next year that driver will be removed, allowing the vehicles to operate fully autonomously. This is a major step forward for both Walmart's autonomous ambitions and its three-year-old technology partner Gatik, whose driverless technology the retail giant uses.
Instead of delivering goods to customer homes, the driverless vehicles will initially operate on what's known as the middle mile. This is where goods are taken from a so-called 'dark store', which is not open to the public, to a customer-facing outlet.
Initially, the driverless Ford Transit box trucks will move customer orders on a two-mile route between a dark store and a Neighborhood Market in Bentonville, Arkansas. Walmart and Gatik chose this route because the vehicles already know it well, and by driving on a known route many variables are removed from the equation, thus improving safety.
Walmart says it has covered more than 70,000 miles in autonomous mode with a safety driver.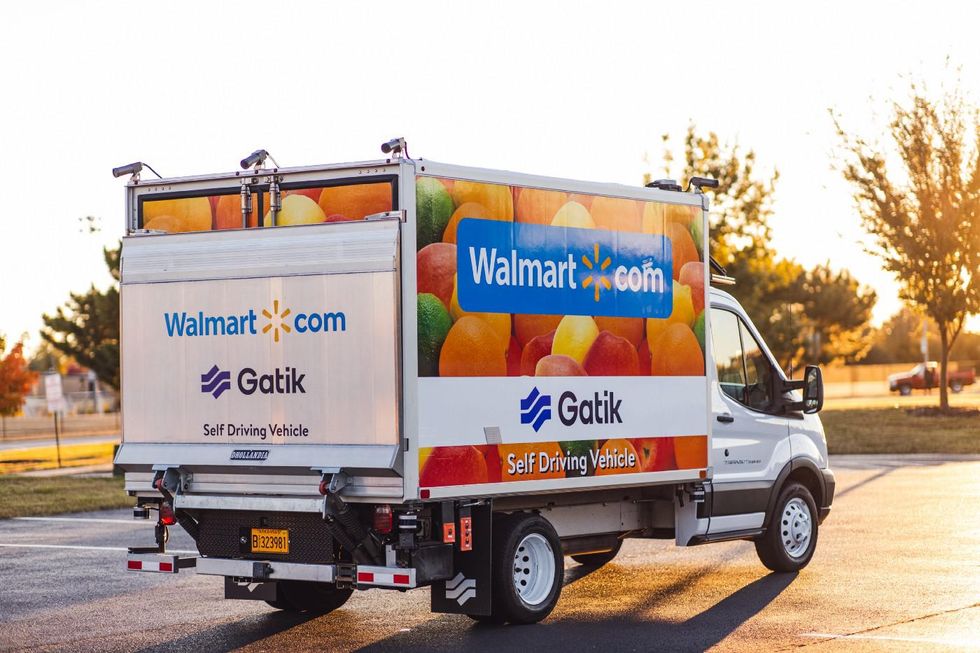 The vans will initially cover a two-mile route in Bentonville, ArkansasWalmart
Gautam Narang, co-founder and CEO of Gatik, explained: "We are able to achieve this milestone because at Gatik, we operate exclusively on fixed, repeatable routes. It's an approach we refer to as structured autonomy. It's safe and efficient because it enables us to constrain the challenge of autonomy, thereby heavily over-optimizing our delivery routes and minimizing edge-cases."

Narang also said how the truly driverless delivery service would be an industry-first for Walmart and Gatik. "This achievement marks an historic technological and regulatory milestone for the industry, signifying the first ever driverless operation carried out for the supply chain's middle mile."
Walmart also announced this week that it has plans for a second autonomous delivery route, but which will have a safety driver behind the wheel for now.
This 20-mile route will see multi-temperature box trucks ferry items from a 'Supercenter' in New Orleans to a Walmart pickup point in Metairie, Louisiana, where customers can collect their items.
As well as working with Gatik, Walmart is also running autonomous vehicle trials with Cruise, the self-driving division of GM. Walmart also offers delivery by drone, as part of a pilot program in Fayetteville, North Carolina.