Like GearBrain on Facebook
Walmart is considering a future where shoppers visit 3D, computer-generated stores through a virtual reality headset worn at home, instead of going to a brick-and-mortar store.
The retailer has filed two patents with the US Patent and Trademark Office describing the system, which would see shoppers navigate their way through a "virtual showroom". Using the VR headsets and gloves with embedded movement sensors, shoppers would be able to walk along the aisles and virtually pick up items from the shelves to inspect them and complete the purchase.
Read More:
First spotted by Bloomberg, the patents were both filed on January 23, 2018 but have not yet been granted.

The first patent describes a virtual reality environment where shoppers wonder the 3D aisles of a virtual store from home. Once the item has been bought by the VR headset wearer, the purchase is completed at an autonomous fulfilment center.
The second patent states: "A computing system can instruct an autonomous robot device to retrieve [the purchased item]...The autonomous robot device, autonomously retrieves and transports [the purchased item] to a specified location in the facility".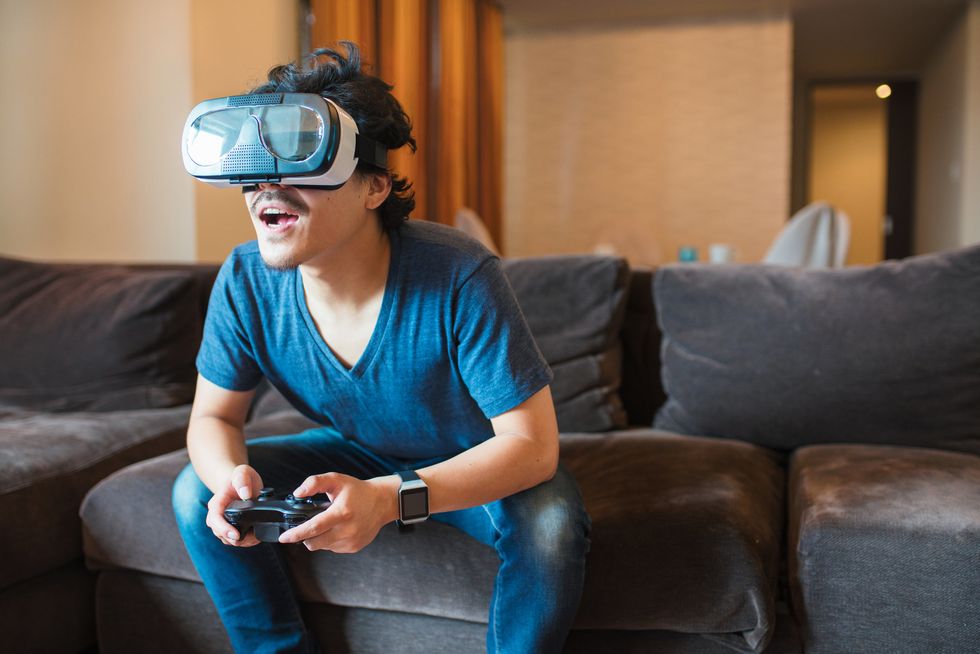 Virtual reality is already popular with video games, but VR shopping could be on the horizoniStock
In a bid to combat Amazon, Walmart has spent 2018 restocking its digital warchest. Walmart acquired VR startup Spatialand in February and embedded the company with its Store No. 8 tech incubator.
In June it launched a VR experience where shoppers can browse a virtual apartment stocked with 70 items available to buy from Walmart. The experience can be viewed as a 360-degree image on a computer screen, or in VR through the Google Cardboard and Samsung Gear VR headsets.
In July, Walmart became a partner of Waymo, the autonomous car company owned by Alphabet, parent of Google. The partnership will lead to self-driving cars collecting customers from their home and taking them to the local Walmart.
As traditional retailers look to go digital, Amazon is working on how to launch its own physical stores, and opened its first in early 2018, featuring no check-out system. Instead, cameras are used to monitor what items shoppers take from the shelves, then their Amazon accounts are automatically charged when they leave the store.
As always, it is worth noting that companies regularly file patents for far-out technologies which never see the light of day. So, while Walmart may well produce a VR shopping experience (the technology is certainly available today to do so), these patents do not confirm that such a service will be made available to the public.
Like GearBrain on Facebook