Like GearBrain on Facebook
Waymo, the autonomous car company owned by Alphabet, parent of Google, has received the first permit to operate its vehicles on Californian public roads with no safety driver onboard.
Although the vehicles will not yet carry any passengers, Waymo has been granted permission by the California Department of Motor Vehicles (DMV) to have the cars drive on their on, sharing the roads with human drivers.
Read More:
Waymo is the first company to receive such a permit in the state, which is the result of new local DMV regulations that came into effect in April this year.

This is the latest step in Waymo's near-decade-long journey to produce fully driverless vehicles for use by the public on open roads. The ultimate goal is to provide an on-demand taxi service, an Uber without the driver.
Waymo has covered more than 10 million autonomous miles on public roads across 25 cities while developing the vehicles, which are modified Chrysler Pacifica minivans. It has also completed almost seven billion simulated miles, teaching the autonomous systems how to react in a wide range of situations.
Waymo currently offers a taxi service in Phoenix, Arizona, but where a safety driver remains in the autonomous vehicle, ready to take over if the car becomes confused and cannot proceed with its journey. The company has also demonstrated fully driverless cars in Phoenix in 2017.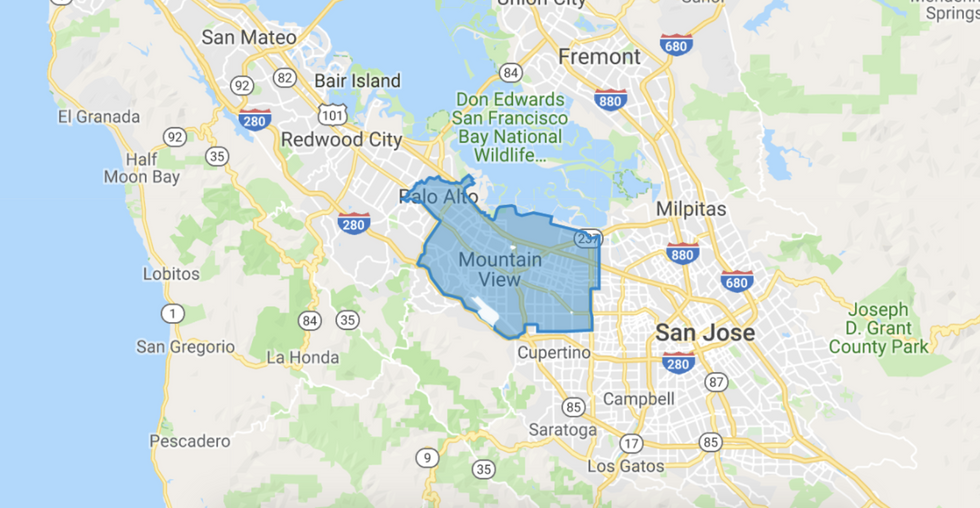 The driverless cars will initially be restricted to the blue shaded areaWaymo
In California, the fully driverless cars will operate in an area which includes parts of Mountain View (home to Waymo, Google and Alphabet), Sunnyvale, Los Altos, Los Altos Hills, and Palo Alto.

"We know this area well," Waymo says. "Mountain View is home to more than a dozen autonomous vehicle companies, and has supported safe testing for years."
Waymo added: "[The] permit includes day and night testing on city streets, rural roads and highways with posted speed limits of up to 65 miles per hour. Our vehicles can safely handle fog and light rain, and testing in those conditions is included in our permit. We will gradually begin driverless testing on city streets in a limited territory in our permit."
If Waymo vehicles come across a situation they don't understand, they will "come to a safe stop until it does understand how to proceed," the company says. "For our cars, this means following well-established protocols, which include contacting Waymo fleet and rider support for help in resolving the issue."
From Your Site Articles
Related Articles Around the Web
Like GearBrain on Facebook