Like GearBrain on Facebook
Fiat Chrysler Automobiles (FCA) has signed an exclusive deal with Waymo, the driverless technology company, with a focus on creating autonomous delivery vans.
The move sees both a strengthening of ties between Waymo and FCA, whose Chrysler Pacifica minivan it already uses as part of a driverless taxi service, and a distancing by FCA from fellow autonomous tech form Aurora.
Read More:
FCA said on July 22 that Waymo, which is owned by Google parent Alphabet, will now "work exclusively with FCA as its preferred partner for the development and testing of class 1-3 light commercial vehicles for goods movement for commercial delivery customers".
As well as working to build driverless delivery vans, FCA will now use Waymo to bring Level Four autonomous technology to vehicles across the FCA company. The automaker says it has "already started to work with Waymo to imagine future FCA products for the movement of people and goods operated by the Waymo Driver."
The Waymo Driver is what Waymo calls its autonomous system, which can theoretically be configured to work with most vehicles. It has previously been installed in a Toyota Prius, Waymo's own short-lived vehicle called the Firefly, the Chrysler Pacifica minivan, and the electric Jaguar I-Pace, which Waymo ordered 20,000 of in 2018. With the FCA partnership, there are plans to use the Waymo Driver with the group's Ram ProMaster delivery van.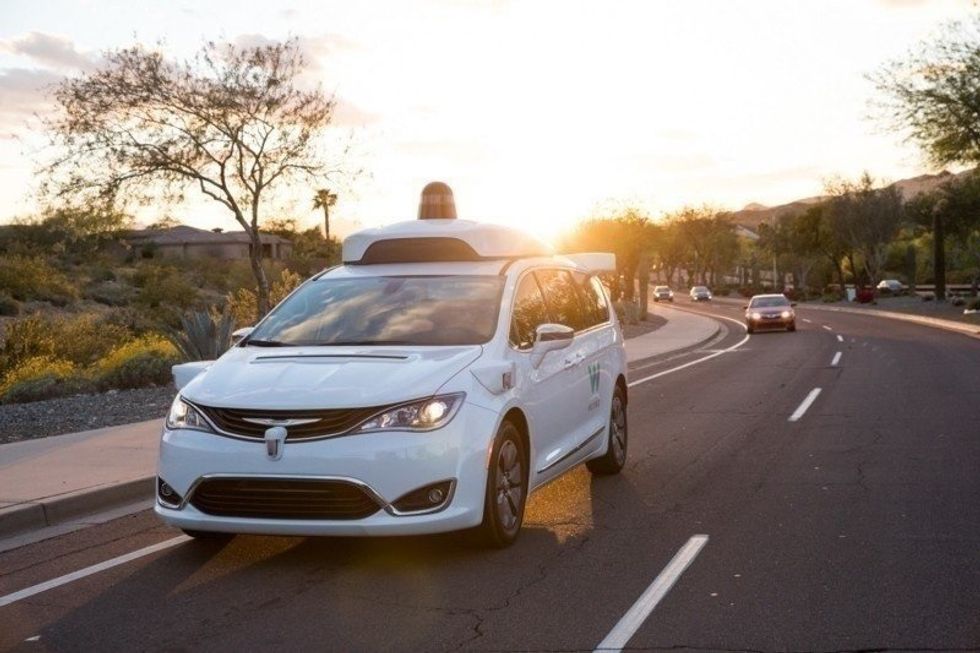 Waymo currently offers autonomous taxi rides in Arizona Waymo
Level Four autonomy describes a vehicle that can drive itself in almost all conditions and on almost all roads, with no driver involvement at all. Waymo's current technology is partially capable of this, but Pacifica taxis without a driver are constantly watched by a remote operator, and followed by a chase car as they ferry passengers to their destination as part of a trial service in a small area of Phoenix, Arizona.

Waymo announced a move into commercial delivery services in January 2020, which saw it carry parcels for UPS. The new FCA deal will likely broaden these plans, replacing the Pacifica minivans with purpose-built Ram ProMaster vehicles from Chrysler.
The move will see FCA steer away from autonomous tech company Aurora, which includes Amazon as one of its backers. This comes just a year after Volkswagen also parted ways with Aurora, in favor of Argo AI. Amazon has since acquired driverless technology firm Zoox for a reported $1.2B.
John Krafcik, CEO of Waymo, said: "Today, we're expanding our partnership with FCA...Together, we'll introduce the Waymo Driver throughout the FCA brand portfolio, opening up new frontiers for ride-hailing, commercial delivery and personal-use vehicles around the world."
The FCA group owns a wide range of vehicle brands, including Abarth, Alfa Romeo, Chrysler, Dodge, Fiat, Jeep, Lancia, Ram and Maserati. FCA is also currently merging in a $50B deal with PSA group, which owns the Peugeot, Citroen, DS, Opel and Vauxhall automakers.
From Your Site Articles
Related Articles Around the Web
Like GearBrain on Facebook