Like GearBrain on Facebook
Waymo has announced the fifth generation of its Waymo Driver, the company's autonomous vehicle technology.
The biggest updates are the system's ability to see much further than before, helping Waymo vehicles see stop signs from over 500 meters away, peek around corners, and spot a car door being opened from an entire city block away.
Read More:
Owned by Google parent Alphabet, Waymo has been developing its driverless car technology for over a decade, and currently runs a pilot trial of an autonomous taxi service. In parts of Phoenix, Arizona Waymo's vehicles are permitted to drive on public roads with no one behind the wheel.
Satish Jeyachandran, head of hardware at Waymo, said Wednesday how a focus on the fifth-generation system was small details on and around the road ahead.
"In order to navigate the complexities of driving - from the biker weaving and speeding through traffic on a foggy San Francisco morning, to the family pet rushing into the street to greet you at night - the Waymo Driver uses a comprehensive view of its surroundings and a detailed understanding of its environment to accurately reason about its next move," Jeyachandran said.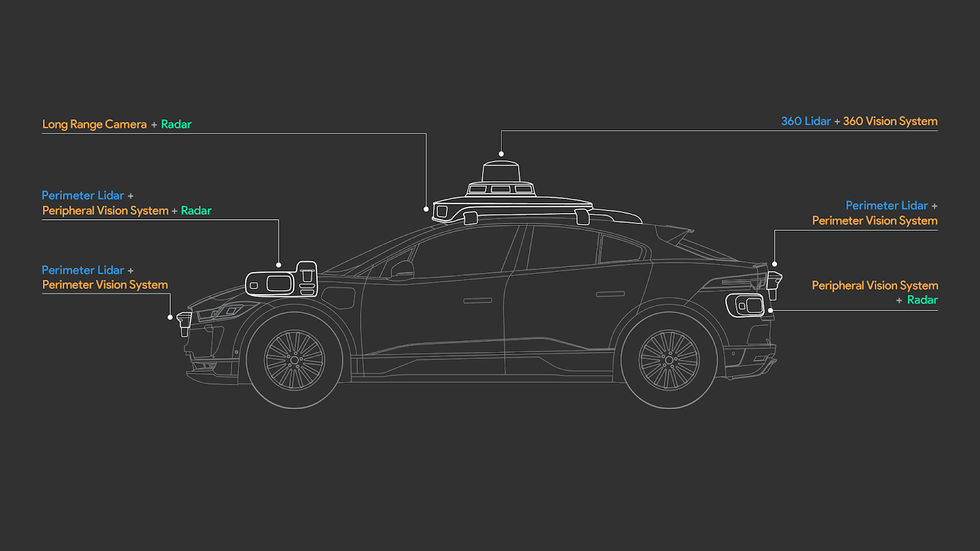 Waymo's fifth-generation driverless car systemWaymo
Using lidar, radar and regular cameras, the Waymo Driver can measure the size and distance of objects around the vehicle, up to over 300 meters away, and whether it is a bright sunny day, or a dark moonless night. 360-degree lidar gives the vehicle a bird's-eye view of the cars, cyclists and pedestrians around it.

This technology, Jeyachandran says, helps the system distinguish "the opening of a car door a city block away, it also gives our trucks the ability to spot road debris hundreds of meters ahead on the highway, so there's enough time for a Waymo driven truck to stop or make a lane change."
Waymo has completed more than 20 million self-driven miles on public roads, plus a further 10 billion miles of computer simulation.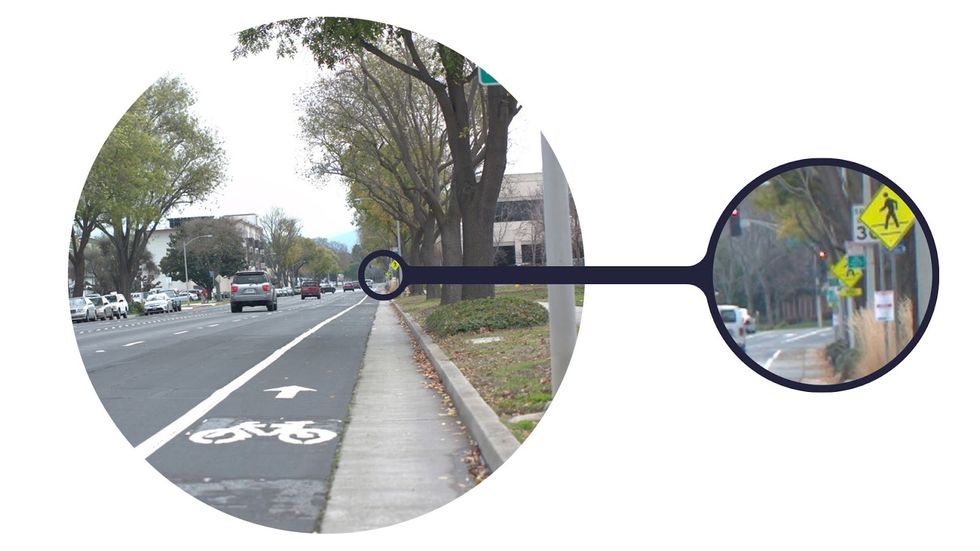 The system can read street signs from hundreds of meters awayWaymo
New 'perimeter lidar' sensors positioned at four points around the vehicle give "unparalleled coverage" of its surroundings. These, Waymo says, "provide enhanced spatial resolution and accuracy to navigate tight gaps in city traffic and cover potential blind spots on hilly terrain."

The system's regular cameras have also been upgraded, and can now see 360 degrees around the vehicle, to further than 500 meters in every direction. These help to reduce blind spots caused by parked cars and larger vehicles alongside. Waymo adds: "These peripheral cameras enable us to peek around a truck driving in front of us, seeing if we can safely overtake it or if we should wait."
Waymo has fitted its new system to the electric Jaguar I-Pace, which it bought a fleet of to work alongside its existing Chrysler Pacifica minivans.
From Your Site Articles
Related Articles Around the Web
Like GearBrain on Facebook