Like GearBrain on Facebook
Waymo, the autonomous vehicle company owned by Google parent Alphabet, will no longer refer to its robotic taxis as 'self-driving'.
Instead, the company will now refer to them as 'fully autonomous', in a bid to differentiate its technology from the driver-assistance systems developers by some automakers and, Waymo says, "erroneously referred to as 'self-driving' technologies".
Read More:
While not naming any specific companies, it seems clear that Waymo is referring to Tesla and how it offers a $10,000 upgrade to its Autopilot driver-assistance system, called Full Self-Driving Capability.
This feature allows for Tesla vehicles to navigate on certain roads using Autopilot, including highway on- and off-ramps, interchanges and the overtaking of slower cars. The technology can also change lanes on highways, park in parallel and perpendicular spaces, stop at traffic lights and stop signs, and drive to the owner from across a parking lot or other private land.
But the system requires constant human supervision and cannot currently operate the steering on city streets; drivers are asked to keep their hands on the steering wheel at all times, and if they fail to do so the car will issue a series of alerts, before eventually coming to a halt if they fail to comply.
Highlighting the potential for confusion described by Waymo, Tesla states how its Full Self-Driving Capability upgrades "do not make the vehicle autonomous."

Although not widely available, Tesla's software that allows Autopilot to function on city streets has been rolled out as a beta to an unknown number of Tesla owners granted early access, and videos of them trying out the feature, which is still in development, can be seen on YouTube.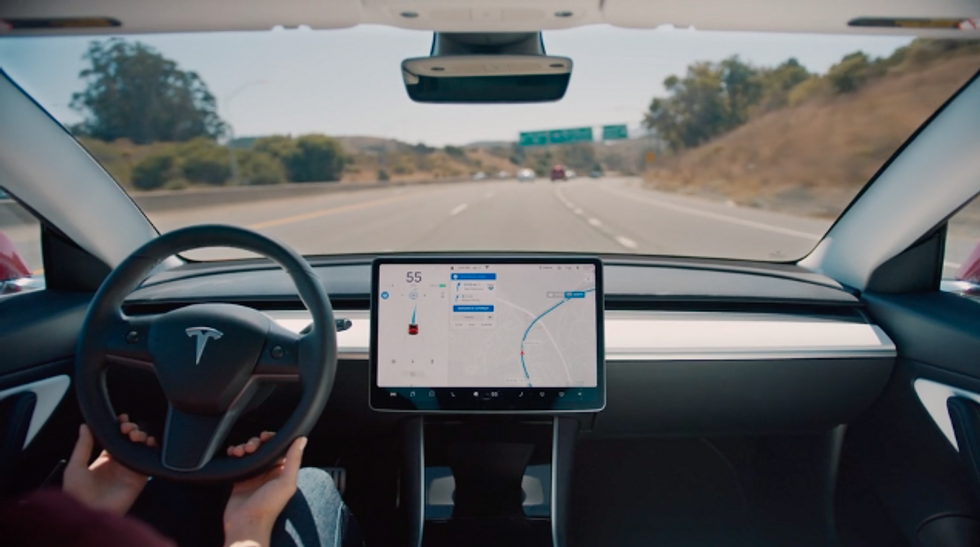 Tesla's Autopilot system requires constant supervision from the driver Tesla
Although not naming Tesla, Waymo states in a blog post written this week: "Unfortunately, we see that some automakers use the term 'self-driving' in an inaccurate way, giving consumers and the general public a false impression of the capabilities of driver assist (not fully autonomous) technology."

Waymo continues: "That false impression can lead someone to unknowingly taking risks (like taking their hands off the steering wheel) that could jeopardize not only their own safety but the safety of people around them"
As well as changing how it describes its technology, Waymo has also changed the name of its public education campaign from 'Let's Talk Self-Driving' to 'Let's Talk Autonomous Driving'."
In 2020, Waymo opened its autonomous taxi service to the general public for the first time. Some of the vehicles have no one at all behind the wheel, but are still monitored remotely and can be stopped or taken control of if they encounter a situation that their artificial intelligence is unable to deal with.
From Your Site Articles
Related Articles Around the Web
Like GearBrain on Facebook