Like GearBrain on Facebook
Wonder Workshop, maker of chatty programmable robots, has a new way to encourage children to learn how to code. Sketch Kit, available today, is a $39.99 accessory that lets the Cue and Dash robots draw just about anything kids can invent. Wonder Workshop sent us the new kit to see what we could create ourselves.
Getting started

Inside the box is the $39.99 Sketch Kit attachment, six triangular-shaped dry-erase markers, an instruction card and project start cards. An extra marker kit is available for $19.99 and a rollable white board is also on sale for $99.99. The accessory kit is designed to specifically work with Dash and Cue, Wonder's moveable robots. Dot, a robot designed for smaller children that does not move, won't work with Sketch Kit.
We asked Vikas Gupta, Wonder Workshop's CEO and founder, if new colors would be issued — or new kinds of drawing sets (pencils perhaps) and he says that will depend on feedback from users. (In other words, send them a little note if you think there should be new ways to draw.)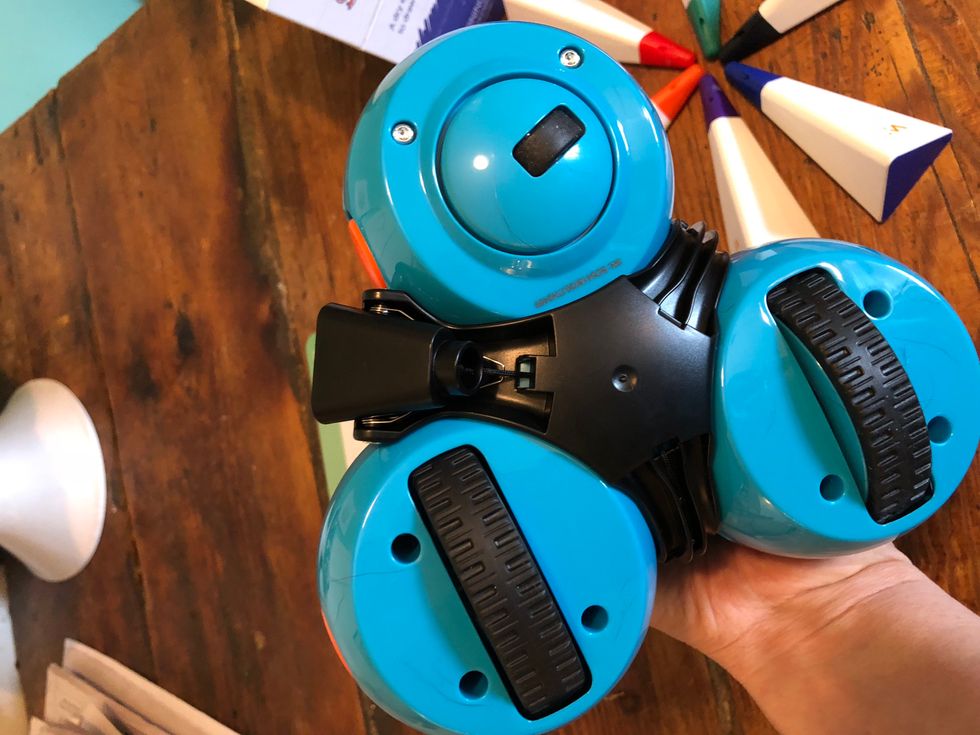 Sketch Kit snaps easily on to the bottom of either the Dash or Cue robotGearBrain
The Sketch Kit add-on couldn't be simpler to attach. Even small fingers are likely going to be able to do this on their own once they're shown the steps — of which there are two. The attachment fits on to the bottom of either Cue or Dash, with the round end attached to what is basically Dash or Cue's ear. The two parts create a pulley system, lifting and lowering a marker, which fits in the small caddy, so the robots can draw.
Be aware that if you don't attach Sketch Kit correctly, the markers won't be able to draw. We found that out on our own. And also note that you can only use Wonder Workshop's markers, which look like elongated pyramids — although we're quite sure an intrepid child who loves to code can hack together some way to hold another drawing implement in place. (We're not telling anyone what to do.)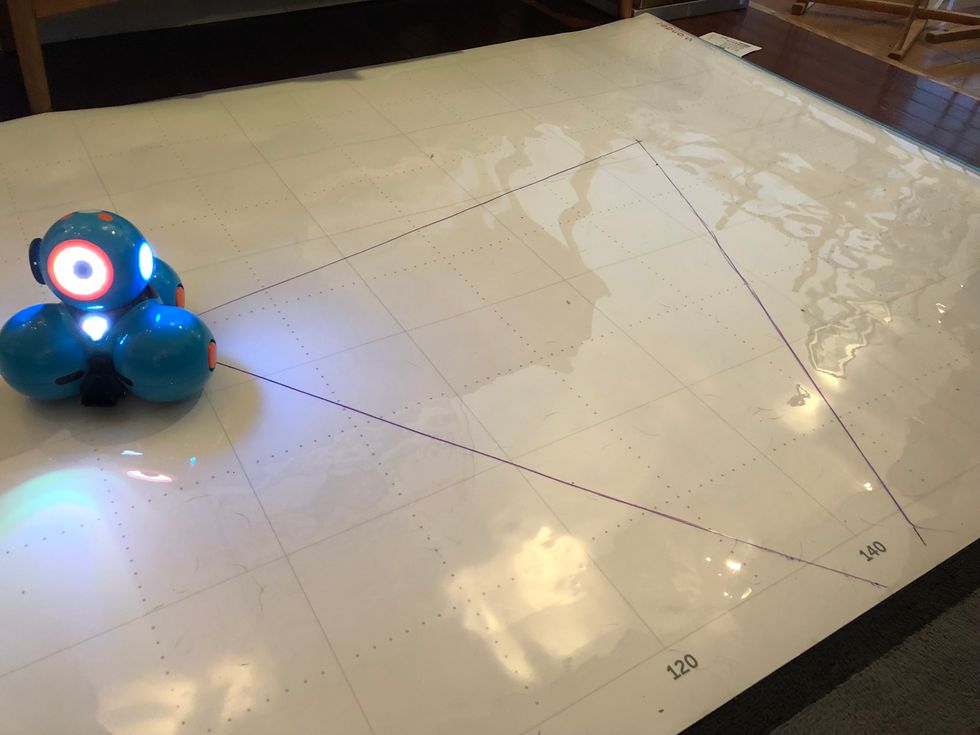 Dash drew an accurate, but big, triangle leaving part of his drawing on our rug.GearBrain
Drawing and designing
Sketch Kit works with Dash's two apps, Wonder and Blockly, and Cue's app as well. Depending on the apps you use and your robot, you either select the appropriate image in the app, or add the right block code that lifts and lower the markers.
The dry-erase markers work on a dry-erase board — but can be used on paper as well. Be warned though, if you're drawing one of the pre-coded shapes, they're not small. So if you're using your own surface, pick a big sheet of paper for the floor.
The Wonder Workshop white board, which they sent us with the kit, is 200 by 100 centimeters and Dash rolled right off and then right on our (thankfully washable) rug while drawing a fairly large triangle. Dash moves pretty slowly, so you can pick him up. But I wouldn't want to leave Dash and the Sketch Kit with a young child in a room where you don't want marker on the floor.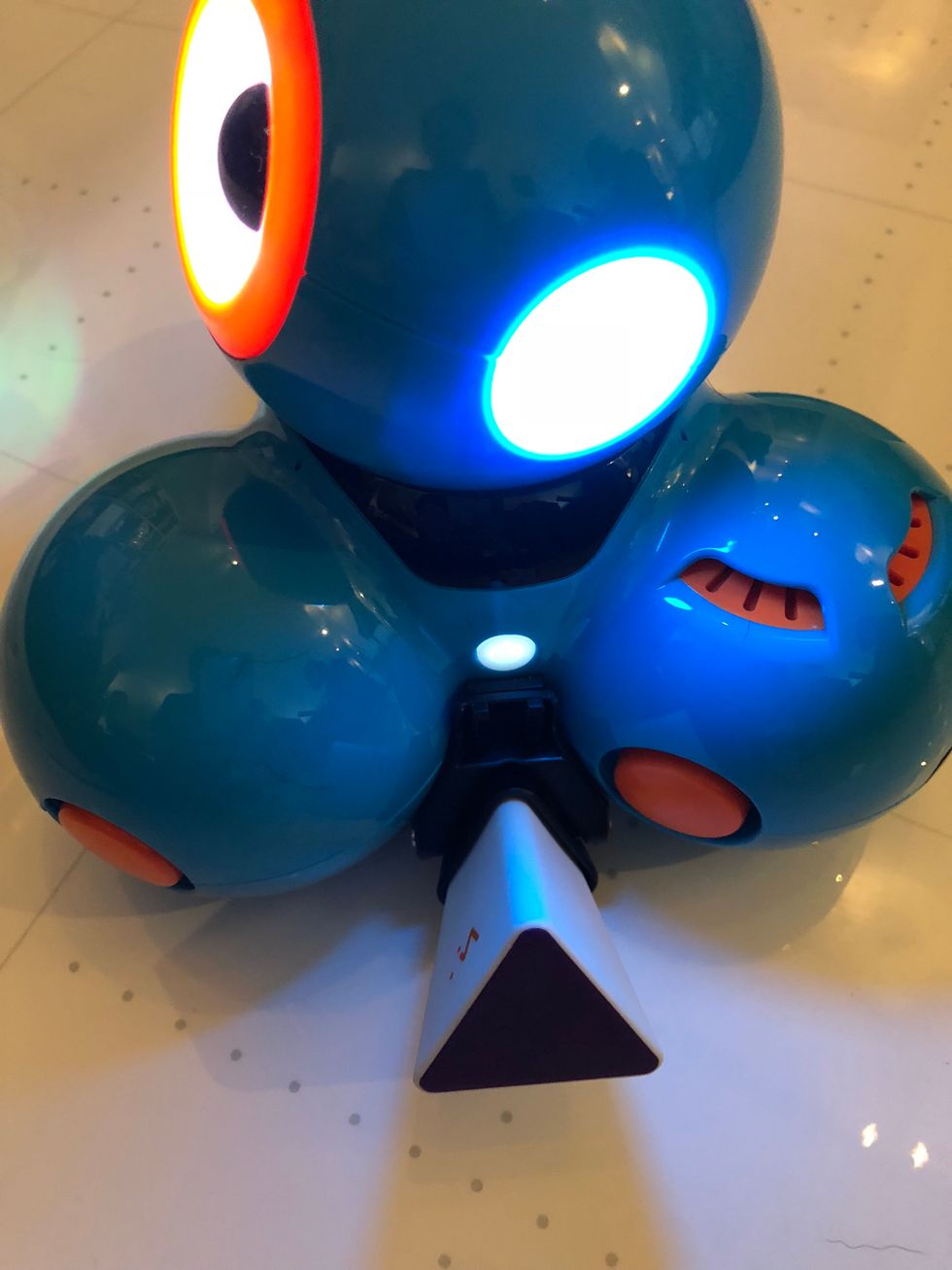 Sketch Kit only works with Wonder Workshop's markersGearBrain
You may be curious, as we were, as to why robots need to draw? Gupta says Wonder Workshop spent two years working on designing how to draw on surfaces because children sometimes want to see what they've created — even if that's code to make a robot move. It's hard to capture that success except with video or having someone watch the activity in real-time. A drawing? That's proof.
"When you program a robot, there's nothing left behind," says Gupta. "If you draw on paper, you have something to show."

As for the drawing abilities now available in the app? Wonder says that a hexagon with 40 centimeter sides will be accurate to 1 centimeter. We didn't measure out our designs — they looked pretty accurate for both Cue and Dash. However, when we asked Dash to draw "Hi," the dot at the top of the "i" was pretty good for a four-year-old — but I did expect a bit better from a robot.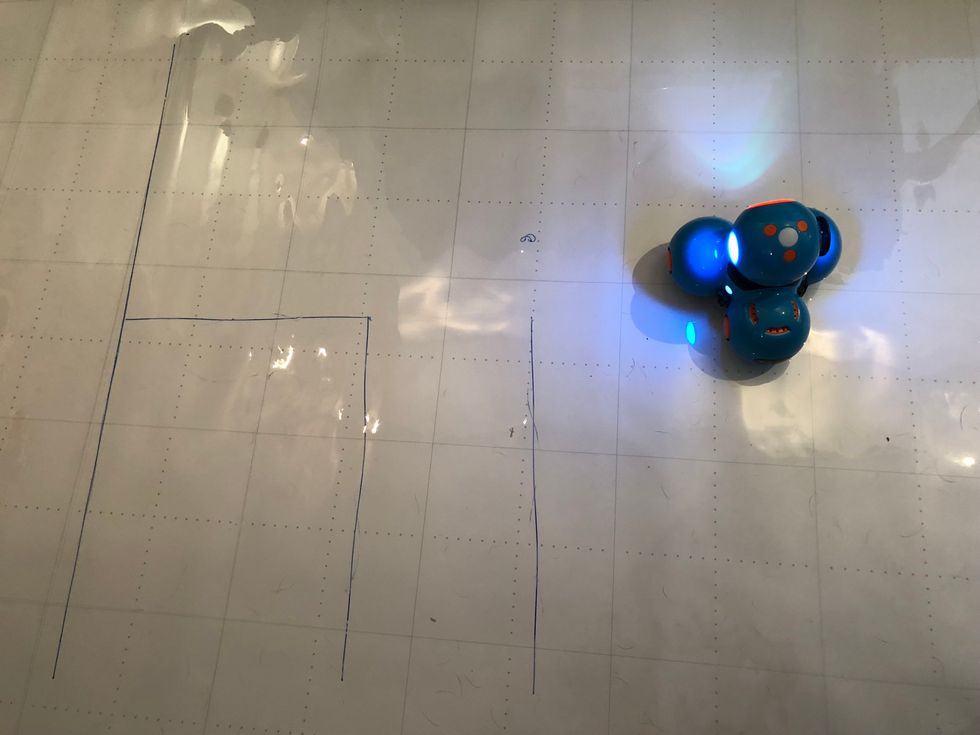 You can program Dash or Cue to draw anything — even 'Hi'GearBrain
Schools vs home
We definitely see a use for Sketch Kit in classrooms, where teachers could challenge students in design and drawing projects. Because there's no limit to what you can create with Sketch Kit, in an educational and school setting the accessory could be a solid add-on for coding and computer classes.
Should you buy Sketch Kit for your home? You're definitely not going to buy the accessory if you don't have Dash or Cue at home. And while we think Sketch Kit could be potentially fun, the markers are more likely to appeal to some children than others. We could imagine some children might be disappointing to see the ability to draw in the app, once the update is live today, and not be able to use it unless they have the $39.99 Sketch Kit. That's something parents will need to weigh on their own.
Pros:
Expands coding lessons
Works with both Dot and Cue
Let's you draw shapes and words
Cons:
Have to use Wonder Workshop's markers
Price
Limited use
Like GearBrain on Facebook