Like GearBrain on Facebook
In case you don't know, Z-Wave is one of the wireless protocols your smart home uses to make your home smart. It's also an open and internationally recognized ITU standard (G.9959) for IoT solutions. Today the company announced there are more than 4,000 certified devices on the Z-Wave wireless protocol and we congratulate them on this achievement.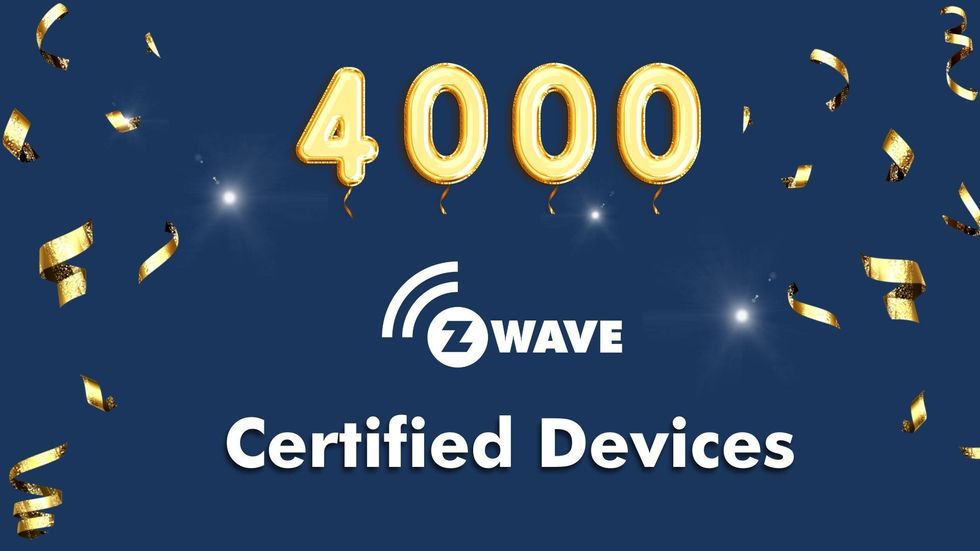 Z-Wave Alliance reaches 4,000 certified devicesZ-Wave Alliance
The Z-Wave Alliance is a standards development organization dedicated to advancing the smart home and Z-Wave technology. Thanks to HOPPE AG, an Alliance member, for being the company that helped Z-Wave reach this magic milestone. This comes on the heels of the Z-Wave Alliance announcing the first Z-Wave Long Range (Z-Wave LR) certified devices are hitting the market for implementation into smart home systems.
"Z-Wave has been at the forefront of smart home technology and a champion of security, interoperability, and backwards compatibility for over two decades," stated Mitch Klein, Executive Director of the Z-Wave Alliance. "Our recent bevy of announcements – ratification as a Standards Development Organization (SDO), the addition of new board members, the first Z-Wave LR Certified devices, and now growth of the Z-Wave ecosystem to over 4,000 devices – all indicate that Z-Wave continues to innovate and advance the smart home market and shows no signs of slowing down."
Interoperability
between Z-Wave products is the cornerstone of the Z-Wave technology standard; interoperability is only achieved through testing and certification. Certification ensures all Z-Wave devices – regardless of brand, manufacturer, and chip generation – all work harmoniously with each other to deliver on the promise of the interoperable and backwards compatible smart home. Certification of devices to Z-Wave standards is required as part of the Trademark and Distribution License agreement for all Z-Wave Alliance members and every device must pass a series of tests to ensure that is it compliant prior to the device being marketed or sold commercially. GearBrain has tested many Z-Wave devices and found them to be easy to install and operate. They are also devices and systems which can make your homes smarter and secure. Also, our compatibility find engine,
The GearBrain
, has almost all of these devices listed so you can easily find compatible devices to work with your Z-Wave connected devices or systems. We congratulate Z-Wave Alliance on hitting this milestone and wish them and their members all the success in the future. Gearbrain also looks forward to testing new Z-Wave devices with their Z-Wave Long Range (Z-Wave LF) certification.
GearBrain TV Live with Z-Wave www.youtube.com
Enbrighten Z-Wave Smart Rocker Light Switch with QuickFit and SimpleWire, 3-Way Ready, Works with Alexa, Google Assistant, ZWave Hub Required, Repeater/Range Extender, White & Light Almond, 46201
Like GearBrain on Facebook