Like GearBrain on Facebook
3Doodler's latest device is a blended storytelling and 3D printing device, that is meant for the younger hands, from age 4 and up. Called the 3D Build & Play, the $29.99 multi-colored printer works with an activity guide that also include a story, written for the device, which features 3D jungle characters including Jim the Giraffe, Elle the Elephant, Pete the Parrot and Leo the Lion.
Once children have gone through the story, they can continue building, adding to the story or printing anything they want with a plastic that's BPA-free, non-toxic, biodegradable and melts at low-heat of 110ºF. The newest 3Doodler pen is also designed to be used in either the left hand or the right hand. It also features a crank that helps children control the plastic as it comes out of the device, making it a decidedly low-tech, tech toy.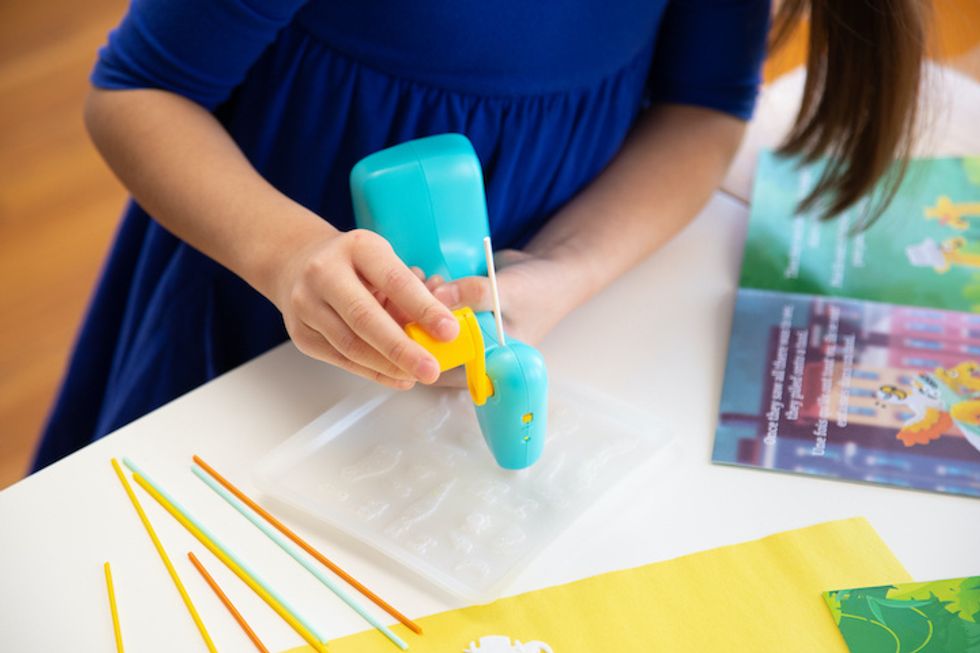 The 3D Build & Play pen works with an activity guide so children can build objects that connect to a story they read3Doodler
3D printing pens are simpler, more immediate ways, for children to create objects without the need for more expensive, professional printers. The pens from 3Doodler scale to multiple age ranges. The company's 3Doodler Start was previously the pen designed for children ages 6 and up, with Create+ aimed at those 14 and older. The new 3D Build & Play now extends the age range to an even younger user.

"3D Build & Play brings the creative fun of our Start pen without the learning curve for the youngest users," said 3Doodler CEO Daniel Cowen, in a statement. "The system we have developed, that lets kids crank and create in 3D, is a major benefit for parents looking to improve their children's basic motor skills. The included molds make it easy to create 3D objects by simply filling and popping them out. There's nothing on the market today that makes 3D creation this simple or fast for young creators."
People can pre-order the 3D Build & Play now, and the pen is expected to be delivered during the second quarter of 2020.
3Doodler Create+ 3D Printing Pen for Teens, Adults & Creators! - Onyx black (2019 Model) - with Free Refill Filaments + Stencil Book + Getting Started Guide
From Your Site Articles
Related Articles Around the Web
Like GearBrain on Facebook