Like GearBrain on Facebook
As 5G rolls out across the US and beyond, networks are slowly starting to introduce compatible devices to make use of the dramatically increased speed. This of course includes smartphones, but also means 5G mobile hotspots are here too.
One of the first to go on sale is the MiFi M1000 from Verizon - and it comes with a significant price increase over its 4G LTE siblings.
Read More:
Where Verizon's Jetpack MiFi costs $200 - and 4G hotspots from other companies can cost half that - the network's first 5G offering comes in at $650. And of course, this is just the cost of the device itself; you'll need to spend plenty on 5G data, too.
There's a two-year plan to help break that down into 24 instalments of $27.08, but then you'll be looking at $90 a month for Verizon's 5G data package on top. This is Verizon's only 5G MiFi plan for now, and includes 50GB of 5G data. Download speeds should be comfortably above 100Mbps, and even as high as 300Mbps in some places, but once you have used up the 50GB this drops to just 3Mbps.
Because 5G is only available in small pockets of some cities for now, the MiFi connects to 4G LTE networks too, and the $90 package includes 15GB of LTE, which falls to just 0.6Mbps once you run out. For now, Verizon's 5G service is only available in parts of Denver, Chicago, Minneapolis, Providence and St Paul, Minnesota.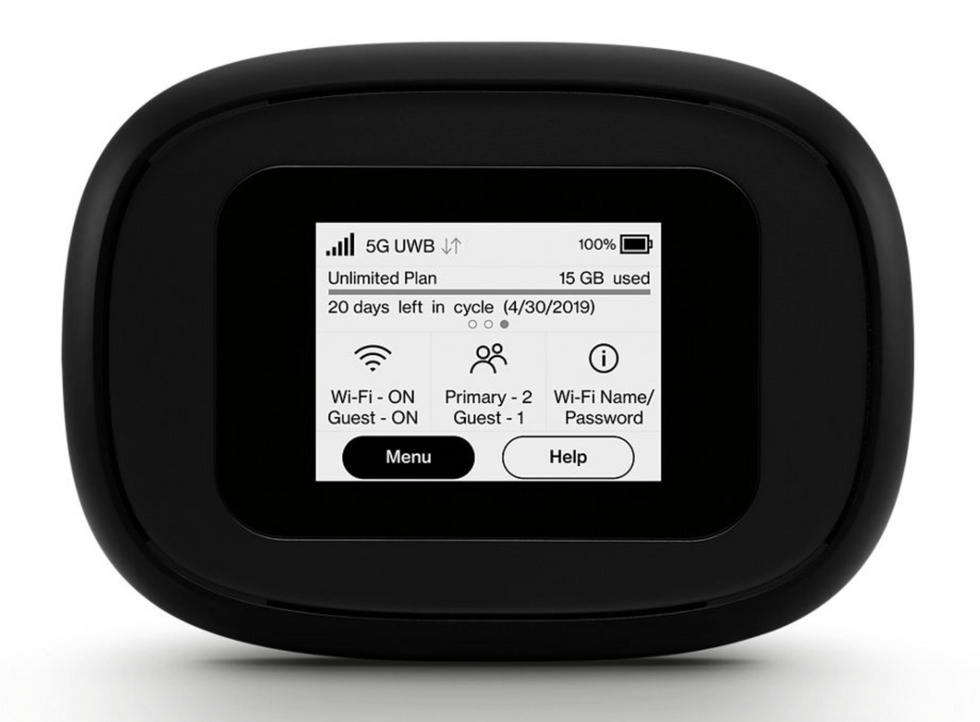 The MiFi M1000 costs $650, plus monthly dataVerizon
Another restriction is that this device only downloads using 5G. Uploads take place on a 4G LTE connection, but this doesn't eat into the 15GB allowance.

If you already have a Verizon unlimited plan for your smartphone, you can get the 5G MiFi service (with 50GB of 5G and 15GB of 4G) for $30 a month, plus $650 for the device itself.
Whichever way you split it, jumping on the 5G bandwagon as an early adopter is expensive, and coverage is limited. The latter will of course improve over the coming months, and prices will inevitably fall, just as they did with 4G and 3G networks in the past.
For now, while a 5G hotspot to power your devices - and one which lasts 24 hours on a charge of its battery, no less - may sound appealing, we suggest waiting until 2020 before taking the plunge into 5G.
From Your Site Articles
Related Articles Around the Web
Like GearBrain on Facebook