Like GearBrain on Facebook
Just as 4G followed 3G, the fifth generation of mobile phone network is about to land, promising significantly faster speeds - and not just for smartphones, but for infrastructure, VR, and even autonomous cars too.
Several mobile networks in the US, Europe and beyond already offer 5G data, and a growing number of 5G handsets from the likes of Samsung, OnePlus, Oppo, Huawei and others are available to buy right now.
Read More:
As of April 2020, these are predominantly at the higher end of the smartphone market, but recent mid-tier 5G phones from Samsung show the technology is starting to fall within reach of consumers on a more modest budget.
Meanwhile, Apple is expected to reveal its first 5G iPhones later in 2020, potentially in September providing the coronavirus pandemic doesn't cause significant disruption to the company's US-based headquarters and Chinese supply chain.
Inseego Verizon 5G and 4G LTE MiFi M1000 Hotspot | Connect up to 15 WiFi Devices and 1 Wired | Great for Remote Workers | Wi-Fi 2.4 GHz & 5 GHz | All Day Long Lasting Battery
What is 5G?

Once 5G networks have spread to cover our towns and cities, dropping down to 4G will feel like the drop to 3G and 2G EDGE does today. Considered to be breakneck-fast just a few short years ago, 4G will suddenly feel as sluggish and antiquated as 3G, and even our home broadband connections will feel distinctly pedestrian compared to what 5G promises to offer.
Generally speaking, a 5G connection is one capable of delivering download speeds of up to 10 gigabits per second (10 Gbps). This is significantly faster than the quickest domestic broadband connections, which are generally measured in the tens to hundreds of megabits per second (Mbps). Even the very fastest broadband connections today top out at 1Gbps or so (1,000Mbps), while some early 5G networks are already overtaking this figure.
As an example of how much faster 5G will be than today's 4G, my connection is south-west London hovers around 30Mbps, with parts of the city center closer to 80-100Mbps. Once 5G is up to speed, this figure will be measured in the thousands instead of dozens, meaning huge speed increases.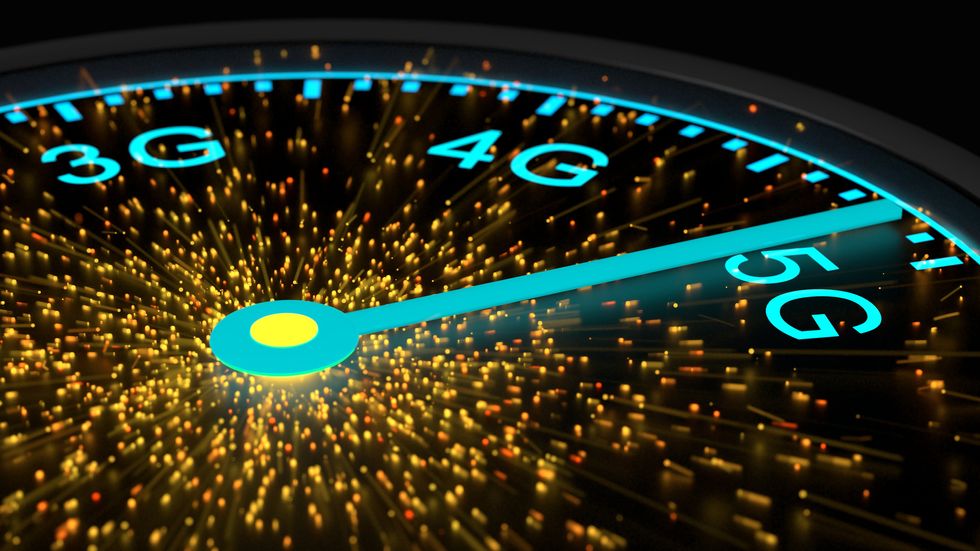 5G networks are expected to be between 10 and 100 times quicker than the 4G connections we have today iStock
There are three types of 5G
An important thing to understand about 5G is how it operates at different radio frequencies, also known as bands. There are three of these bands, called low, mid and high. Low-band 5G is to be seen as the foundations, or blanket layer. Once networks have completed their 5G roll-outs, low-band should cover the vast majority of every country where 5G is offered.
Using the 600MHz frequency, low-band 5G stretches across vast distances and is good for downloads speeds of around 225Mbps, which is several times quicker than 4G. But so far, some 5G users have reported how low-band connections are no faster than 4G.
Mid-band 5G is expected to cover most major towns and cities once the roll-out is complete. This uses the 2.5GHz frequency in the US, and the 3.5-3.7GHz range elsewhere. Mid-band 5G covers less distance than low-band, but offers higher download speeds, potentially up to around 200Mbps, or around twice that of today's fastest 4G networks. Some networks may even see mid-band 5G top out at 600 or even 700Mbps. For the vast majority of customers, mid-band 5G will offer the ideal compromise between speed and breadth of coverage, with some networks in Europe claiming speeds of over 3Gbps could be possible.
Finally, high-band 5G - also known as millimeter wave, or mmWave - is where the highest download speeds will be achieved. But this will come at a price, as for now it is only possible to maintain a solid mmWave 5G connection when stood close to, and ideally within line-of-sight of, a 5G mast.
High-band 5G works best when delivering huge amount of very fast data in a relatively small area, like a convention center or a sports stadium, as the signal can only travel around a mile from the mast, and struggles to pass through walls and other obstacles. In the US, users should see mmWave 5G speeds of up to 3Gbps, although modem manufacturers claim over 7Gbps could one day be possible.
Samsung Galaxy S20 5G Factory Unlocked New Android Cell Phone US Version | 128GB of Storage | Fingerprint ID and Facial Recognition | Long-Lasting Battery | US Warranty |Cosmic Gray
5G has very low latency

But it isn't just outright speed where 5G excels. Ultra-low latency and the ability to handle a greater density of connections at once makes for a more stable and more responsive network, and one which can be used by a huge range of devices. This means not just phones and computers, but Internet of Things (IoT) devices, virtual and augmented reality, and even driverless cars.
Latency - the time between tapping the screen of your smartphone and a streamed video starting to play - currently stands at around 20 milliseconds with 4G. This may not sound like much, but with 5G this will be cut to just one millisecond. This means almost zero lag when playing virtual reality games, but should also improve the safety of autonomous cars and make remote surgery easier.
Read More:
When will 5G be available?
5G is available in some places right now, with some US and UK cities already offering comprehensive coverage on some networks. If 5G is offered in your city, the general rule of thumb is that it will be fastest in the city center and close to major attractions like sports stadia. The further you head out of town, the slower and less widespread 5G will be.
It is also worth noting that, just like when 4G spread across the world, your 5G phone will automatically drop to the next-best thing when5 G is no longer an option. This means it will seamlessly switch to 4G or 3G when a 5G connection can't be found.
The major US networks all have maps showing their current 5G coverage, and some also show which band of 5G is available where. The links for these maps are here:
What 5G smartphones are available now?
Although Motorola offered 5G via an add-on accessory for its handset ahead of everyone else, it is fair to say Samsung is now the early leader when it comes to 5G handsets. The company's Galaxy S10 and S20 families both offer 5G, and as of April 2020 so do some of its mid-range Galaxy A-series phones, with 5G options starting at $500.
Other 5G smartphones available now include:
Although the coronavirus pandemic could well delay the launch of new handsets in 2020, it is highly likely that more 5G options will arrive throughout the rest of the year, with Apple's first 5G iPhones -
due in September
- likely to be the highlight, and the point at which 5G goes truly mainstream.
Moto Z4 with Alexa Hands-Free (Moto 360 camera included) – Unlocked Smartphone – 128 GB – Flash Gray
Like GearBrain on Facebook