Like GearBrain on Facebook
When it comes to connecting a new device to your smart home, there are often two steps. First you set up the device using its own app, then you add it to a smart home platform like Google Home or Amazon Alexa.
Some devices, like smart light bulbs from C by GE, let you connect them directly to Google Home. But, while that works well in most cases, this route can lead to the device having fewer functions and less personalization.
Read More:
As such, we recommend that the first step with a new smart home product should always be to connect it to the manufacturer's own app and smart home ecosystem first. Then you can also connect the device to your Google Home app, which enables voice control by speaking to the Google Assistant.
In this article we will explain how to add a new smart home device to the Google Home app. We will use a TP-Link Kasa smart plug as an example, but the process is the same for all manner of smart home devices.
First, we set up the plug using TP-Link's own Kasa smartphone app. This connected the plug to our Wi-Fi network, let us give it a name, and installed a firmware update (which would have been missed if we were able to connect it directly to Google Home in the first place).
Once you have set up the new device as per the manufacturer's instructions, it's time to connect it to Google Home.
To connect to Google Home, follow these instructions:
Open the Google Home smartphone app
Tap the + icon in the top-left corner
Tap on 'Set up device'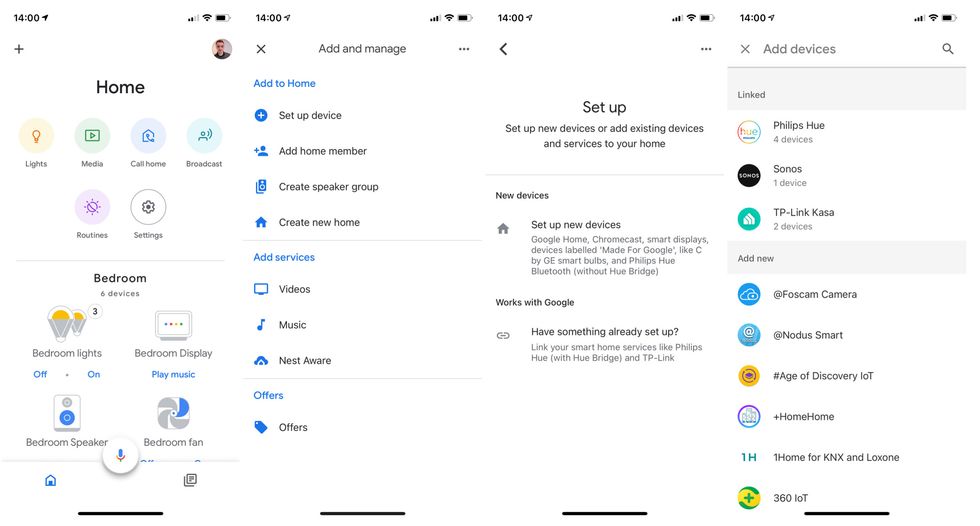 How to add a device to the Google Home appGearBrain
Here you are given the choice of setting up a box-fresh device that works directly with Google Home, like the aforementioned C by GE bulbs. The other option, which we are going to take, is to add a "Works With Google" device that we have already added to our home Wi-Fi network. Tap on the "Have something already set up?" option.

Next you are shown a list of smart home services that work with Google Home. There are lots, and those already connected to your Google account are shown at the top. In our case, this includes Philips Hue, Sonos and TP-Link Kasa, as we already have a smart plug connected.
To add the new plug, we'll be tapping on TP-Link Kasa, then tapping "Check for new devices." The Google Home app then searches your Wi-Fi network for newly-connected TP-Link devices (or devices of whichever service you just tapped).
If you are adding a device from a smart home system you haven't linked with Google Home before, then tap on it and follow the instructions to link the two together. This is simple and just requires you to search for the service using the search icon in the top-right corner, then tap on it, and enter your login details when prompted.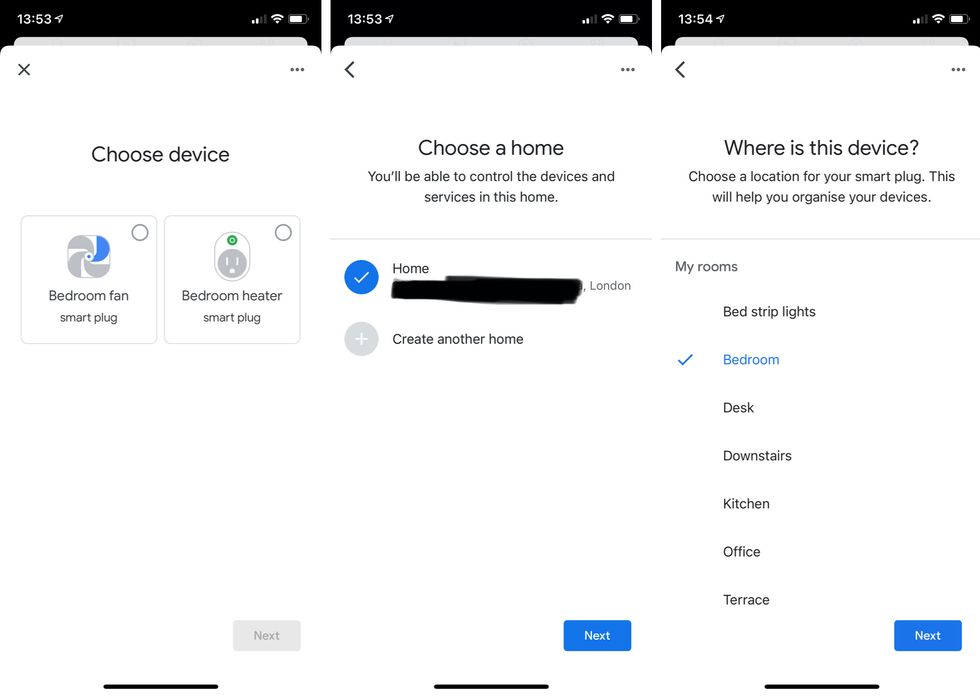 Adding a new device to the Google Home appGearBrain
The Google Home then shows you the new device or devices you have just added to your Wi-Fi network. In our case, this is a pair of Kasa plugs called Bedroom fan and Bedroom heater (as that's what we called them while setting up the Kasa app).
Then just tap on the new device, tap "Next," confirm which home you want to assign it to, tap next again, tell Google Home which room it is in, and you're done.
Now, the plug called bedroom fan has been added to our Google Home app, and we can say: "Hey Google, turn on/off the bedroom fan," to control it.
Check out The GearBrain, our smart home compatibility checker to see the other compatible products that work with Google Home and Home Mini.
GearBrain compares the Nest Mini to the Google Home Mini www.youtube.com
Like GearBrain on Facebook