Like GearBrain on Facebook
After months of waiting, and a fair share of consumer backlash, the biggest update in the history of Sonos speaker systems is now available.
Called Sonos S2, the update requires a new application to be installed on your iPhone or Android handset. This is then used to update the firmware of every compatible Sonos device on your Wi-Fi network.
Read More:
We say "compatible", because as you may now know, the jump from S1 to S2 isn't possible for all Sonos products. Older speakers are being left behind, and while they will continue to work with the original app for a good while yet, they won't work with Sonos S2, and aren't due to receive any new features via software updates from now on.
As a quick reminder, here are the products that do not work with the Sonos 2 app:
All models of Zone Player (ZP80, ZP90, ZP100, ZP120)
CR200 controller
Bridge
Connect (Gen 1)
Connect:Amp (Gen 1)
Every other Sonos product works with the S2 app.
How to upgrade to Sonos S2
Although a lot is going on under the hood, the shift from S1 to S2 is relatively painless if your speakers are all supported, at least in our experience.
Simply head to the iOS App Store or Google Play store and search for Sonos S2. When the app first launched on June 8 there were issues with finding the right app, but now it appears at the top of search results, and for us also appeared in an ad spot of the App Store.
For further clarification, the new app (although just called Sonos) has a light brown icon, whereas the original app has been updated to stat 'S1' on its grey app icon, so they are easy to tell apart. You can see them next to each other in the screenshot embedded below.
When opening the new app for the first time, it searches for Sonos devices on your Wi-Fi network. Once found, you are asked to confirm the upgrade. Then just log into your Sonos account when prompted, agree to the new terms and conditions, and wait a couple of minutes for the update to take place.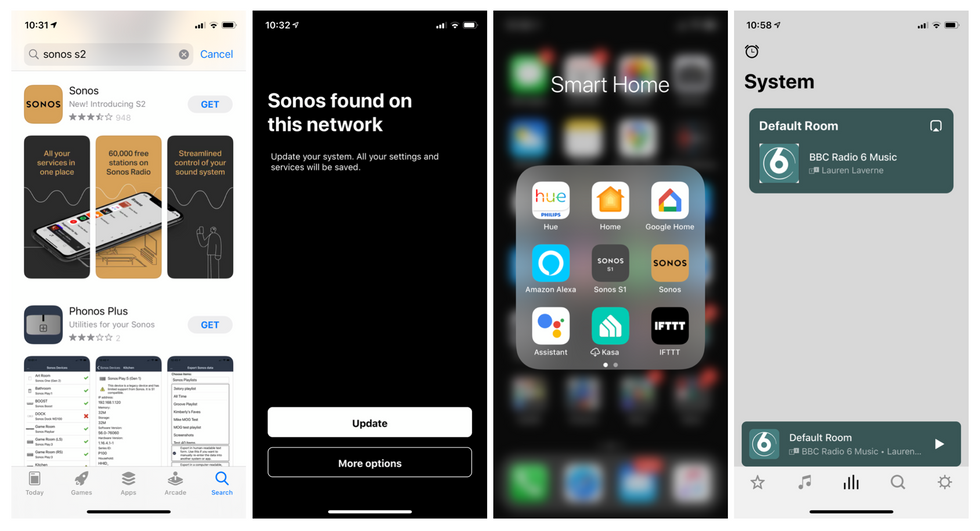 Installing the new Sonos app on an iPhoneGearBrain
It is important that you do not unplug or interfere with any of your Sonos hardware while the update is installed. We have two One speakers on our Wi-Fi network and the update took just a couple of minutes to complete.

Once the update has finished, you are ready to start using the new app. All of the music services you use with Sonos are automatically logged into in the new app, and if you use Alexa or the Google Assistant with your Sonos speakers, that is also set up and working without you having to do anything. (Check out The GearBrain, our smart home compatibility checker to see the other compatible products that work with Google Assistant and Amazon Alexa enabled devices.)
It is worth noting that you can no longer use the old app, as opening it will show a prompt to switch to the S2 app.
If you have older Sonos hardware that is incompatible with the new app, you can open the old app and create a new speaker network with that and your older Sonos hardware.
All new Sonos products going forward will already have the S2 software installed, and will work right away with the new app. This includes the newly announced Arc, Five and Sub.
New features of the Sonos S2 app
The app has received a minor visual upgrade, but will still be recognizable and easy to use for all current Sonos users.
As for new features, there are only a couple of them for now. The first is called Room Groups, and is a tool for playing music through several rooms of speakers at once. Say you like to play music from the kitchen and lounge speakers at the same time, as those rooms connect to each other.
With the new app you can create a permanent group made up of every Sonos speaker in the kitchen and lounge. Music can still be played through those rooms individually, but the group will also become a permanent option. This also makes it easy to assign speakers to floors, with groups called 'upstairs' and 'downstairs', within the app.
The new app also introduces high-resolution audio to Sonos systems for the first time. Sonos is being vague on this for now, and has so far only announced that Dolby Atmos works with the company's new Arc sound bar. Hopefully we'll see other formats of high-res audio, like FLAC, available for other Sonos speakers soon.
The rest of the experience remains the same as before, albeit wrapped in a cleaner-looking user interface. Looking forward, Sonos promises it will "add further enhancements that will allow an ever more connected and personal experience on Sonos."
Sonos One (Gen 2) - Voice Controlled Smart Speaker with Amazon Alexa Built-In - White
From Your Site Articles
Related Articles Around the Web
Like GearBrain on Facebook