The AILA Sit and Play arrived on the scene just as remote learning took off around the country — and world. The toy looks like a miniature computer — and our young reviewers called it just that — with a touchscreen that encourages children to interact as they learn their numbers, letters and other educational material, content parents are looking for with children now home.
We tested two of these devices with a pair of twin boys, just 3-years-old, over a month during the coronavirus pandemic. Both had been going to pre-school classes, but were now at home with their older sister and brother, both home from school as well. Here's how AILA worked in their hectic household, with their youngest members.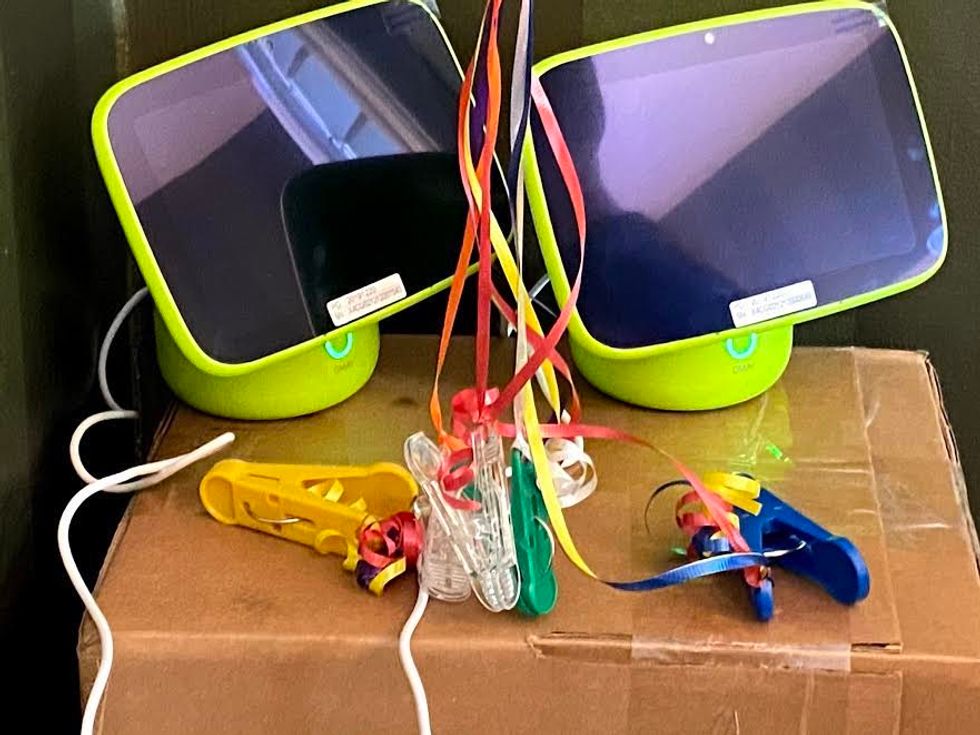 We had two 3-year-olds review the AILA Sit & PlayGearBrain
What is AILA Sit & Play

The devices are tablet-sized touchscreens that sit on a squat pedestal. They're designed to be eye height at a short table, ideal for young users. The screens are designed to connect to an app on parents' smartphones where they can monitor what their children are viewing, and even push a pre-recorded video to the screen to their child if they choose.
There isn't a subscription fee with AILA, but content instead refreshes every three months. And educational material runs a spectrum of academics including letters and numbers, to social and emotional learning skills like empathy. Songs and animated characters, including a frog, move through the material — and the one song used to introduce all of the letters got played enough that everyone — from our 3-year-old reviewers, to his siblings and parents — would sing along when it started. "We all know the song," his mom laughed. "The song is very catchy. They definitely enjoy it."
AILA will also read children stories which they can follow along, as it uses very simple words, and encourages children to move through the content with music and songs, so they can sing along and even dance.
Content is broken down by age, starting with infants and helping them detect colors and even learn how to self-play, to toddlers teaching them how to differentiate between me and you, while also helping them identify real words, numbers, shapes and patterns.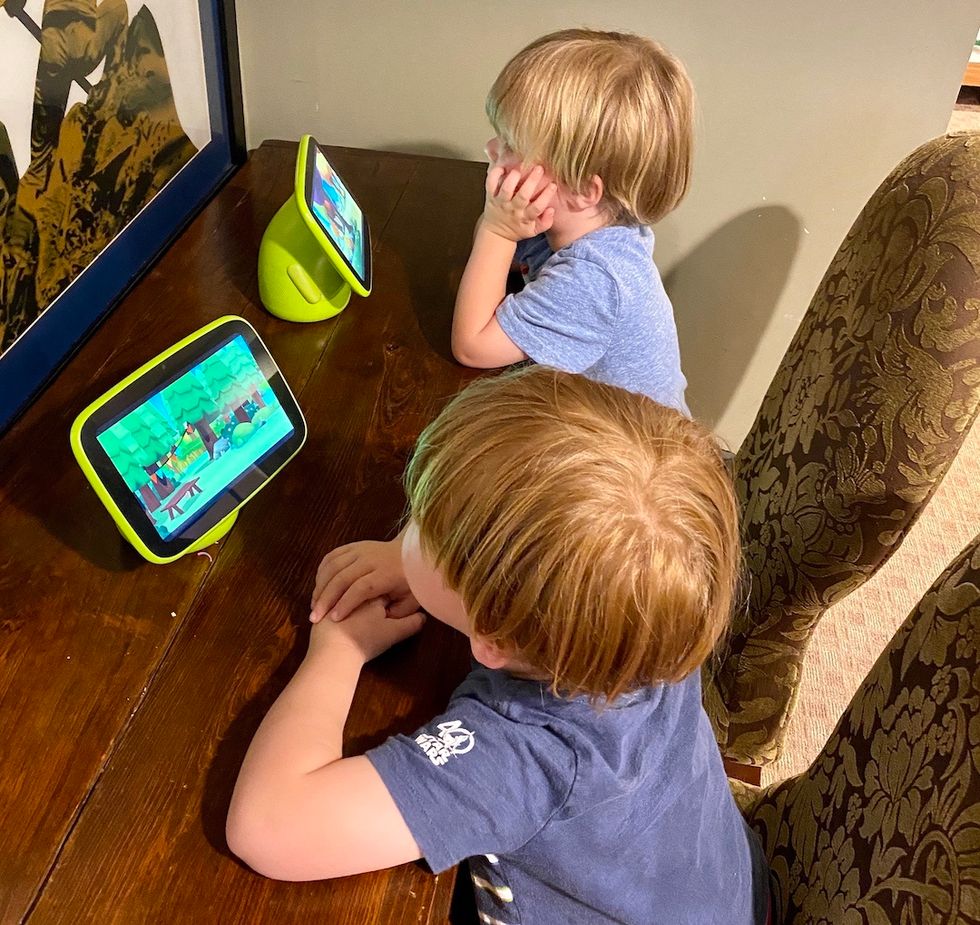 Our two young reviewers often sat next to each other as they played on the AILA Sit and Play devices.GearBrain
Getting started

The AILA just needs to be plugged in to work, and a full charge can last, our reviewers found, a few days. They don't need to be plugged into an outlet to operate, which makes them portable. Our three-year-old twins took the devices in the car with them, which their parents liked as well.
The app connects to the devices through QR code. But while one parent was able to pair easily to both devices, the other had trouble throughout testing, even during the setup, to connect to her smartphone. She stopped trying. You also can't pair more than one device at a time, and the boys would get impatient while waiting for their mom or dad to pair them. Luckily, both devices worked without the parent app, but it did mean she couldn't monitor the progress of the boys independently.
How the toys worked

Both both used the AILA's daily — often with them perched on a table in the dining room where their older siblings also worked on their devices, usually getting on them while they ate their breakfast. One absolutely loved being on it, with his twin using it because the other was playing with it, his mother said. Often, one would see something on the other's screen and ditch his.
Learning sessions as set for 15 minutes, and if you're inactive a bit, they shut off and go into sleep mode. But the boys didn't have any problem sitting for 15 minutes. And then they would get up, move around a bit, and even go back, sometimes for another 15 minutes. Their mom felt they were learning more through the program that they had learned while in nursery school.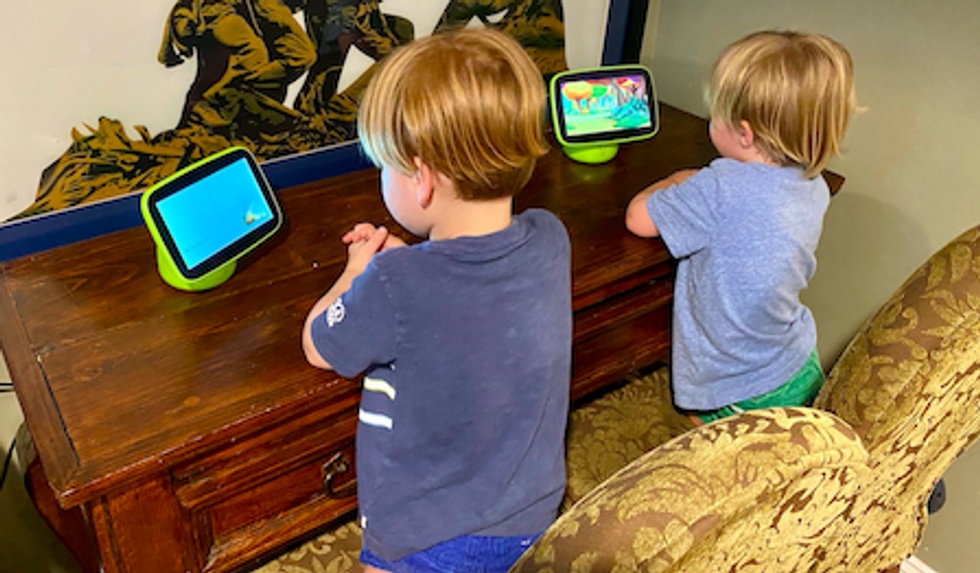 One of the boy's started referring to the toy as his computerGearBrain
Price

The AILA Sit & Play is $199 on the company's web site and Amazon, and you don't have to pay a subscription fee for content. The material is designed to rotate and change every three months.
Summary
Our 3-year-old testers loved the AILA Sit & Play, finding the material clearly engaging, as they were learning. Their mom was impressed at what they were able to pick up from the daily sessions. She said someone asked the boys what they were learning, and they were able to repeat the letters they had just been taught.
She also liked how easy the AILA devices were to turn on, which meant her sons could start using them without her needing to get involved. That was helpful. She also thought highly of the animation, finding herself watching the sessions when she was home, and enjoying them as well.
Pairing was an issue, and since one of AILA's selling point is the ability to monitor a child as they go through the sessions, this was a problem. One parent was able to pair easily, another was not. This is clearly not a universal problem, but something to consider. The boys' mom also thought it would be nice if there were more ways to interact with the touchscreen and the characters, such as something lighting up when they touched the right letter.
But she genuinely appreciated the simple stories and nursery rhymes peppered throughout, she said, something she finds it missing from shows her children are already watching on TV. Overall, as well, she was thrilled to have the devices for her sons, especially during the social distancing they and her family had to experience with schools closing. AILA made that time not just fun for her boys, but educational. Would she recommend them to other parents? Absolutely.
Pros:
Animation is excellent
Educational material adjusts to each child, picking up on what they can learn next
They hold a charge for a number of days
Cons:
One of our parent reviewers found it difficult to pair the device to her app
You can only pair one device at a time
Our parent reviewer wished for more interaction through the screen