Like GearBrain on Facebook
Apple this week announced an upgraded version of its AirPods wireless earphones, complete with extra battery life, faster pairing, integrated Siri, and an optional wireless charging case.
But, while these upgrades are all very welcome, the physical design of the AirPods remains identical to their predecessors — which means, at least for some consumers, they aren't going to fit securely.
Read More:
Praise where it is due, Apple's earphones fit many people very well — perhaps a surprise, given their lack of flexible silicon tips and wings to ensure a good fit, as used by rivals like the Samsung Galaxy Buds.
But they are far from universally perfect, and the completely wireless nature means there's nothing to stop the AirPods from falling to the floor, and potentially lost.
Thankfully, while Apple doesn't sell any official AirPods accessories to make them fit better, the third-party market is alive and well. In fact, online retailers are full of silicon tips and wings to ensure a better fit, protectors for the charging case, and straps to connect one AirPod to the other, thus stopping them from falling on the floor.
Here are some Apple AirPods accessories to help you find a better fit:
Anti-slip Silicone Soft Sport Covers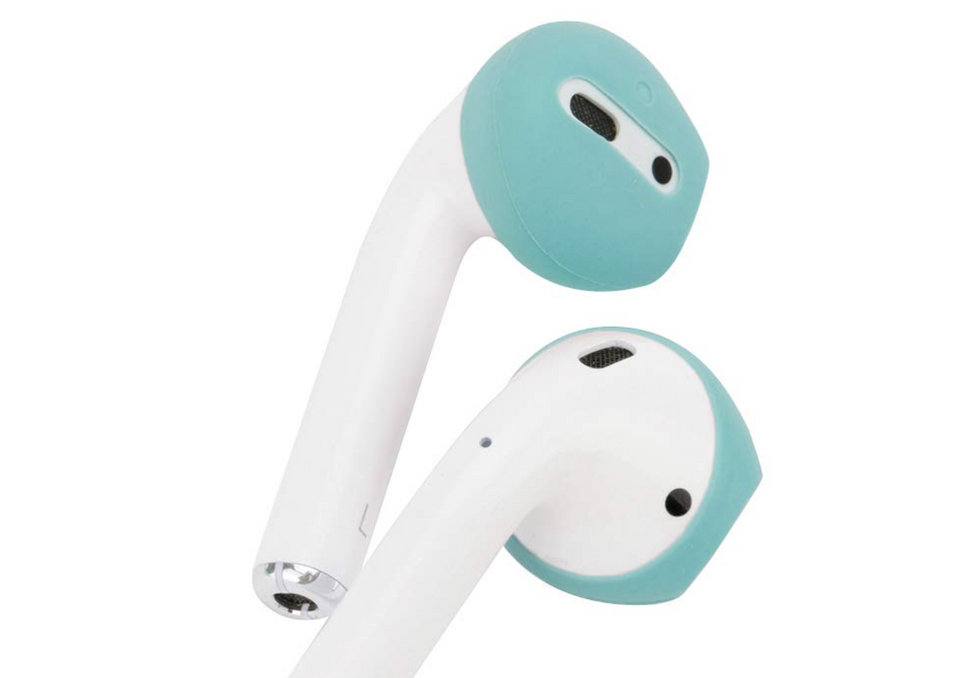 These covers don't stop the AirPods from sitting in their charging caseDamonLight
This silicone accessory slip over the tops of the AirPods to help the earphones fit more snugly in your ears. The grippy silicone should help them stay in your ears more securely by creating more friction against your ears compared to the glossy white plastic of the AirPods themselves.

These covers should also help to provide a tighter seal in your ear, helping to isolate noise. This will help reduce external sounds from interfering with your music, but also reduce how much your music 'leaks' out.
The covers are available in white, dark blue, icy blue and red, and are claimed to fit inside the AirPods' charging case, making them particularly convenient. Other accessories, like larger tips and wings, need to be removed before the lid of the charging case can be closed.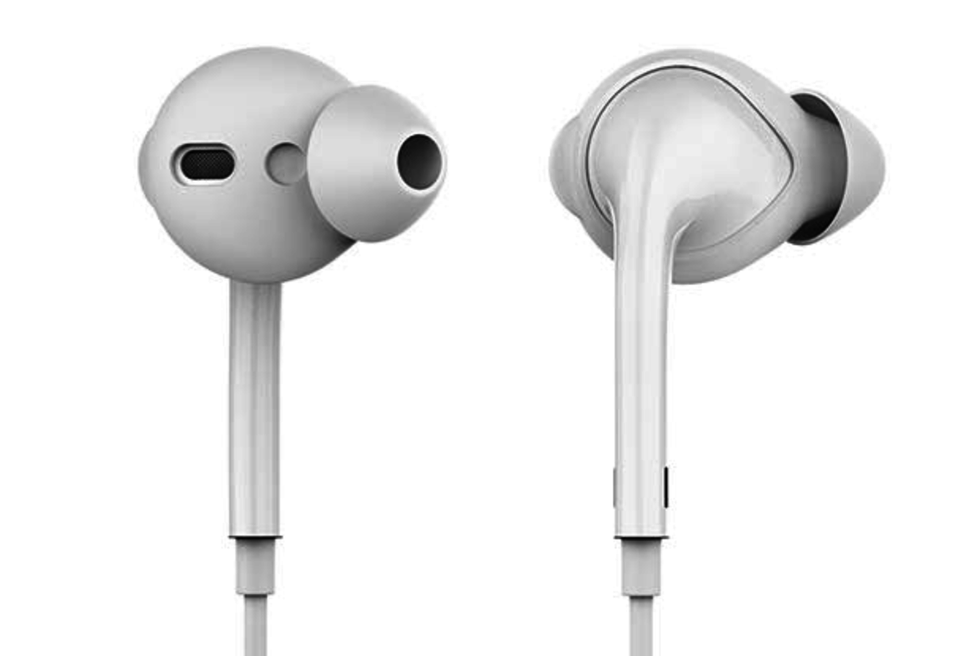 These silicone tips will increase stability and sound isolationAhaStyle
Going a step further, these earbud covers for the Apple AirPods look more like conventional silicone tips. Designed to push more deeply inside your ear than Apple's own design, they should help to significantly increase stability, while also blocking most external noise.

The accessory fully encloses the head of each AirPod, and includes a small 'wing' at the back, further helping the earphones to stay in place. This design is similar to that of the Samsung Galaxy Buds, which employ a tip and small wing to insert into the ear and also brace against it.
The AirPods covers are available in black or white, and each set comes with three pairs plus a carry case.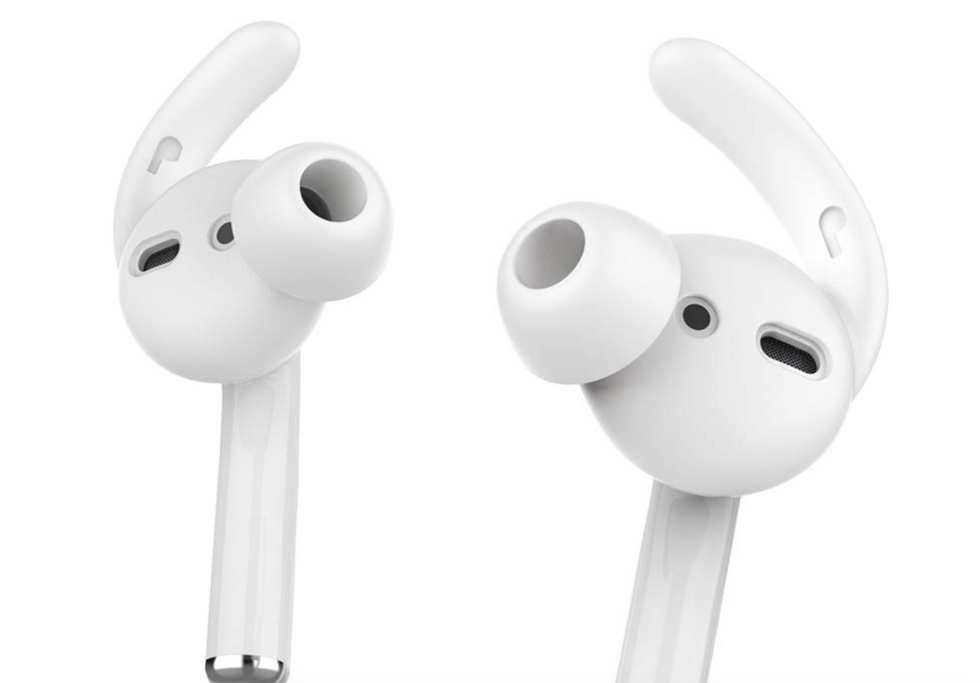 This winged design will help AirPods stay in place while runningAhaStyle
If you're looking for AirPods covers with larger, hook-like wings, then these are the accessories for you. They cover the entire head of each AirPod, include a tip for inserting into your ears, and a large wing tip for securing the earphone against your outer-ear.

The design is similar to that of earphones designed for exercise, so we expect these to help your AirPods stay securely in place while running or doing any other kind of sport.
The tips will help provide passive noise isolation, blocking outside sound while preventing your music from leaking out and disturbing the person next to you on the bus or train. Naturally, a cover of this size does not fit inside the AirPods charging case, so they'll need to be removed and stored in their own (included) pouch each time you want to recharge.
They are available in small or large, and clear, white or black.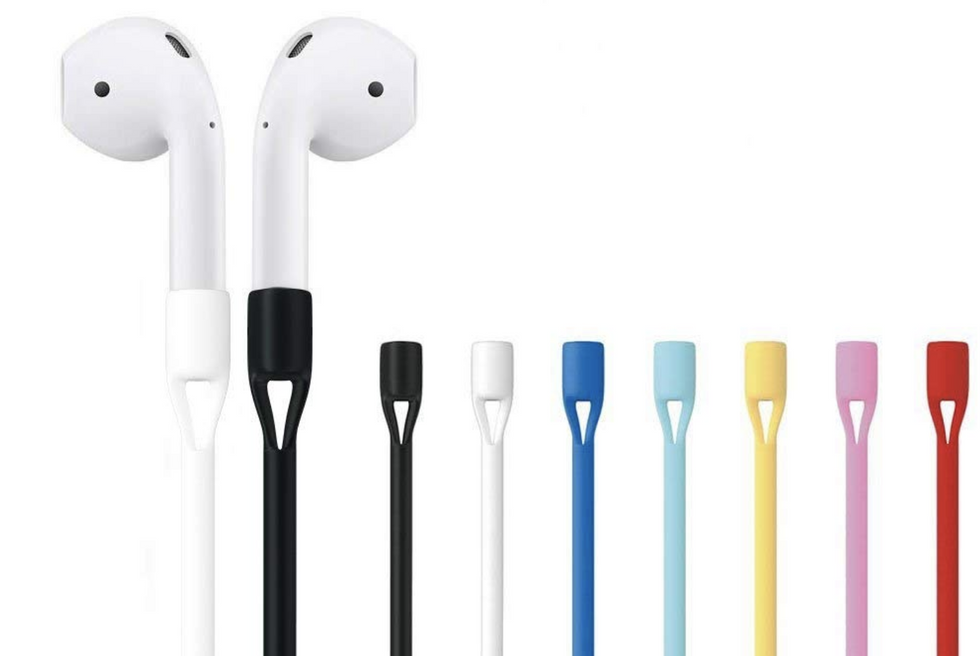 This simple accessory stops your AirPods from dropping to the floorGorsun
For some, AirPods fit comfortably enough but pose a constant threat of falling out and being lost, as there is nothing connecting one to the other.

With this simple 18.5-inch silicone connector, a falling AirPod will be caught before it tumbles to the ground and into a drain cover, lost forever. This pack of seven means you can pick a different color every day of the week, and the accessory takes just a moment to fit.
Of course, you'll need to remove the connector before you can charge your AirPods, but for the peace-of-mind they offer we think the minor inconvenience is probably worth it.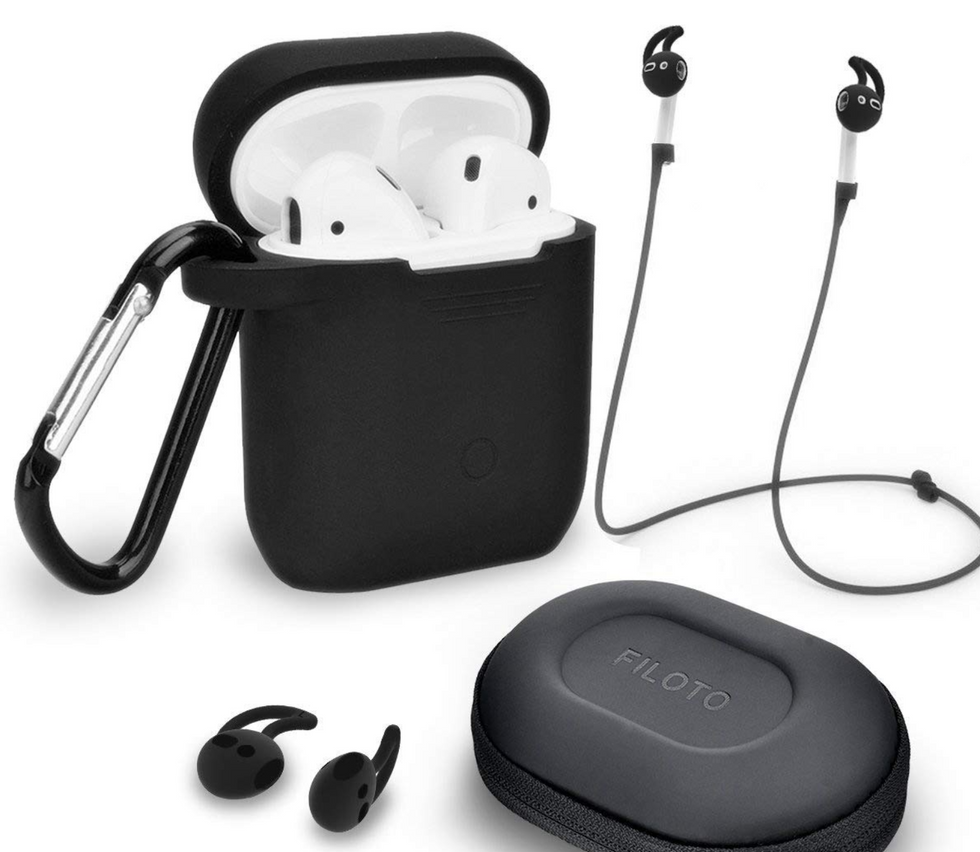 This accessory kit offers everything you need to make your AirPods more comfortable and secureFiloto
This kit includes silicone covers with wings to help improve the fit of your AirPods and a tether to attach the earphones together, acting as a neck loop and preventing them from falling to the floor.

There is also a silicone slip case for your charging case, protecting it from scratches, a carabiner clip, and larger carry case to house your AirPods, charger, and all included accessories.
The kit is available in 16 colors, including black, gray, green, red, pink, blue, white and rose gold.
Like GearBrain on Facebook