Like GearBrain on Facebook
The Alexa voice assistant is now better able to understand the intentions behind your questions, then act upon them, thanks to an intelligence update rolling out this week.
Coming first to English-speaking Alexa users in the US, but no doubt arriving elsewhere in the future, the update uses a sophisticated understanding of intention to help Alexa work out what you want, even if those desires aren't explicitly mentioned in your question.
Read More:
For example, if you ask Alexa how long it takes to steep tea, the assistant will provide the answer of "between three and five minutes," based on information found online. Currently, Alexa then goes quiet or returns to whatever it was doing previously, like playing music or the radio.

With the new intelligence update, Alexa could answer the question then suggest starting a timer for five minutes. The smartness here is in the assumption that, because you are asking about steeping tea, that's what you want to do next, and Alexa can proactively help out by setting a timer.
This might seem simple enough but Amazon explains in a blog post how getting Alexa to make the correct follow-up question is tricky to get right. "Under the hood a number of sophisticated algorithms are running to detect latent goals, formulate them into actions that frequently span different skills, and surface them to customers in a way that doesn't feel disruptive," the retail giant said.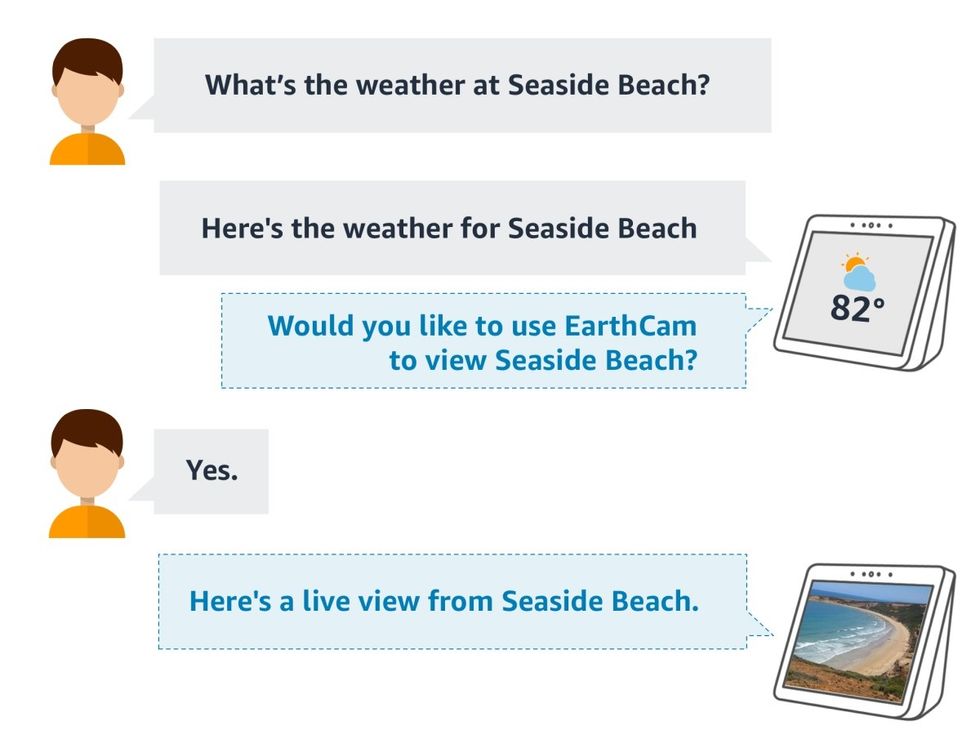 An example of Alexa's improved conversational intelligenceAmazon
Amazon explains how, during the development of Alexa's new-found intelligence, the assistant would be asked for "recipes for chicken". An early prototype then incorrectly followed up its recipe suggestions by asking: "Do you want me to play chicken sounds?"

Alexa relies on previously-learnt knowledge to get its follow-up question right. For example, Amazon explains: "The model may have discovered that customers who ask how long tea should steep frequently follow up by asking Alexa to set a timer for that amount of time."
The company adds: "To determine whether to suggest a latent goal, we use a deep-learning-based trigger model that factors in several aspects of the dialogue context, such as the text of the customer's current session with Alexa and whether the customer has engaged with Alexa's multi-skill suggestions in the past."
This isn't a case of Alexa being told to always respond to a tea steeping question with the suggestion of a timer. Amazon says the model "improves its predictions through active learning, which identifies sample interactions that would be particularly informative during future fine-tuning."
Check out The GearBrain, our smart home compatibility checker to see the other compatible products that work with Amazon Alexa enabled devices.
How to Add Devices to MyGear in The GearBrain www.youtube.com
From Your Site Articles
Related Articles Around the Web
Like GearBrain on Facebook