Like GearBrain on Facebook
The majority of Alexa skills have no user review or star rating, while 65 percent of those branded as five-stars have earned this from a single rating.
It has also been found that 78 percent of Alexa skills with a one-star rating earned this score from just one user review. Just one percent of Alexa skills have earned more than 100 user ratings.
Read More:
These are the findings of Dashbot, a data analytics platform used by developers to increase user engagement. The data came from the analysis of over 40,000 skills available to U.S.-based users of Alexa, Amazon's voice assistant.
Alexa's skills are like applications. There is a skill store which can be accessed via the Alexa smartphone app and the Amazon website. Skills are then enabled on an Alexa device, like an Amazon Echo smart speaker, with each skill giving the assistant new abilities. Skills include games, shopping tools, news services, smart home control systems, and other utilities.

Just like smartphone applications on Google Play and the Apple App Store, Alexa skills can be given reviews and star ratings by their users. However, the data collected by Dashbot reveals how this ratings system is rarely used and easily skewed.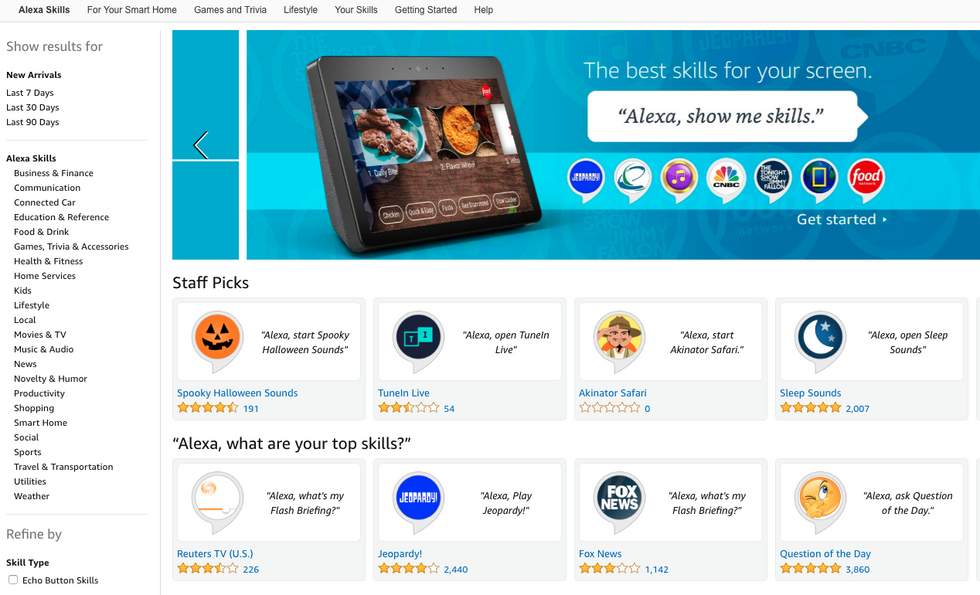 Skills can be enabled via the Amazon websiteGearBrain
Voicebot, the company behind Dashbot, found that 62 percent of Alexa skills have no star ratings at all, and that 65 percent of skills with a five-star rating have earned this badge of honor from a single user rating. Hypothetically, this rating could have been given by the developer of the skill, or someone associated with them, to boost its visibility in the store.

At the other end of the scale, 78 percent of skills with a one-star rating received this score from a single user. Voicebot said: "These single rated skills cause a skew in analyzing rating clusters because of the bias toward 1-star and 5-star reviews...unless the skill has more than eight reviews, you should take the star rating as likely skewed."
Just five percent of skills have received more than eight reviews, and only one percent have earned more than 100.

As well as their star rating, which can be easily manipulated with just a couple of one- or five-star reviews, a skill's position in the Alexa store rankings is equally important.
Alexa skills on the Amazon website can be filtered by review score. When filtering to view skills with four stars and above (the highest search criteria), GearBrain found that three skills out of the first ten had received just one rating each (of five stars), and a fourth had received just two ratings to earn its five-star claim.
Arte Merritt, co-founder and chief executive of Voicebot,
said
: "Store ranking can be a significant contributor to user acquisition...nearly 40 percent of users discover new skills through the store. In addition, both brands and startups have found the position within the Alexa store has a significant impact - citing that if the skill falls off the first page, they're basically lost. Having a strategy to increase positive reviews, and thus store position, can result in higher user acquisition."
What You Need To Know About Smart Speaker Assistants www.youtube.com
From Your Site Articles
Related Articles Around the Web
Like GearBrain on Facebook