Like GearBrain on Facebook
A day after it was reported that Amazon has plans to launch eight new Alexa-equipped devices - including a microwave oven and home audio equipment - two unannounced devices briefly appeared on the retailer's website.
The pair of devices, spotted by Pocket-lint, appeared briefly on Amazon's UK website before being removed. The first is the previously-rumored Echo subwoofer, called the Amazon Echo Sub.
Read More:

According to a screenshot of the product listing, the device has a downward-firing, 100W woofer with a 6-inch diameter. The sub is intended to be wirelessly paired with your Amazon Echo smart speaker to give music much more bass and a more rounded sound.
Interestingly, the product listing says how the sub can be paired with "two of the same compatible Echo devices for right left/right stereo sound". This is a smart move from Amazon, encouraging customers to invest in both the sub and a second Echo speaker (if they don't already own two) to delivery much-improved sound.
Amazon does not have a high-end offering when it comes to smart speakers. Where Google has the Home Max, Apple has the HomePod (which can also be paired for stereo sound), and the likes of Sonos and Harman Kardon offer smart speakers of their own, Amazon only has the $99 Echo.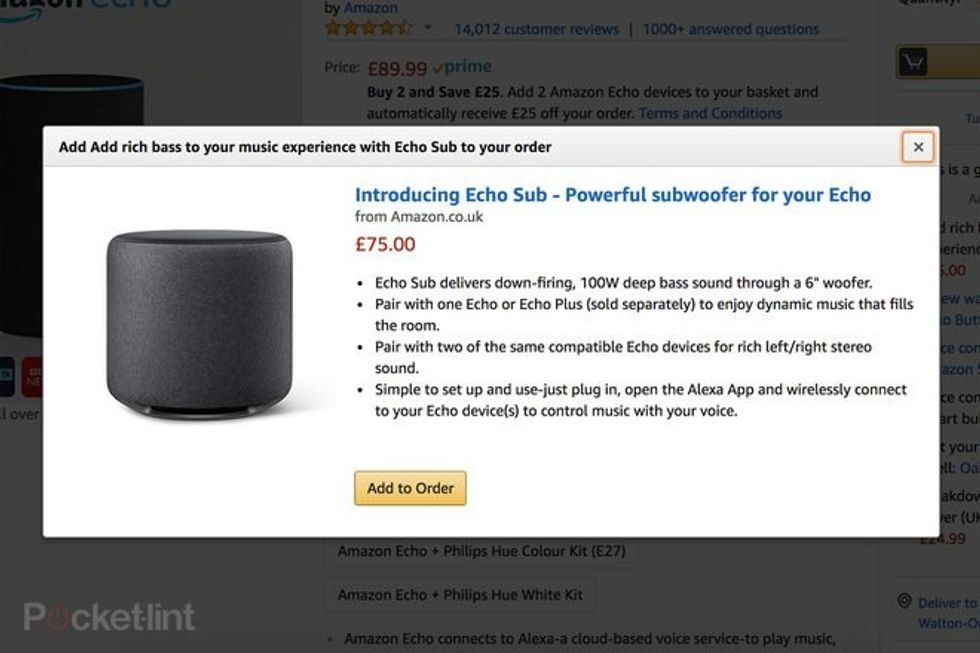 The fabric-covered subwoofer creates a 2.1 audio systemPocket-lint
With a sub-$300 investment (less than the cost of a single HomePod), Amazon fans can have stereo sound and strong bass. We say sub-$300 because the Echo costs $100 and the leaked product listing shows the Echo Sub priced at £75 ($98).
Having said that, however, the second leaked Amazon product makes us wonder if that price is accurate. This is because the second product - also spotted making a brief appearance on Amazon's UK website - was a smart plug priced at £95 ($125). Considering smart plugs from reputable companies cost around $25, this must surely be an error on Amazon's behalf. So perhaps the Sub's price is also incorrect for now.
Regarding the plug, called the Amazon Smart Plug, it is very much as you'd expect - a smart plug which you setup through the Alexa smartphone app.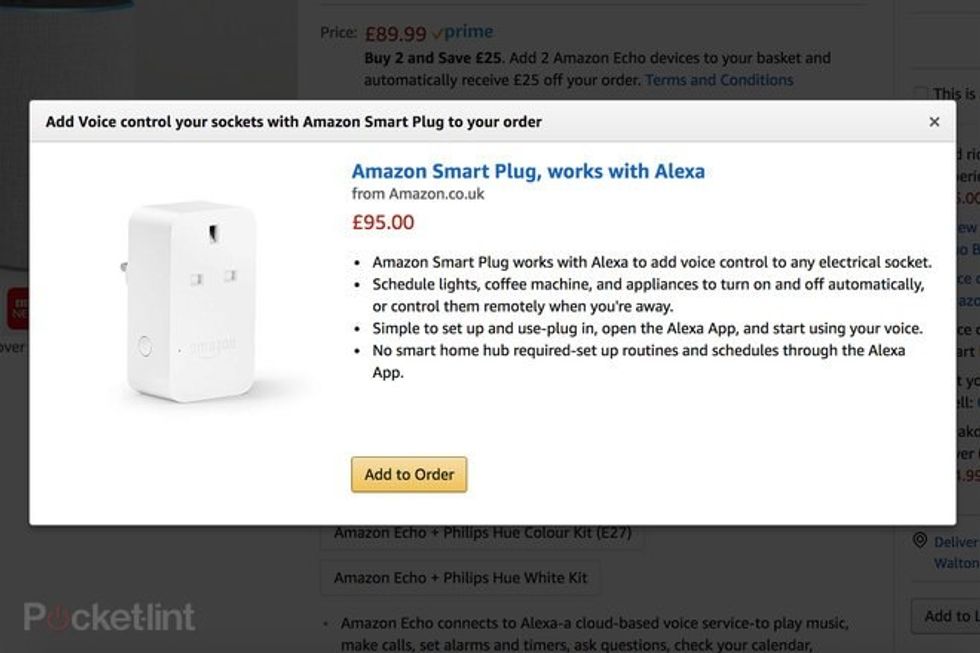 The £95 price tag is surely a mistake by AmazonPocket-lint
To be clear, this is a 'works with Alexa' device and does not have the assistant embedded like the Echo speaker range does. The future is not one where we talk directly to our plug sockets, Amazon says, but is one where we ask our Echo speakers (or the Alexa app) to control those plugs for us. As you'd expect, the plug also includes scheduling features so you can have lamps switch on at certain times, or set the coffee machine to fire up when your alarm goes off each morning.
The leaks claim both products will be available from October 11 - which could be when we see the rest of the rumored additions to the Alexa family, including a microwave and an audio receiver.
Check out The GearBrain, our smart home compatibility checker to see the other compatible products that work with Amazon Alexa.
From Your Site Articles
Related Articles Around the Web
Like GearBrain on Facebook