Like GearBrain on Facebook
Amazon is known for its swift delivery of goods — and apparently deals as well.
The giant e-tailer's is already closing on the $13.7 billion acquisition of Whole Foods on Monday and changes to the way the high-end grocery chain is run are going to be immediate, says Amazon in a press release. Whole Foods prices, to start, are going to drop at presumably all of its 470 stores in the United States and the United Kingdom, specifically on many organic items including organic avocados, organic baby kale, organic large brown eggs and organic Gala and Fuji apples just for starters. More are coming as well, says Amazon. It's a far cry from the 'Whole Paycheck' nickname the 39-year-old Whole Foods has long endured for decades.
What's going to be of particular interest to long term Whole Foods shoppers will be the link between their Amazon Prime membership and Whole Foods, with Prime becoming the loyalty program for the grocery chain. Prime members will eventually be offered special discounts plus other deals Amazon says it will launch in the future.
"Everybody should be able to eat Whole Foods Market quality – we will lower prices without compromising Whole Foods Market's long-held commitment to the highest standards," says Jeff Wilke, CEO of AmazonWorldwide Consumer in the release. "To get started, we're going to lower prices beginning Monday on a selection of best-selling grocery staples, including Whole Trade organic bananas, responsibly-farmed salmon, organic large brown eggs, animal-welfare-rated 85% lean ground beef, and more."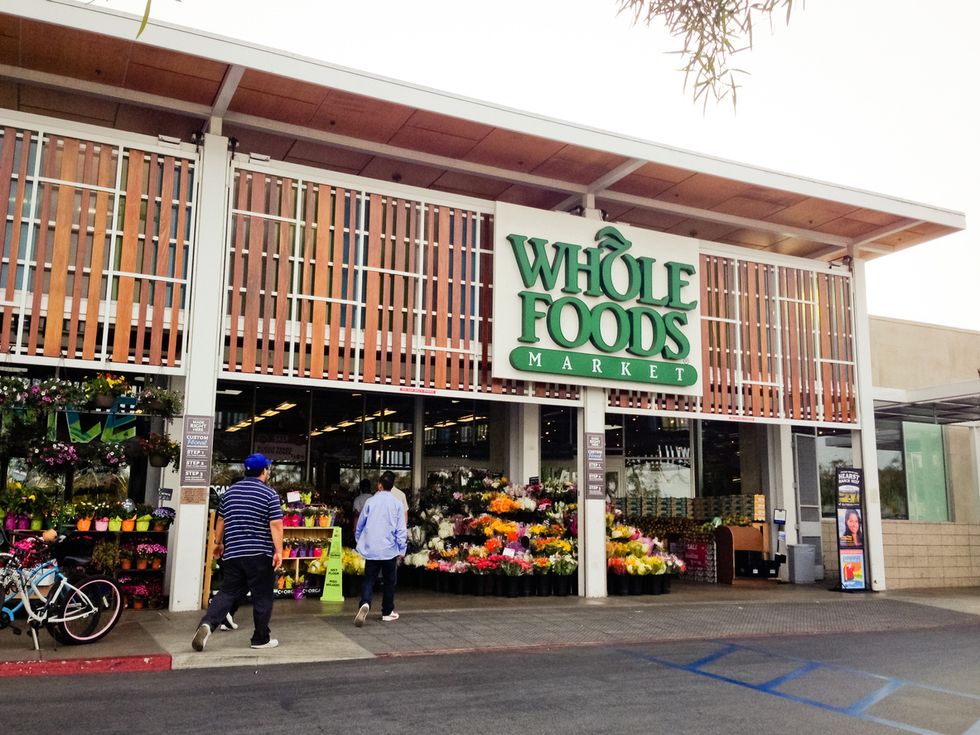 Prices on some organic produce will lower at Whole Foods starting on Monday. (Shoppers at Whole Foods in Venice, California.)Photo from iStock via Getty Images
Amazon's interest in pushing Prime membership upon as many shoppers as it can is well documented. From its annual Prime Day — when subscribers get special deals across the web site — to free access to content such as music and original programming, Amazon has grown the $99 annual Prime membership by 38 percent in just one year from 56 million as of March 2016 to 80 million members as of March 2017, according to a study from the Consumer Intelligence Research Partners. What's key is the $1300 a year that Prime members spend on average, according to the study.
Linking Prime membership with Whole Foods purchases brings yet another data stream into Amazon, which already captures anything its Prime members buy, watch, listen to, read and now eat. Amazon has its own grocery business as well, AmazonFresh and Prime Pantry. Amazon Fresh is $14.99 a month, and delivers groceries to the door. Prime Pantry costs $5.99 per use, allowing shoppers to fill a box os what would be dry goods and have the groceries delivered through the mail. Prime members must pay the fees on top of their annual membership.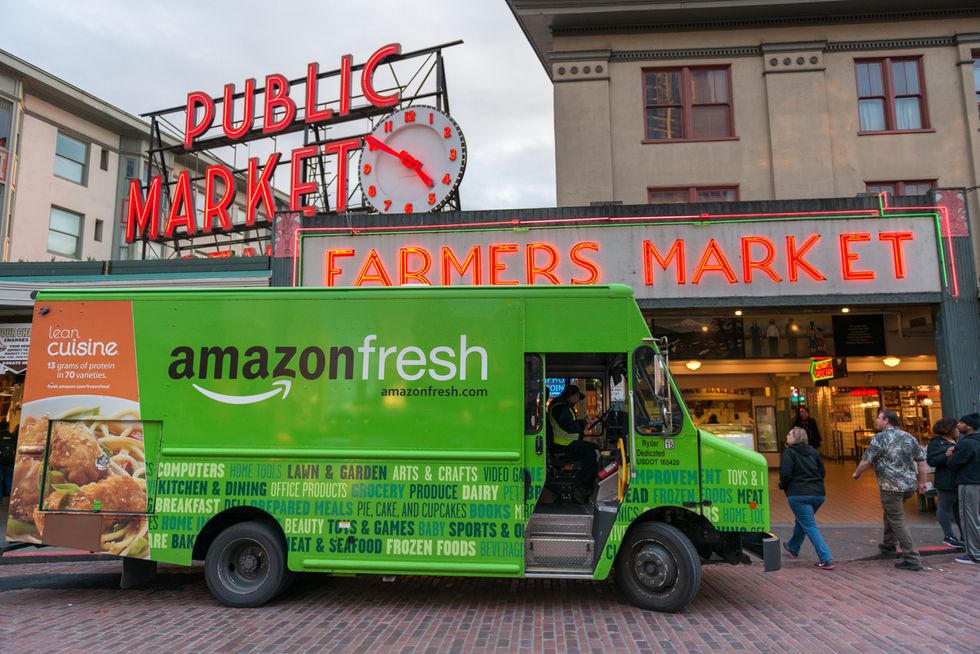 Seattle, USA - February 2, 2016: An Amazon Fresh truck in front of the famous Pike Place Market late in the day.Photo from iStock by Getty Images
Prime Pantry will now carry Whole Foods Market branded items as well as its private label line of staples called 365 Everyday Value. And Prime members will be able to pick up orders at Whole Foods stores through Amazon Lockers, physical locations that Amazon has used for those who can't have something delivered to their home, or chose not to, and want to pick up a package instead.
For Amazon Echo and Echo Dot users, the Whole Foods acquisition is likely to unlock more options and deals. While Amazon's AI bot Alexa is usable without a Prime membership, linking the two together does make it easier for shoppers to place orders all by speaking aloud. With Whole Foods now owned by Amazon, an Alexa Skills app that brings up Whole Foods deals is almost a certainty in the near term, as well as other ways to link the two brands together.
"As part of our commitment to quality, we'll continue to expand our efforts to support and promote local products and suppliers," says John Mackey, Whole Foods Market co-founder and CEO, in the release. "We can't wait to start showing customers what's possible when Whole Foods Market and Amazon innovate together."
Cover Photo: Fairfax, United States: Whole Foods Market store facade with customers crossing street. (Photo from iStock by Getty Images)
From Your Site Articles
Related Articles Around the Web
Like GearBrain on Facebook