Like GearBrain on Facebook
Continuing its internet dominance, Amazon has now made one of its latest ventures, Amazon Prime Wardrobe available to the public. The feature which lets you virtually try on clothes before you click buy, has been only open through a special invite system for the past year. Now anyone who subscribes to Amazon Prime can try the service, which is built into the perks of an Amazon Prime membership at no additional cost.
Prime Wardrobe lets you try on almost any fashion item you can imagine including clothing, shoes, jewelry and bags. Buyers pick between three and eight items, and have them shipped at no charge. They get up to seven days to try the selections before deciding which items they'd like to keep. They must then return the pieces they don't want — and are charged only for the items they keep.
The Prime Wardrobe concept is not unfamiliar to anyone who subscribes to Stitch Fix or Trunk Club, which sends items to someone each month, letting them return what they don't want to keep, and get charged, for what they do. The difference is Amazon's service is free while Stitch Fix and Trunk Club include a styling fee for each shipment.

Amazon is eager to expand its shopping experience — even working on an online TV shopping site. Prime Wardrobe is just another avenue to get shoppers to spend money through its brand. Fashion is, however, a big focus for Amazon, which launched a camera called the Echo Look last year, letting people virtually try on the clothes they have in their closet before they get dressed through the Alexa device.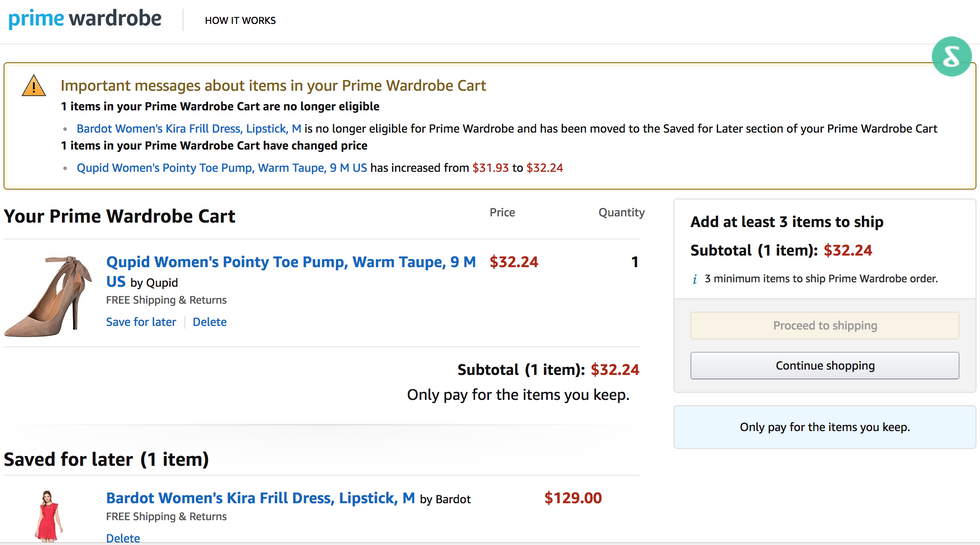 Amazon Prime Wardrobe sold out of my sized dress before I could click buyGearBrain
Amazon Prime Wardrobe has its own homepage letting you browse eligible products for women, men, girls, boys, and babies, and people can have only one Prime Wardrobe order active at a time.
For busy shoppers — or those who find waiting in line for dressing rooms a special form of torture — Prime Wardrobe is likely an appeal. However, several limitations to the service also may make this a possible miss for Prime customers.
Virtual shopping
For my trial, I kept it simple, selecting a dress, a pair of shoes and a pair of sunglasses as my Prime Wardrobe items. Those who are fashion forward would likely be happy to see that there are a number of popular brands available through the service. Though many of the options are offseason, the bonus is they're at discounted prices.
More limitations? There are limited numbers of items. In customary Amazon Prime fashion, I left some items in my Prime Wardrobe shopping cart (which is different from the standard Amazon shopping cart) for a few days. When I returned I had a notification that the dress I'd selected was no longer available in my size through Prime Wardrobe service, but had been moved to my standard shopping cart. I simply selected a new dress, and had one plus — the pair of shoes I selected dropped in price as I sorted out my dress issues.

Checking out didn't differ much from Amazon's standard checkout, even including a shipping and delivery estimation. But there was one big difference: buyers aren't charged.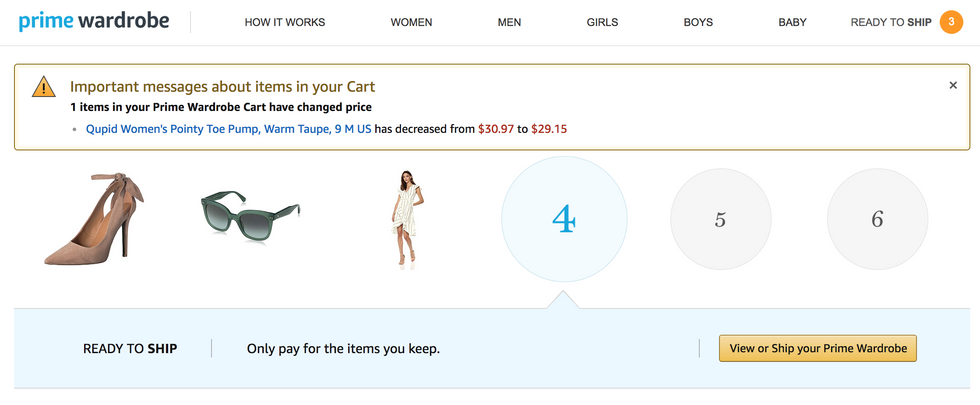 On the flip side, the shoes in my Prime Wardrobe basket kept dropping in priceGearBrain
My package arrived along with an email alerting me that my try-on period with the Prime Wardrobe items had begun. The email also included a "proceed to checkout" button, which took me to a page for my final checkout, where I could indicate the items I wished to keep and those I wanted to return. The shipping box includes an inner adhesive for users to reseal it when sending items back.
I decided to keep the shoes and return the sunglasses and the dress. The confirmation page indicated that I had an additional three days after the try on period to send the package back with the items I planned to return. I confirmed that I was charged only for the shoes through Amazon's "My Orders" page, as well as through a confirmation email.
Should you try to buy?

Overall, I had a positive experience using Amazon Prime Wardrobe. To me, the service is designed for those who like to window shop online and try on clothes without having to go through the credit card wait after returning an item. However Prime Wardrobe negates one of the most coveted features of an Amazon Prime membership — two-day free shipping. Though my package did arrive early, it took four business days, within the time frame Amazon initially states as items may be coming from different facilities. Making a last minute purchase? Amazon Prime Wardrobe isn't going to work for you.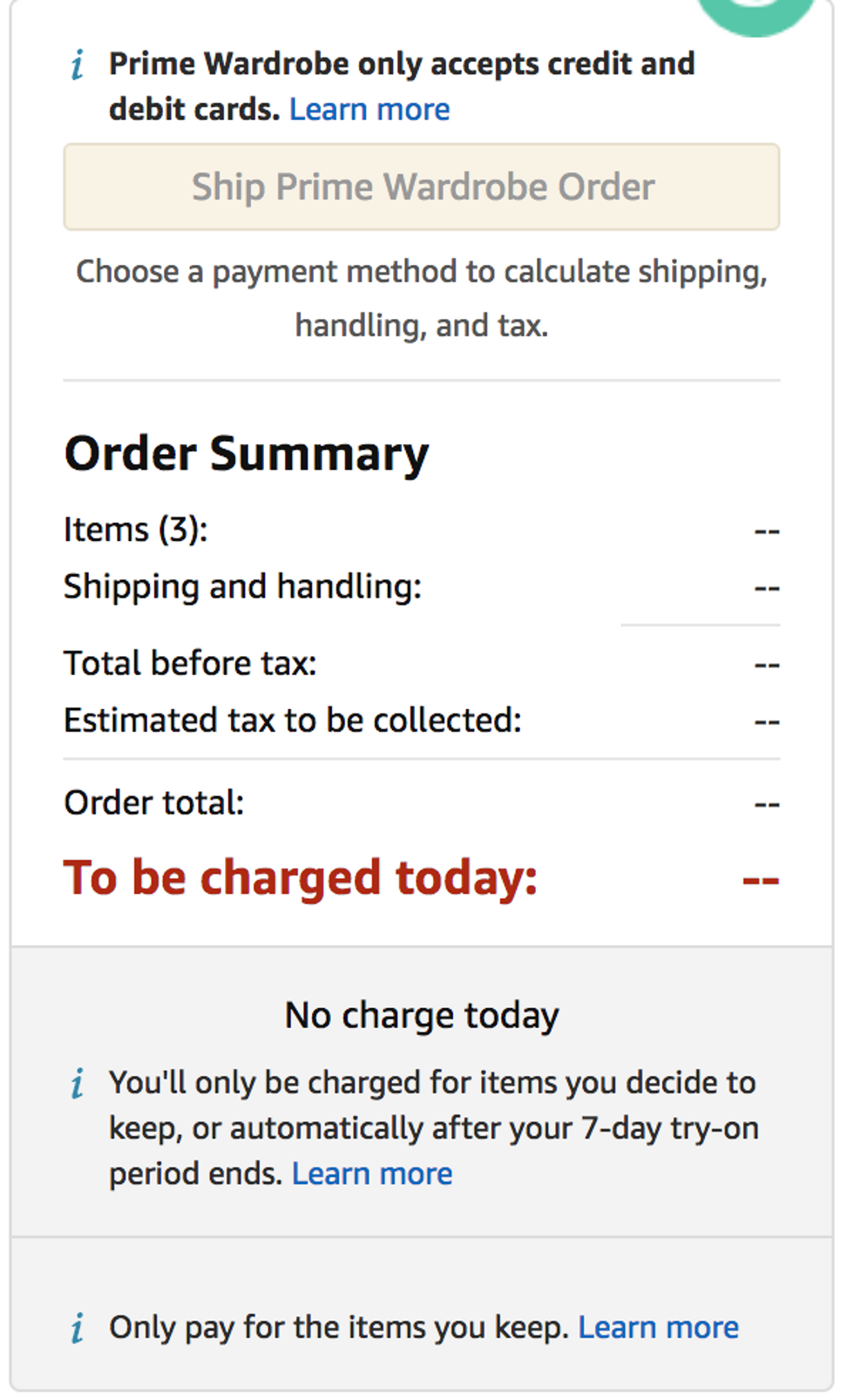 There's no charge when you initially check out on Amazon Prime WardrobeGearBrain
Still, the biggest hindrance is actually the limited sizes. Nearly every shopper tries on multiple sizes to find a proper fit. With Prime Wardrobe's small selection, customers may forgo selecting an item altogether. In my case, I didn't buy the original dress I wanted — and returned the one I did select since it wasn't the one I really liked. The original dress was available, in my size I should not, through standard Amazon Prime — which makes me wonder why anyone would use Amazon Prime Wardrobe at all?
Finally buyers need to actually know Prime Wardrobe exists. If Prime members missed the "Introducing Prime Wardrobe" email — and the small mentions of Prime Wardrobe on the Amazon homepage or site navigation — the service may never be found.
Pros:
Wide range of desirable items available on Prime Wardrobe
Users can try on items without being charged
Users get updates about the items in their Prime Wardrobe cart such as price changes and availability

Cons:
Navigating Prime Wardrobe is challenging
Shipping takes four to six business days despite being an Amazon Prime feature
The Prime Wardrobe feature may be available for only certain colors of sizes of an item

Like GearBrain on Facebook