Like GearBrain on Facebook
Apple's first over-ear headphones, reportedly called the AirPods Studio and expected to be announced on October 13, will go up against no shortage of top-notch rivals from a fiercely competitive market.
And, while Apple has enjoyed huge success with its AirPods, which arrived in 2016 and now command 35 percent of the global earphone market, for the new headphones to stand out, they will have to be a top-drawer audio product, not just an obvious extension to its popular AirPods product range.
Read More:
Apple AirPods Pro
A rarity for Apple, the original AirPods saw the company arrive early to a new product market. Instead of arriving later in a more refined way, as it did with the iPhone, iPad and Watch, the AirPods forged a new category of truly wireless earphones with a compact charging case. Adding excellent active noise cancelling with the AirPods Pro in 2019 further cemented Apple's dominance of the market.

But with the rumored AirPods Studio, expected to be a pair of larger over-ear headphones, Apple finds itself entering a mature market with stiff competition from industry veterans like Bose, Sennheiser, Sony and Bowers & Wilkins.
Each of those companies produces five-star headphones that have gradually improved over the last decade, and (at least in pre-pandemic times) became the go-to choice for commuters and airplane passengers the world over. Look up from your smartphone on a city commute and you will be greeted by a sea of premium headphones, mostly by Bose which produces the hugely popular QC-35 and its successor the Noise Cancelling Headphones 700.
Sony has since stolen Bose's step at the top of the $350 headphones podium with its WH-1000XM3 and later the XM4, both boasting superb noise cancellation, comfort and sound quality. For those who want a stylish pair of headphones, Bowers & Wilkins offers the PX and PX7, complete with classy royal blue and soft gold details.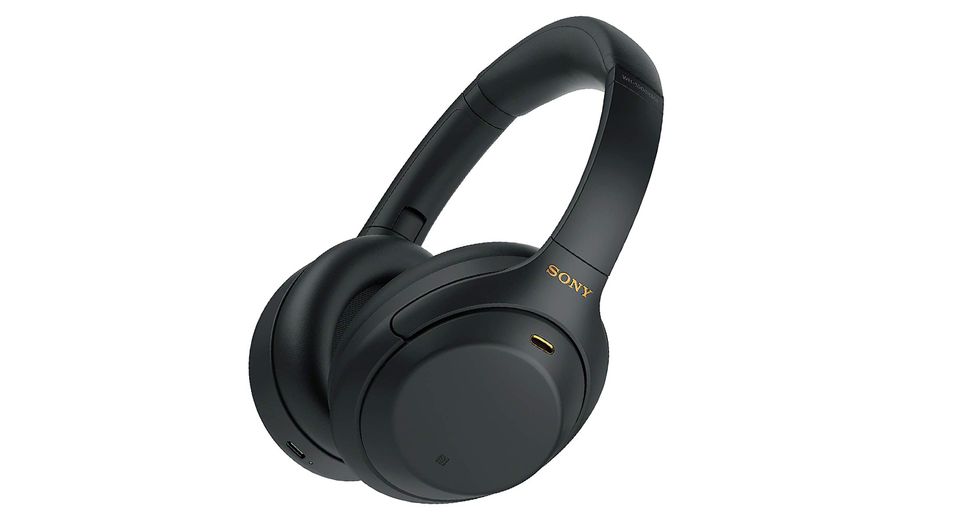 Apple will face stiff competition from Sony, Bose and othersSony
How will Apple and its AirPods Studio stand out from the crowd?

Firstly, Apple will have to offer a better product than anything made by Beats, which it owns. The Beats Studio3 wireless over-ear headphones, pictured at the top of this article, are currently sold for $350 by Apple itself, which poses obvious questions with difficult answers: Will Apple price its own headphones above or below these? Or, will top-end Beats headphones be replaced by Apple's own?
We can't see Apple going above the $400 mark, and leaks throughout 2020 corroborate this, pointing at a price of either $350 or $400. This keeps them comfortably above the $249 AirPods Pro, but in the same ballpark as other premium brands like Sony, Bose, Sennheiser and Bowers & Wilkins.
Active noise cancelling will of course be a primary feature of the AirPods Studio, but this area has fast become one with marginal gains remaining, now that so many high-end headphones produce what most users would consider to be almost complete silence. Sound quality is important too, of course, but again the $350-$400 headphone market has got to a point where a fine balance between size, price, sound, comfort and noise cancellation has been struck. There are plenty of headphones with even better sound quality, but their prices quickly head towards the $1,000 mark, which we doubt Apple will pursue.

Apple holds at least one audible card, in the form of Spatial Audio. Recently added to the iPhone and iPad, this is a form of 3D surround sound similar to Dolby Atmos, placing the wearing in the center of a sphere of noise. But it also has a neat trick where, no matter how the wearer moves their head or their iPhone/iPad, the sound also appears to come from the same direction. It's a clever demonstration, but one Apple hasn't yet fully explained; perhaps the higher-performance AirPods Studio will make more sense of Spatial Audio, and set itself apart from the crowd.
This leaves us with hardware and features that aren't directly related to sound or noise cancellation technology – and this is where Apple could stand apart from Bose, Sony and everyone else. The company is unmatched when it comes to building products that work harmoniously with each other. We have no doubt that the AirPods Studio will neatly integrate with the iPhone, iPad, Watch and Mac, with audio automatically switching from one device to another, volume and noise cancellation levels intelligently adjusting, and Siri being on-hand throughout the experience.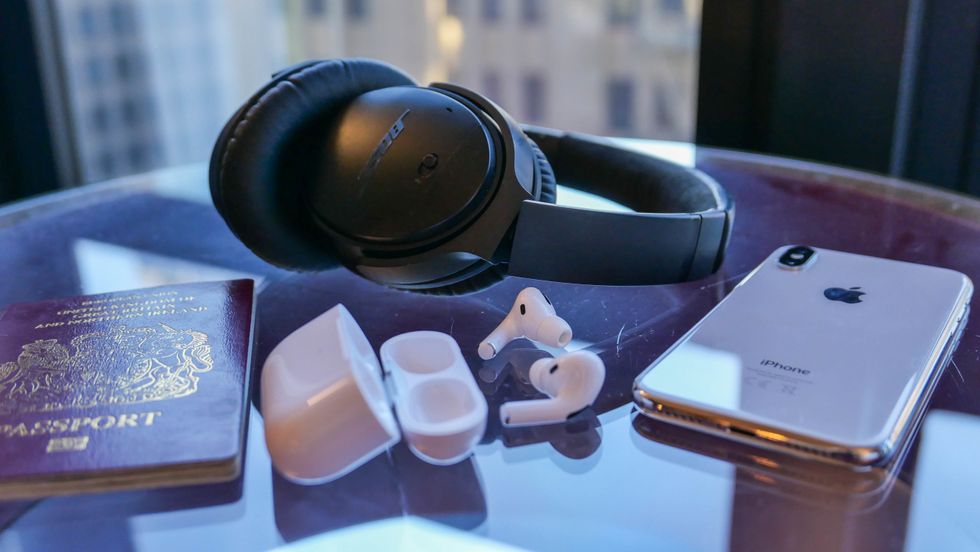 AirPods Pro have noice cancellation to match the Bose QC-35 GearBrain
According to leaks, it also looks like Apple's headphones will be reversible, using ear sensors to work out which way around they are being worn, then designating the left and right audio fields as required. We expect to see sensors for pausing the headphones when they are taken off, as most others now offer.

There has also been talk of a magnetic, modular design, potentially allowing parts to be swapped out depending on what you are doing. That way, durable and sweat-resistant ear cups could be used in the gym, then swapped for a soft leather set when listening to music at home.
The control interface is also an area where Apple could shine brighter than most. Some headphones lack physical volume buttons, while others rely on touch-sensitive systems that can be tricky to master. The AirPods Studio gives Apple an opportunity to right these wrongs and produce headphones that are intuitive to use, with simple and reliable controls. We hope physical volume controls are included, because asking Siri to adjust the volume with the current AirPods earphones is far from ideal.
Design
Design is of course a strong suit for Apple, so we expect the AirPods Studio to be a seriously stylish pair of headphones, as well as being comfortable and with a design that is well thought-out. Small headphone-shaped icons spotted in a beta build of Apple's iOS 14 suggest how the AirPods Studio will be available in black and white, although we wonder if these will actually be the company's signature Space Gray and a white-and-silver option.
Charging will hopefully be via a USB-C port instead of Apple's own Lightning, which it is slowly transitioning away from with new releases, and we hope to see battery life in the range of 20 to 30 hours, as per rivals. In short, we are predicting marginal gains for the AirPods Studio, eking out a section of the market for itself, rather than dominating it.
This is unlikely to be a smash-and-grab exercise from Apple. Simply applying the AirPods name to a pair of premium over-ear headphones won't be enough to earn the kind of market share it has become used to. Buyers of premium headphones are a discerning bunch of consumers who value top-notch sound quality and excellent design over the portability, convenience and gadget wow-factor of the regular AirPods. And, while the AirPods Pro are surprisingly capable for their size, Apple does not have a deep audio history for Bose and Bowers buyers to put their trust in; at least not yet.
The portability and convenience of AirPods Pro is why we love them — and why we preferred them to the Bose QC-35 on a long-haul flight — but over-ear headphones lose those aspects. They have to instead push forward on sound quality, noise cancelling, battery life and design.
We can't wait to see what Apple does with the AirPods Studio, and hopefully we won't have long to wait. Apple's next product launch event, expected to include the iPhone 12, AirTags, AirPods Studio and a new, smaller HomePod speaker, takes place on October 13.
Check out The GearBrain, our smart home compatibility checker to see the other compatible products that work with Apple HomeKit.
Introduction of The GearBrain, The First Compatibility Find Engine for Smart Devices www.youtube.com
Like GearBrain on Facebook