Like GearBrain on Facebook
Apple has removed products by Bose, Sonos and Logitech from its online and retail stores, just days before it is expected to announce new audio products.
The company had previously stocked a selection of speakers by Bose and Sonos, as well as the Logitech-owned Ultimate Ears brand. But these products have now been removed from Apple's online store, as spotted by Bloomberg and confirmed by GearBrain.
Read More:
It has also been reported that Apple staff were told to remove audio products from the shelves of its physical stores.
Apple also no longer sells headphones by Bowers & Wilkins, and removed Bang & Olufsen audio products earlier in 2020. We have included a screenshot from the internet archive below, showing how Bose speakers were available through Apple's website earlier in 2020.
The latest dilution of rival devices comes just days before Apple is expected to announce a new product launch event, due to take place before the end of October. While the iPhone 12 is expected to be the headline act, Apple is also rumored to be preparing its first over-ear headphones, and a new, smaller version of its HomePod smart speaker.
As such, it makes sense that the company would want to remove rival products from its stores. When searching for headphones and speakers, Apple's online store now only shows AirPod and EarPod earphones, the HomePod speaker, and audio products from Beats, which Apple owns.
Rumored to be called the AirPods Studio, Apple's first over-ear headphones have been in the works for some time. They appeared in the form of a small software icon in a beta build of the iOS 14 iPhone software earlier in 2020. These small, low-resolution icons showed how the AirPods Studio is likely to be offered in black and white.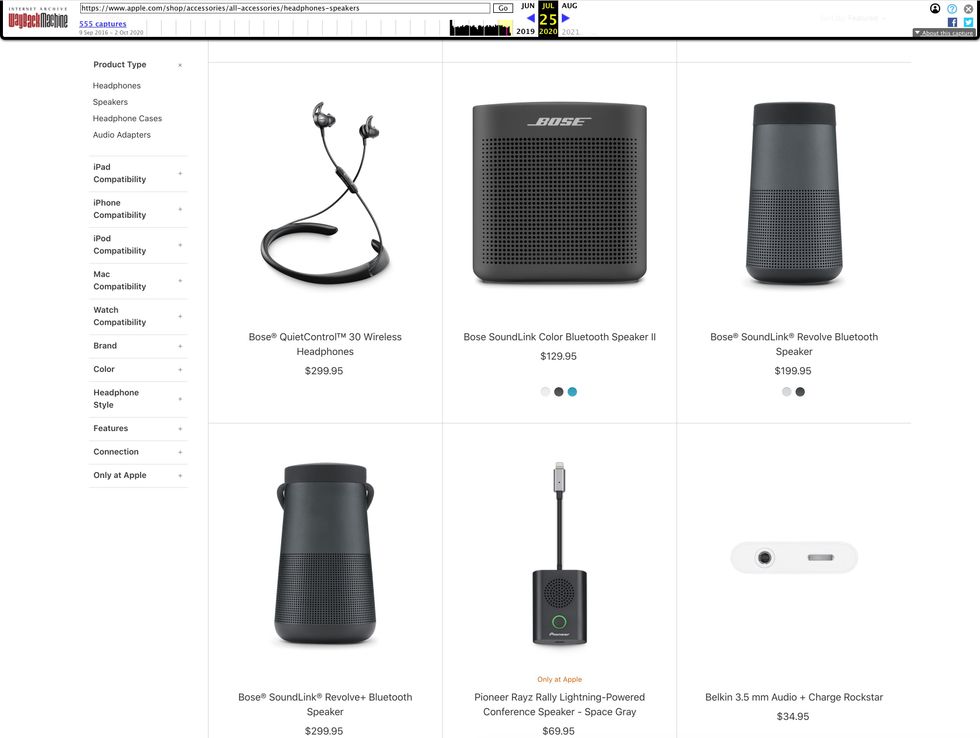 Screenshot from the internet archive shows Bose speakers on the Apple Store this summerGearBrain
The AirPods Studio is expected to have the same active noise-cancelling technology as the AirPods Pro, along with Apple's new Spatial Audio system, and greater sound quality thanks to their increased size making room for higher quality speakers. Advanced custom equalizer settings will also be available, with the headphones aimed at professional users (and likely carrying a price tag to match).

It has also been claimed that the AirPods Studio has sensors to determine when it is being worn over the ears and around the neck. Another rumor claimed the headphones are reversible, meaning they can be worn either way around and each speaker can act as the left or right audio channel.
As for Apple's removal of speakers by Bose, Sonos and Ultimate Ears, this tallies with claims that Apple is working on a new version of its HomePod smart speaker. Claimed to be smaller and cheaper than the current $299 model, the so-called HomePod Mini could go up against the new Amazon Echo 4th Gen and Google Nest Audio, both of which cost $100.
This isn't the first time Apple has removed rival products from its shelves when launching something new. In 2014 the company stopped selling Fitbit wearables after announcing the first-generation Apple Watch, which has since become a class-leading health and fitness tracker.
Apple tends to host product launch events on Tuesdays, which leads us to believe the next showcase will take place on either October 13 or October 20.
From Your Site Articles
Related Articles Around the Web
Like GearBrain on Facebook