Like GearBrain on Facebook
Apple is holding an online product launch event on Tuesday October 13, where it is expected to reveal its first 5G iPhones.
Kicking off at 10am PT / 1pm ET, the event will be online-only due to the coronavirus pandemic, and is Apple's third such digital event of 2020. It will be shown live on Apple's website here and we expect it to last for around 90 minutes.
As well as the highly-anticipated iPhone 12 family, Apple is also expected to reveal a new, smaller HomePod Mini smart speaker to rival Amazon and Google's Nest division in the smart home space. It is rumored to cost as little as $99.
Also tipped for the event is Apple's first pair of over-ear headphones, rumored to be called the AirPods Studio, plus a Bluetooth tracking device design to attach to possessions like keys, wallets and bags, and trackable via the company's Find My app.
A bunch of new leaks landed online this morning (October 9), so there is a lot to discuss ahead of the event kicking off on Tuesday. Here is a run-through of everything we expect to see.
iPhone 12 family
It goes without saying that the headline act of this event will be the iPhone 12, and that it will have 5G for the first time. But gone are the days that Apple announces a single model of iPhone. For 2020 we are expecting to see a whole family, potentially with four distinct iPhones on offer.

A comprehensive leak of technical specifications relating to four different models of iPhone 12 appeared online today, first appearing on Chinese social network Weibo, then published on Twitter by often-accurate tech leaker Ice Universe, who describes the leak as "Probably the most comprehensive and accurate product information for the iPhone 12 conference so far."
The leaker goes by the name of Kang, and AppleTrack notes how they have a 97.8 percent accuracy rating from 46 rumors. Kang correctly predicted the Watch SE, Watch 6, details of iOS 14 and watch OS 7, and the latest iPad 8 and iPad Air.
Here is a breakdown of what to expect from each model of iPhone 12:
iPhone 12 Mini
A last-minute surprise, the iPhone 12 Mini is expected to have 5G (as are all models of iPhone 12) and a relatively compact 5.4-inch display. All models of iPhone 12 are rumored to use the Super Retina XDR display technology that was previously exclusive to the iPhone 11 Pro. It has also been claimed that all versions of iPhone 12 will have OLED displays.
The iPhone 12 Mini is said to have a dual-lens rear camera system, storage options of 64, 128 and 256 GB, and color options of black, white, red, blue and green. Pre-orders are said to begin later than the regular iPhone 12 models, on November 6 or 7, with a release date of November 13 or 14. The iPhone 12 Mini will reportedly be priced from $699.
Interestingly, Apple leaker Jon Prosser says he has heard the Mini will start at $649. According to AppleTrack, Prosser has a 74.5 percent accuracy from 47 rumors.
iPhone 12
Next, the regular iPhone 12 is said to have a 6.1-inch display, the same storage options as the 12 Mini, the same dual camera system, and the same color options too. It will reportedly be priced from $799 and arrive sooner, with a pre-order date of October 16 and a release date of October 23. This schedule fits exactly with how Apple usually releases new iPhones, based on this year's October 13 event date.
iPhone 12 Pro
Stepping things up a gear, the iPhone 12 Pro will get the same 6.1-inch display as the regular 12, but with an improved triple rear camera system, adding a telephoto lens with 4x optical zooming capabilities and a lidar sensor for improved depth sensing and augmented reality. Storage options are said to be 128, 256 and 512GB, and color options are gold, silver, graphite and blue.
The iPhone 12 Pro will reportedly be priced from $999 and will follow the same release schedule as the iPhone 12.
iPhone 12 Pro Max
Finally, the 12 Pro Max is said to have a 6.7-inch display and the same triple lens camera system as the 12 Pro, but with a larger telephoto lens capable of 5x optical zooming. Storage options will be the same as the 12 Pro, as will the color options. It is claimed the 12 Pro Max will be delayed even further than the 12 Mini, with a pre-order date of November 13 or 14 and an on-sale date claimed to be November 20 or 21.
This isn't the first time Apple has taken a staggered approach to releasing new models of iPhone, as the iPhone X and iPhone XR were both sold slightly behind the iPhone 8 and iPhone XS they were announced alongside of during those events.
An all-new detail from the latest leak is that all models of iPhone 12 will come with a wireless "MagSafe" charger, using magnets to help align the phone with its charging pad. Apple last used the MagSafe name with magnetic MacBook chargers, but they are no longer available.
Lastly for the iPhone 12, it is claimed only models sold in the U.S. will get the fastest mmWave version of 5G. We have previously explained this in greater detail previously..
HomePod Mini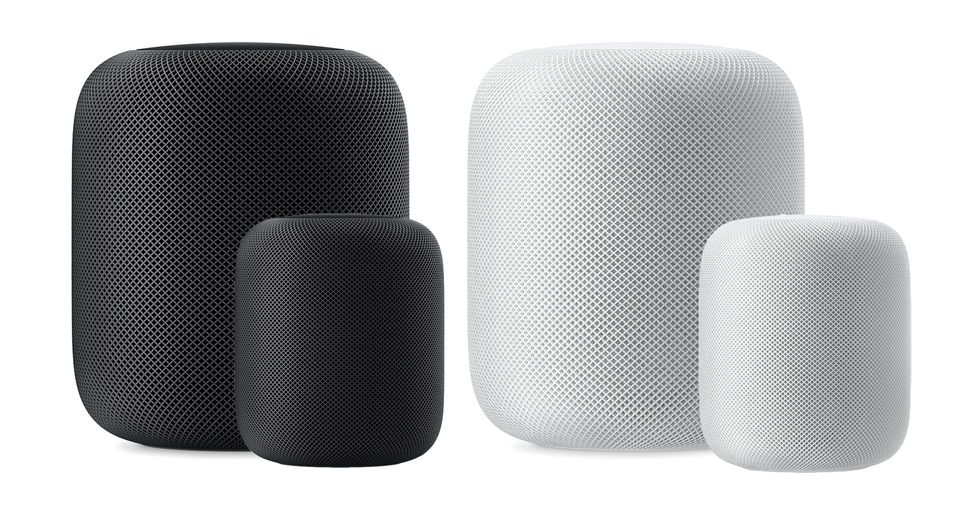 What the rumored Apple HomePod Mini could look like Apple / GearBrain
Next up, the HomePod Mini smart speaker. This has been rumored for some time and was also mentioned in the latest leak, where it is claimed to cost just $99. This puts Apple in exactly the same market as the equally-priced, and equally-new, Amazon Echo (4th Gen) and Nest Audio smart speakers.

It's an interesting move from Apple, and one which will surely elevate its position in the smart home industry, now that consumers can purchase a HomeKit hub, in the form of the HomePod Mini, for just $99. We hope Siri is given a major update to truly take the fight to Amazon and Google.
The latest leak claims the HomePod Mini will be powered by the S5 processor, as Apple also uses in the new Watch SE, and that it will ship on November 16 or 17.
AirPods Studio
Rumors are built in recent weeks about Apple announcing its first over-ear headphones, called the AirPods Pro. We wrote about this product recently and how Apple will have a tough time dominating the market in the way it did with the original AirPods, due to stiff competition from industry veterans like Bose and Sony.
The Studio is claimed to be a high-end pair of headphones, with a price tag to match. The latest claims come from Jon Prosser, who said today there will be two models of AirPods Studio, one luxury variant with leather and metal, and a sports model with cheaper materials.
Prosser claims the sport model will be $350, while the high-end AirPods Studio will cost $599, putting them well above Apple's most obvious rivals. He also says the headphones will not be at the October 13 event, and will instead arrive via press release in the coming weeks, owing to them not yet being in mass production.
AirTag
Apple AirTags (codename: B389)

- White front (no logo) CLEAN!
- Polished metal back
- Apple logo on back

3D render made by the AMAZING @CConceptCreator.

Sources shared with me a video of the real AirTags — to protect them, we made a 3D render to show you. pic.twitter.com/aKGOATXMMO
— Jon Prosser (@jon_prosser) September 14, 2020
Rumored for over a year now, and appearing in beta versions of Apple's iOS software, AirTags are thought to be a rival to Tile trackers. They are expected to use Bluetooth, fix to possessions like keys and wallets, then help you track lost items using Apple's Find My app for the iPhone.

We had expected to see the AirTag at the October 13 event, but Prosser says the product has been delayed yet again, this time until March 2021.
Macs with Apple Silicon
Finally, Apple is yet to show off new Macs using its own silicon. The company announced these plans earlier in 2020 and the first products were expected to arrive before the end of the year. Of course, 2020 hasn't gone to plan for any companies, so a delay is to be expected here.
However, Prosser believes there will be a fourth Apple event, in November, so there's a chance we will see new Macs running Apple processors then.
Introduction of The GearBrain, The First Compatibility Find Engine for Smart Devices www.youtube.com
From Your Site Articles
Related Articles Around the Web
Like GearBrain on Facebook