Apple has announced that from "early spring" iPhone users will begin seeing notifications from apps asking for permission to track their behavior for data fed back to advertising firms.
Companies that rely heavily on tracking user behavior in a bid to serve them with targeted adverts, like Facebook, have warned the system will harm their business model. Apple says the system will be switched on with the next beta build of its iOS 14 iPhone software. It was announced in June 2020 and had been due to arrive with iOS 14 last fall, but was later delayed until 2021.
Read More:
The new system is called App Tracking Transparency, and is a move by Apple to make iPhone users more aware of which applications track their behavior and serve them with targeted adverts. These adverts are common across social media applications, where ads for a product you searched for online begin appearing in, say, your Instagram or Facebook feed.
Apple says: "On average, apps include six 'trackers' from other companies, which have the sole purpose of collecting and tracking people and their personal information. Data collected by these trackers is pieced together, shared, aggregated, and monetized, fueling an industry valued at $227 billion per year."
The notifications will only appear once per application, giving iPhone users the option to allow or block an app's ability to track them. Previously, iPhone users had to go into the Settings app and manually disable tracking for each application. With the new system, if a user changes their mind about whether an app tracks them or not, they can change this in the Settings app as before.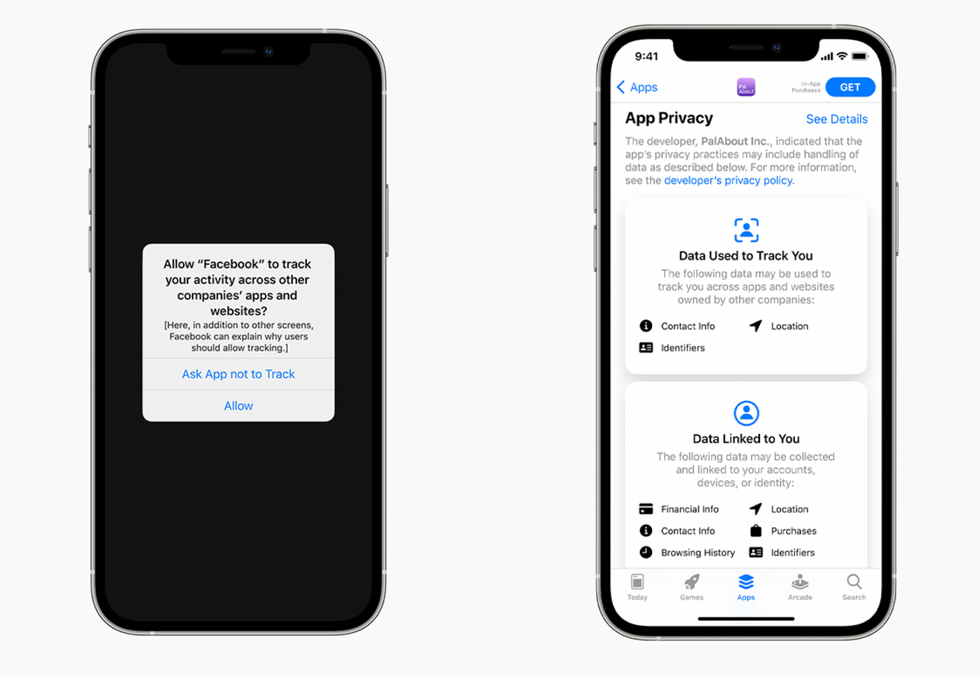 App Tracking Transparency on an iPhoneApple
Developers who do not add the notification to their applications risk being suspended or removed from the iOS App Store.

Targeted adverts appear because a code unique to your device and called the Identifier for Advertisers (IDFA) is shared between applications. Say you search for a product using a web browser; that information is then shared with another application such as a social media app, causing an advert for the item you searched for to appear there. The advertisers can then discover if the targeted ad works, and if you bought the item advertised to you, or not.
If iPhone users decline to give apps access to this data, then adverts served to you will not be based on your web searches. Instead they will become more random and, in the eyes of advertisers, less valuable to the user. Regular Instagram users may appreciate how the app has a habit of serving relevant adverts for products aligned with your interests.
However, others may feel uncomfortable with advertisers learning about their search habits, preferences and interests, and would rather the adverts they are served be random.
Facebook boss Mark Zuckerberg said on an earnings call this week that the change would hurt its revenue. Zuckerberg accused Apple of having "every incentive to use their dominant platform position to interfere with how our apps and other apps work."