We have known for years about Apple's interest in augmented reality, and now the company has released its first major AR project for the iPhone and iPad.
The AR experience is called For All Mankind: Time Capsule and acts as a virtual catchup to be viewed ahead of the second series of For All Mankind coming to Apple TV+ on February 19. Prior to this, Apple's AR apps only extended as far as the Measure app for iPhone.
Read More:
Time Capsule is free to download and takes around 45 minutes to complete. The experience acts as a catch-up to remind viewers of what happened in the first season of For All Mankind and prepare them for season two.
Without spoiling the plot, For All Mankind is a fictional take on what would have happened if Russia beat the United States to landing on the Moon back in 1969. The two countries then continue their respective space exploration programs at a far greater pace than reality. Season two begins a decade after the end of the debut season.
The Time Capsule AR experience works incredibly well. We played through the app using an iPhone 12 Pro, which benefits from a lidar sensor to improve its AR abilities. The opening scene has you place a virtual desk in front of you, on which sits a framed photograph, toy car, pen, notepad and cassette tape player.

Everything stays perfectly in place as you explore each object, and the level of detail is superb. Each item has just the right texture as to look real, and the detail extends to a hand-written note on the back of the photo frame, and even an accurately-modeled wooden leg underneath the desk.
The show recap takes place in the form of a mix tape, complete with narration and a period playlist to enjoy as you take everything in. Later, you are treated to a vintage TV showing news footage of rocket launches, a highly-detailed Apple II computer to play a game called Crater Quest and read digital messages sent between characters, and a project that accurately casts virtual images across your room and onto any wall.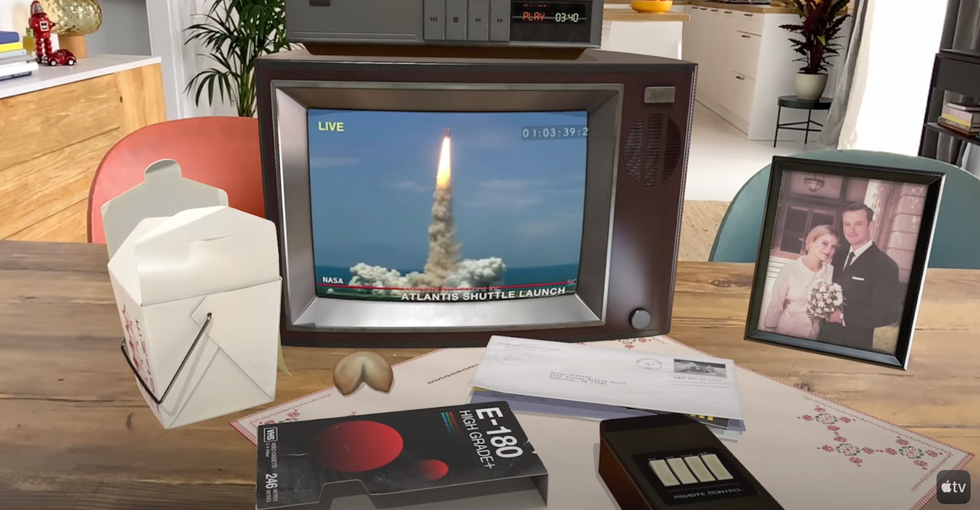 The experience includes a tape player, TV and Apple II computer Apple
Apple says the projector scene can only be viewed on the iPhone 12 Pro, 12 Pro Max, and 2020 iPad Pro as it requires the lidar sensor of those devices. The lidar sensor is used to accurately judge distance from your device to surrounding objects.

"AR presents a new and exciting opportunity to bring the world of 'For All Mankind' literally into the homes of the audience in a way that hasn't been possible before," said Ron Moore, creator and executive producer of For All Mankind.
We were very impressed with what Apple has created here and look forward to seeing what's next for Apple and its augmented reality ambitions.
Vuzix Blade 1.5 Upgraded Version AR Smart Glasses