Like GearBrain on Facebook
Apple has launched a COVID-19 web site, with links to a screening tool and suggestions on how people can monitor their own health. The company worked with the Centers for Disease Control and also FEMA to create the site, which crucially does not require an Apple ID to use, nor will information entered into the site from any device — Apple or otherwise — be sent to Apple or any part of the U.S. government, the company has said.
The site is broken into three parts:
Details about COVID-19, with current information about the virus and also symptoms to help people understand if what they're experiencing may be related to the coronavirus
What you can do to help, from learning what social distancing means to how to properly wash your hands
Testing information including the people to try and reach if you think you need to get a test.
Information around the coronavirus can be found online, but concerns have increased that people may be getting incorrect details on how to treat themselves, or steps they should take for their own care. Namecheap, a domain registrar, for example, is actually preventing people from registering a URL with words related to COVID-19 through their online site. Instead, people need to contact customer support if they want to purchase a domain name with these key words.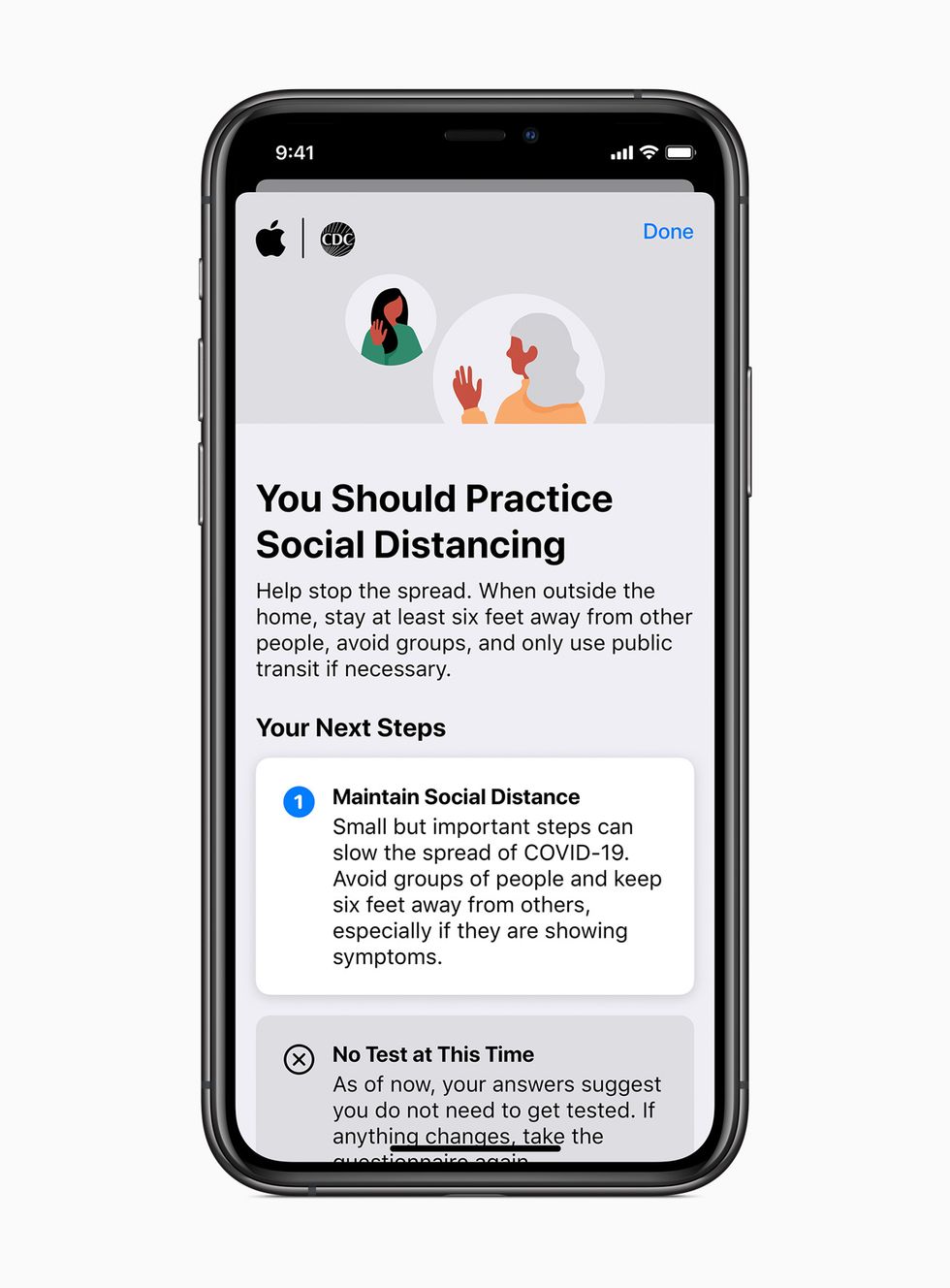 The new Apple screening tool can be used on a mobile device or from a desktop Apple
Apple's new site focuses on how to care for oneself, including, as many experts have suggested as well, staying at home and self-isolating, as long as someone's symptoms are not severe. Verily, owned by Google parent Alphabet, launched a similar tool earlier in March, but its focus is solely on Northern California.

People can use the online screening tool to check symptoms for themselves or for someone else. And before you enter the tool, you are told to call 911 if you have any crucial symptoms including slurred speech, extreme difficulty breathing and constant chest pain or pressure among others. Do note that you need to be at least 18 years old to use the online screener.
After selecting their age, people then are walked through six basic questions, including whether they've recently traveled overseas, before they're presented with a suggestion on what to do next, which can include isolating at home.
The screening tool follows Apple's recent selection of several telehealth apps, which include some of the better known names in virtual health care that can connect people to a medical professional online. These apps and sites may often charge a flat fee, and typically work on a smart device, whether that's someone's smartphone or their computer.
Catalyst - Case for iPhone 11 Pro Max Case with Clear Back, Heavy Duty 10ft Drop Proof, Truss Cushioning System, Rotating Mute Switch Toggle, Compatible with Wireless Charging, Lanyard - Black
From Your Site Articles
Related Articles Around the Web
Like GearBrain on Facebook