Having just announced the new HomePod Mini, Apple is also about to update the software of the original HomePod, boosting its home theater credentials.
Originally intended as a single or stereo pair of speakers for playing music, the HomePod will soon get the option to be wirelessly connected to the Apple TV 4K, where it will provide surround sound.
Read More:
The new feature, as mentioned on Apple's website, is called 'Home theater with Apple TV 4K' and means the HomePod can use its seven integrated tweeters to create 2.1, 5.1 and 7.1 surround sound, as well as Dolby Atmos. The latter is currently considered the best form of home cinema surround sound, creating the illusion of a 3D sphere of sound around the listener.
Surround sound will work if just a single HomePod is placed in front of the TV and synced with the Apple TV 4K, reports The Loop. But it also works (and should create a more immersive sound experience) with a pair of HomePods, both hooked up to the Apple TV 4K and placed at either side of the TV.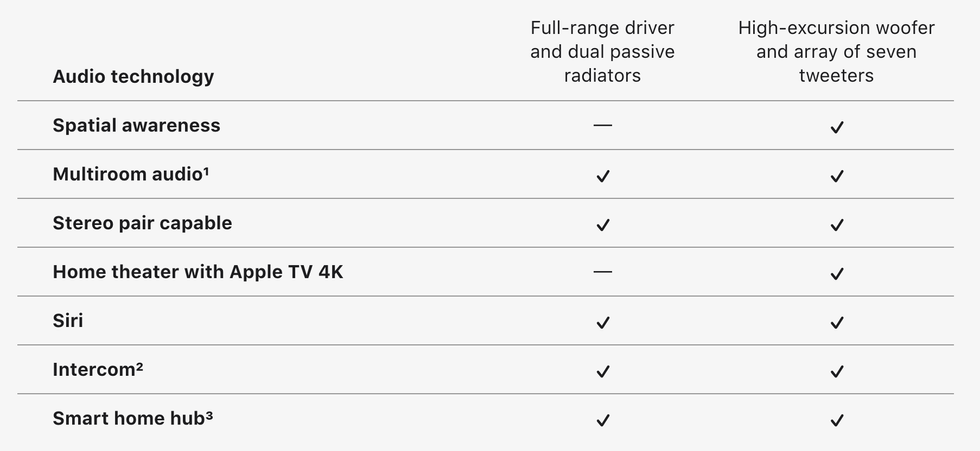 HomePod specifications (and new home theater function) comparedApple
Surround sound like this isn't possible with the HomePod Mini, but a pair of the new speakers can be added to the Apple TV to create stereo sound, potentially replacing the need for a sound bar, especially of you get all of your TV and movie content from an Apple TV 4K.

Owners of the original HomePod will also be pleased to hear that the new Intercom feature debuted on the HomePod Mini will be coming to their speakers soon too, and both models can be added to a whole-home audio system. However, a HomePod and HomePod Mini cannot be turned into a stereo pair. Instead only matching HomePods can be made into pairs.
Also new for the HomePod is a fix where a HomePod (or a pair of them) will automatically reconnect to an Apple TV 4K after any of the devices have been powered off. Previously, HomePods would forget this connection and have to be manually paired again with the Apple TV again each time it was switched on.
All of these new features will arrive on the HomePod via a software update due in the coming weeks.