Like GearBrain on Facebook
This Friday, November 6, sees pre-orders open on Apple's first iPhone Mini. Part of the iPhone 12 family, the new handset is almost identical to the regular 12 in terms of specification and expected performance, but there are some key differences to consider.
For starters, it is cheaper and smaller than the 12. The 12 Mini also has a smaller battery as a result, and therefore a shorter estimated battery life. It has also been revealed that the Mini can't charge through Apple's new MagSafe system as quickly as the rest of the iPhone 12 family.
Read More:
Here is a brief rundown of the differences and similarities between the iPhone 12 Mini and regular iPhone 12.
iPhone 12 Mini vs iPhone 12: Design and hardware
With scale taken out of the equation, the two phones are visually identical. They share the same design, the same range of colors – blue, green, red, white and black – the same water resistance to six meters for up to 30 minutes.
They also share the same glossy glass back and aluminum sides, which differs from the matte glass back and stainless steel sides of the iPhone 12 Pro and 12 Pro Max.
As for the biggest difference, the size, this is how they stack up. The iPhone 12 Mini is 5.18 inches tall, 2.53 inches wide and 0.29 inch thick. By comparison, the iPhone 12 is 5.78 inches tall and 2.82 inches wide, but is also 0.29 inch thick. The smaller dimensions mean the iPhone 12 Mini weighs 4.76 ounces, compared to 5.78 for the regular iPhone 12.
Apple claims the iPhone 12 Mini is "the world's smallest, thinnest, lightest 5G phone".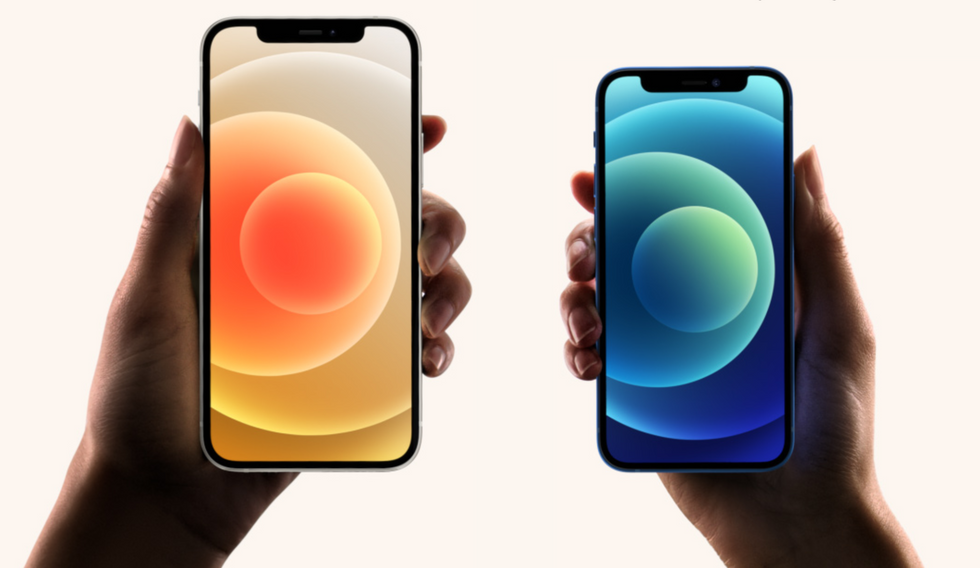 iPhone 12 and iPhone 12 MiniApple
iPhone 12 Mini vs iPhone 12: Display

The primary selling point of the iPhone 12 Mini is its smaller display. In a world where six-inch smartphones have now become the norm, this will undoubtedly be a welcome relief for those who find today's phones too big to use comfortably.
The 12 Mini's screen measures 5.4 inches, compared to 6.1 inches on the regular 12. Both panels are OLED and what Apple calls Super Retina XDR displays, but their resolution is slightly different. The 12 Mini is 2340 x 1080 for a pixel density of 476 per inch, while the regular 12 is 2532 x 1170 and has a slightly lower density of 460 per inch. In reality, we are splitting hairs here and you are unlikely to spot such a small difference in resolution and pixel density. More important is their use of OLED and the claimed 2:000,000:1 contrast ratio, plus Apple's True Tone technology which adjusts the display temperature to match ambient lighting.
Both can handle HDR and have a typical brightness of 625 nits, and a maximum brightness of 1,200 nits.
Both phones also have Apple's new Ceramic Shield technology to help protect the screen and offer a claimed 4x improvement in drop protection. That said, you will likely still want to use a case on either handset.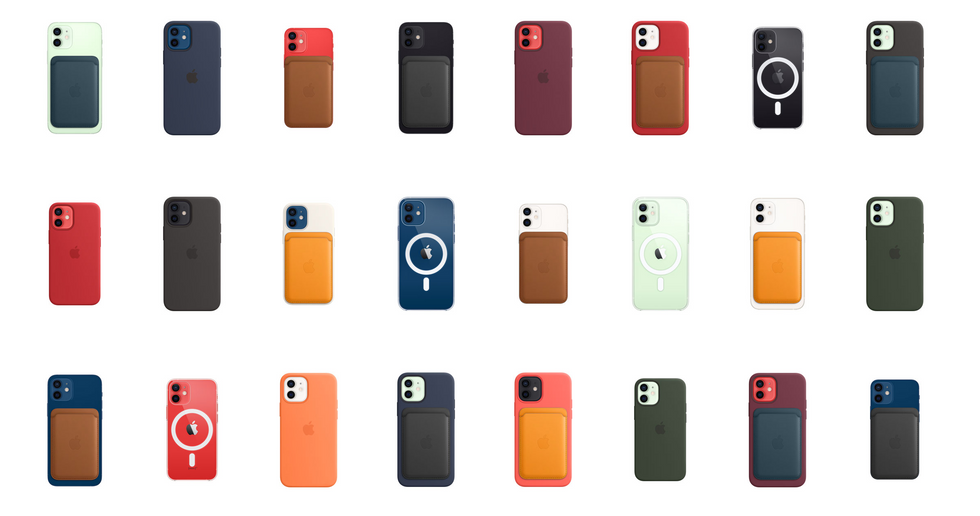 All MagSafe accessories work with all models of iPhone 12Apple
iPhone 12 Mini vs iPhone 12: Camera

This one is easy, as both phones have exactly the same cameras. Unlike the Pro and Pro Max, which are both different, the 12 and 12 Mini have the same dual-lens 12-megapixel system on the front with wide and ultra wide lenses. These have apertures of f/1.6 and f/2.4 respectively.
Both phones have 2x optical zoom and 5x digital, and can shoot 4K video at up to 30 frames per second, or HDR with Dolby Vision, also at up to 30fps. Optical image stabilization, for photos and video, is also included, along with Apple's range of photography modes, including night and portrait.
The single front camera of the 12 and 12 Mini has a resolution of 12MP, an aperture of f/2.2, Apple's Smart HDR 3 computational photography system, Portrait Lighting mode, Night mode, and HDR video recording with Dolby Vision at up to 30fps.
iPhone 12 Mini vs iPhone 12: Performance and specification
Both phones use Apple's A14 Bionic chip and both are believed to have 4GB of RAM, down on the 6GB of the iPhone 12 Pro. But we'll only know this for sure once the iPhone 12 has arrived and someone has peered inside.
Both the 12 and 12 Mini also have the same storage options of 64, 128 and 256GB. Each of these tiers is half that of the iPhone 12 Pro.
A key difference that was only discovered this week, via an updated Apple support document, is that Apple's new MagSafe magnetic charging system is less powerful on the iPhone 12 Mini than on the 12 and 12 Pro.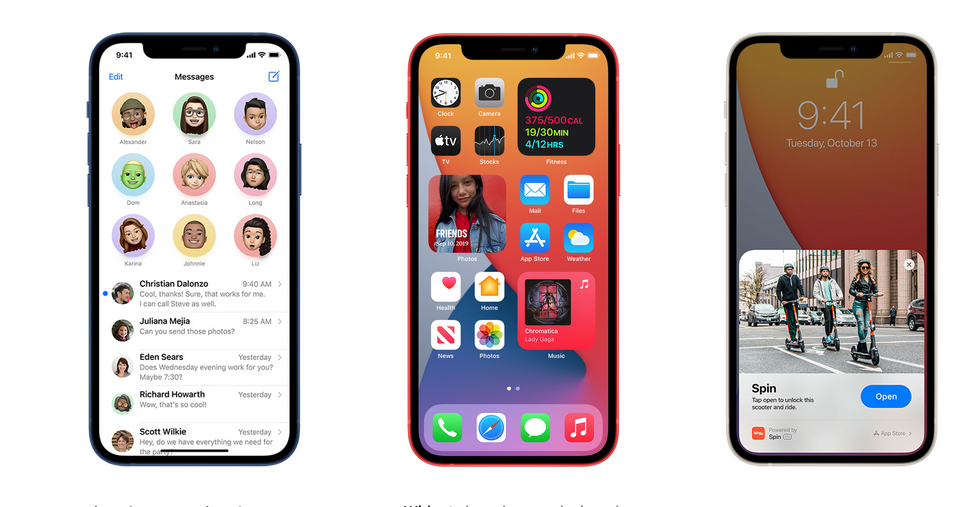 All versions of iPhone 12 run the same iOS 14 softwareApple
While the 12, 12 Pro and 12 Pro Max can charge at up to 15W of peak power, the iPhone 12 Mini is limited to 12W, which will mean a slightly slower charging time. Thankfully this is still plenty more than the 7.5W Apple has limited the iPhone 12 family to when using any other Qi wireless charger.

The 5G and Wi-Fi capabilities of the iPhone 12 and 12 Mini are the same. This means those sold in the US have access to both the sub-6GHz and faster mmWave versions of 5G. Those sold in countries without mmWave, like the UK, will not be compatible with the wireless standard, and therefore miss out on the mmWave antenna, which can be seen on the side of compatible iPhones.
Both have Face ID and are compatible with Apple Pay for contactless payments.
The 12 Mini's smaller size means a smaller battery. Apple claims it can handle up to 15 hours of video playback, compared to 17 hours for the iPhone 12. Similarly, the Mini is claimed to offer up to 10 hours of video playback when streamed over Wi-Fi or cellular, compared to 11 hours with the larger 12.
The Mini is compatible with all of the same MagSafe accessories as the regular 12 and 12 Pro.
iPhone 12 Mini vs iPhone 12: Price
Another bonus with opting for the smaller handset is a $100 saving over the equivalent iPhone 12. The 12 Mini starts at $699 for the 64GB model, rising to $749 for 128GB and 849 for 256GB.
The iPhone 12 Mini opens for pre-order at 5:00am PST on November 6.
From Your Site Articles
Related Articles Around the Web
Like GearBrain on Facebook