With the iPhone 12 Mini and 12 Pro Max opening for pre-order November 6, then joining the 12 and 12 Pro in stores next week, it's time to look at the best MagSafe accessories for your new Apple handset.
MagSafe used to refer to a magnetic power cord for Apple's MacBook Pro range, but has now been reimagined as a magnetic wireless charging and accessory interface for the four members of the iPhone 12 family.
Read More:
We have already looked at some of the best cases for your new iPhone 12, some of which use MagSafe to snap magnetically into place. But there's much more to MagSafe than that; it can also be used to attach a credit card wallet, car dashboard mount, a wireless charger, a tripod mount, and much more besides.
Some of these are produced by Apple itself, while others come from third parties including Belkin and Moment.
Here is a selection of our favorite Apple MagSafe accessories for the iPhone 12:
Belkin BoostCharge Pro MagSafe 3-in-1 Wireless Charger – $150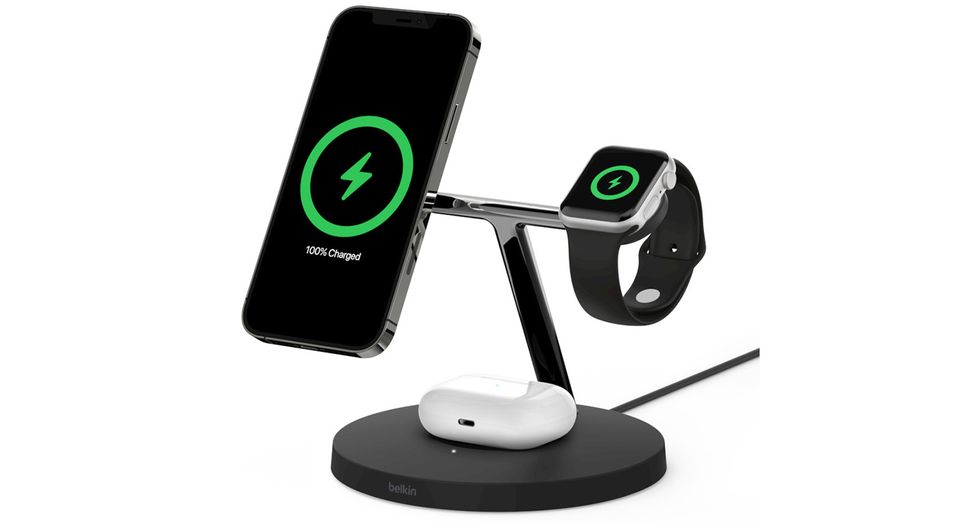 The Belkin BoostCharge Pro 3-in-1 MagSafe chargerBelkin
One of the first MagSafe products to hit the market, this clever and stylish charger from Belkin can power your iPhone, Apple Watch and AirPods all at the same time.

Your phone and watch are suspended beautifully on a chrome arm, thanks to magnets, while the AirPods charge case sits on an industry-standard Qi charge pad, which could be used to top up a second phone instead, if that's what you need.
It's not cheap, at $150, but offers a neat way to charge your three most-used Apple products at once, while using just one wall outlet and power cable. Belkin says the charger will arrive in the winter of 2020.
Apple MagSafe charger – $39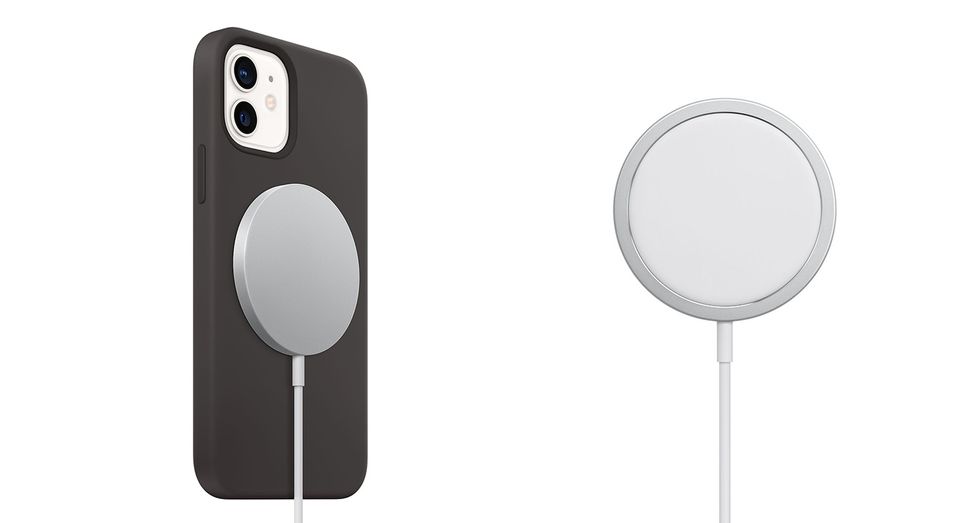 Apple's MagSafe charger offers faster iPhone charger than any otherApple
The simplest MagSafe device, and the one we suspect most iPhone 12 owners will eventually buy, is the MagSafe Charger by Apple. A lot like the charger of the Apple Watch, only larger, this magnetic disc snaps to the back of your iPhone and charges it wirelessly at up to 15W (or 12W for the iPhone 12 Mini). That's a big speed boost over the 7.5W of other wireless chargers, but you'll need to attach it to a 20W power adapter to get the full speed – and remember, the iPhone 12 can only charge at 15/12W with this charger. It also works with older iPhones and Android phones too, as it uses the Qi standard, but again you won't get as high a charge speed as with the iPhone 12.
Grovemade Wood MagSafe Stand – $120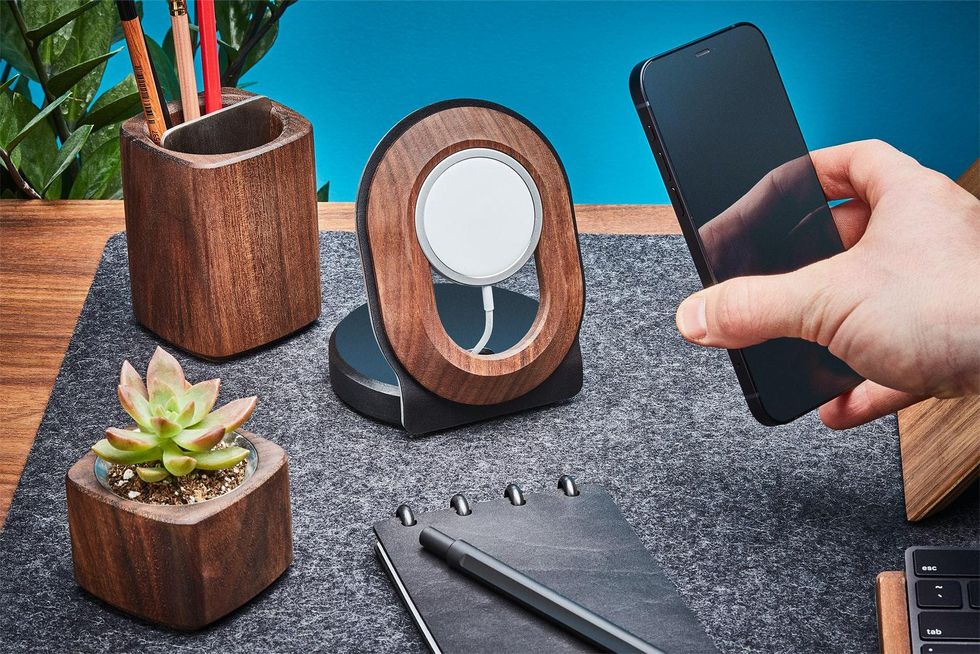 The Grovemade Wood MagSafe StandGrovemade
Certainly not the cheapest iPhone stand, but perhaps the most attractive, this wood and leather stand from GroveMade is designed to accommodate Apple's own MagSafe charger. It then holds your iPhone, in landscape or portrait, at the perfect angle to be viewed from your desk, and at that angle using FaceID to check on incoming notifications shouldn't be a problem.

The heavyweight stand is available in walnut with black leather or maple with tan leather. Weight in at 2.9 pounds, this promises to be a seriously quality item.
Moment Tripod Mount – $40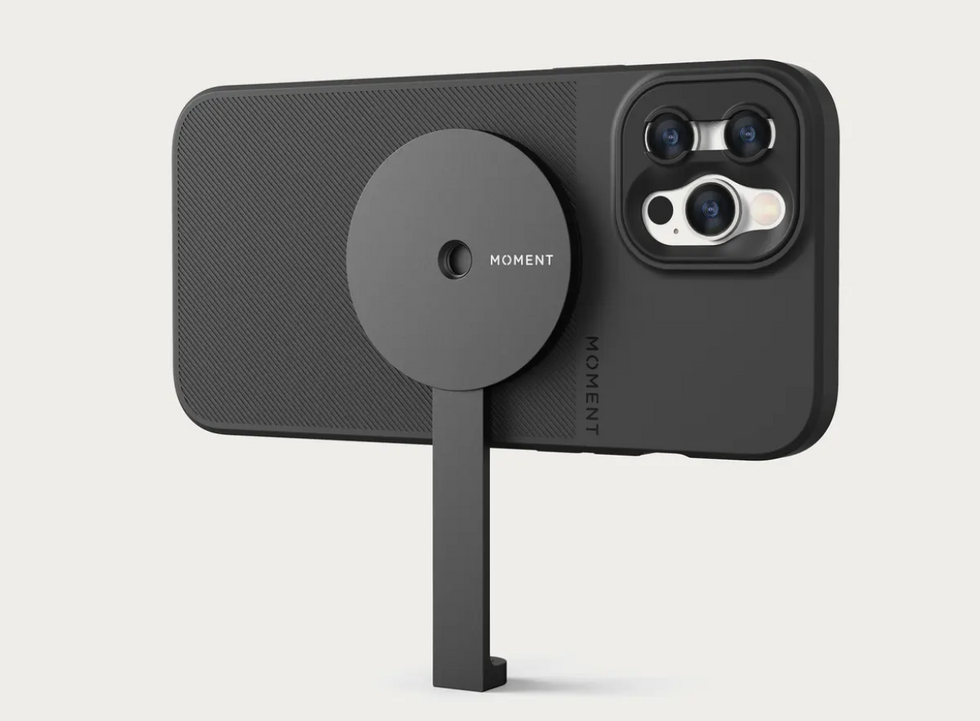 MagSafe tripod mount for the iPhone 12 by MomentMoment
Camera retailer Moment has a wide range of MagSafe accessories for the iPhone 12, with many focused on photography. The first we've highlighted here is the Tripod Mount, which snaps to the back of the iPhone 11, in portrait or landscape, then fits to any standard ¼"-20 tripods or handles.

Fitting your phone to a tripod might have seemed strange a few years ago, but given the iPhone 12's photography clout – not to mention its ability to shoot 4K and HDR video Dolby Vision – an accessory like this makes perfect sense.
Moment's MagSafe accessories can be pre-ordered now but aren't expedited to ship until March 2021, so you'll be in for a bit of a wait.
Belkin Magnetic Fitness Phone Mount – $34.99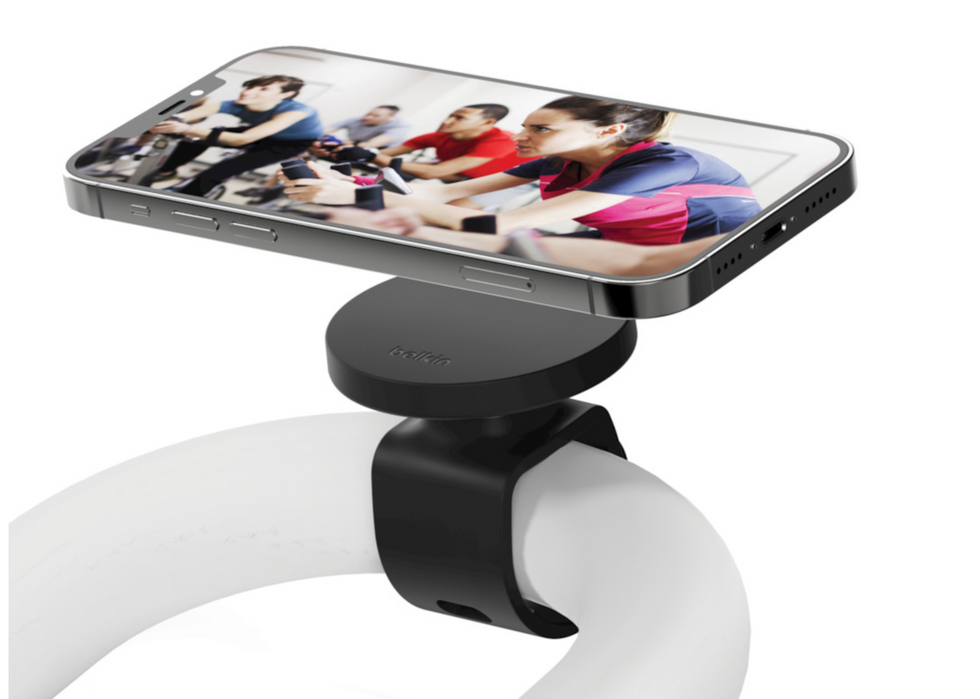 Belkin Magnetic Fitness Phone MountBelkin
This MNagSafe-compatible iPhone mount is designed to snap to the back of your handset with magnets, then wrap around the bar of a piece of exercise equipment. The flexible and adjustable strap is designed to fit to the various bars and handles of indoor gym equipment, giving you a way to watch video on your phone while running and cycling, or showing a timer or fitness guide while weight-lifting.

Belkin Magnetic Portable Wireless Charger – $69.99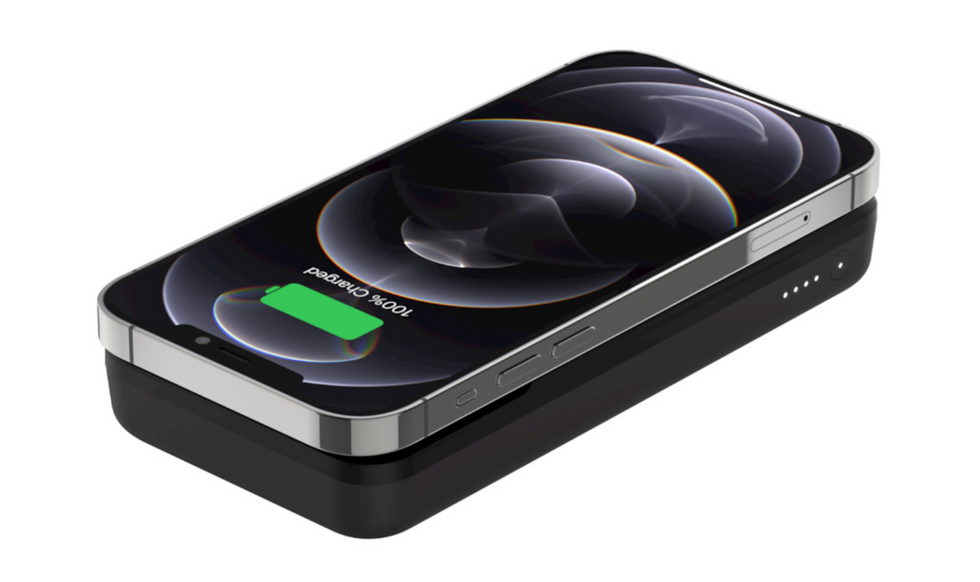 10,000mAh battery pack with MagSafe from BelkinBelkin
A portable power bank but without the need to plug anything in, this battery pack from Belkin is MagSafe-compatible and charges your iPhone 12 when it is placed on top. The battery has a 10,000mAh capacity, meaning it can fully charge an iPhone 12 twice. LED indicators on the side of the power bank show how much charge it has left, and the integrated wireless pad charged at a rate of 7.5W.

A USB-C to ISB-C cable is included to charge the power bank.
Moment Pro Tripod Mount – $50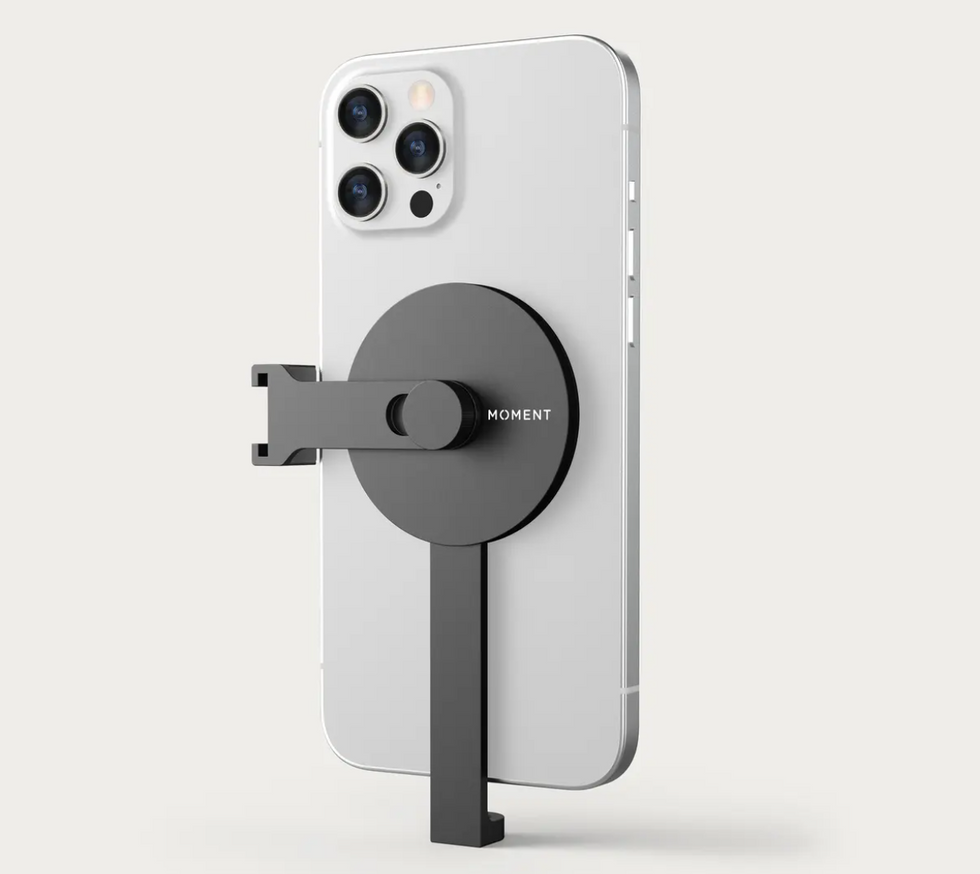 Pro Tripod Mount with MagSafe by MomentMoment
Stepping things up a gear, this Mount accessory includes both a tripod mount and a cold shoe mount. Like you'd find on a camera (but being 'cold' means it isn't powered), the shoe can be used to mount a light, flash, microphone or other camera accessory.

It can be fitted in portrait or landscape, works when your iPhone 12 has a case on, and is made from tough but lightweight aluminum. Moment also sells a cold shoe mount on its own for $30.
Apple MagSafe Wallet – $59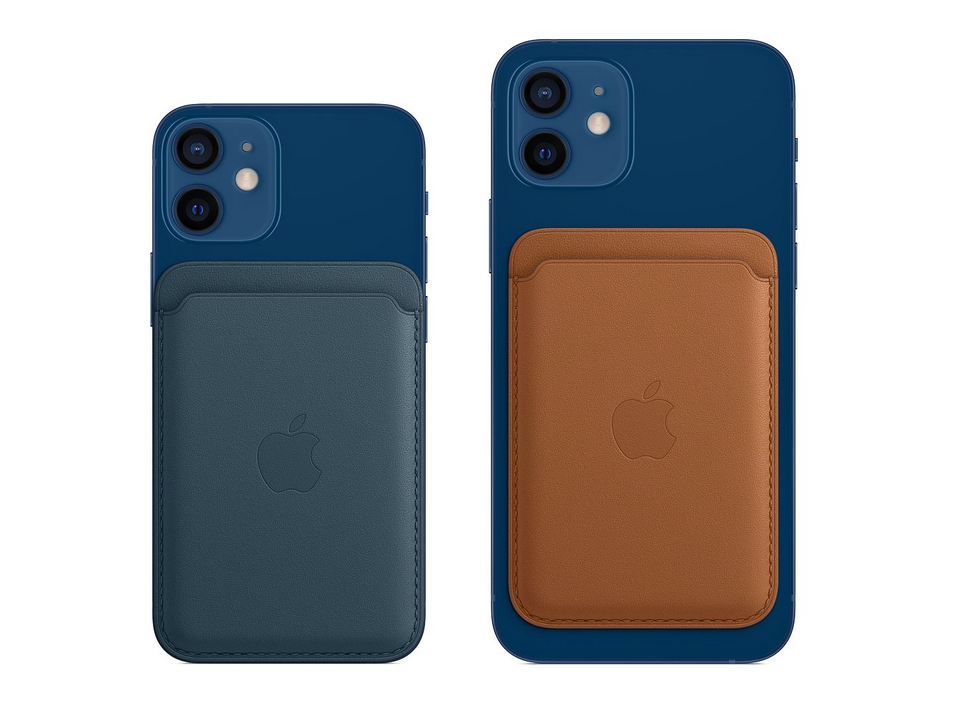 MagSafe Wallet by Apple for the iPhone 12Apple
Returning to Apple, here we have the MagSage Wallet. This leather accessory attaches magnetically to the back of your iPhone 12 and is designed to accommodate a couple of credit cards.

It's available in a range of colors but just one size, which is slim enough to fit snugly on the back of all models of iPhone 12 from the Mini to the Pro Max. The case is shielded so your cards won't be damaged by the magnets, but we've heard reports that it doesn't stick quite as securely as hoped, so you might want to try it out in a store before buying.
Belkin MagSafe Car Vent Mount Pro – $40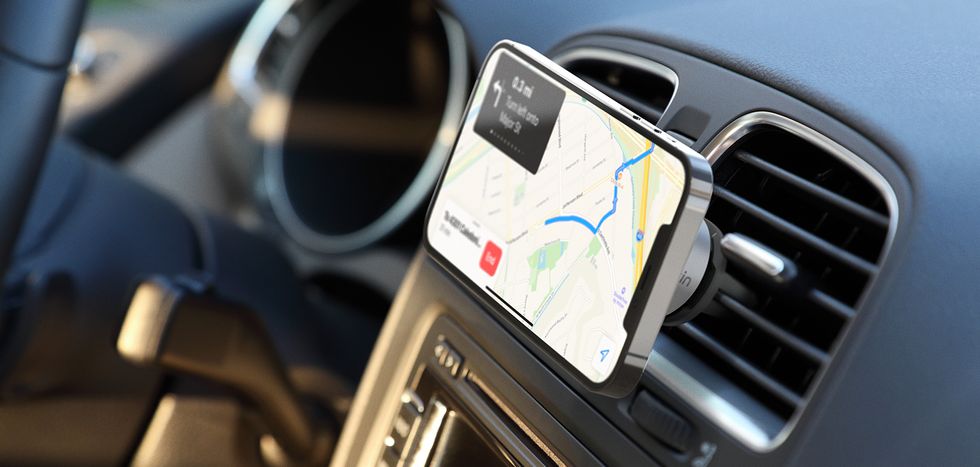 Car Vent Mount Pro with MagSafe, by BelkinBelkin
Belkin's second MagSafe accessory is a car vent mount. This clips to the vents just like any other dashboard mount, but then uses the MagSafe connection to snap to the back of your iPhone 12, instead of the more common grip design of other mounts.

It's a smart and seamless solution, and means your iPhone 12 will appear to levitate in front of the vent. The design means the phone can be mounted vertically or horizontally, depending on how you prefer to view your navigation app, and Belkin says it'll be available by the winter of 2020.
The only downside here is how the mount doesn't include a charger, so it's only to hold your phone and not top up its battery – for that you'll have to plug the phone into your car's USB port.
Apple MagSafe Duo – $129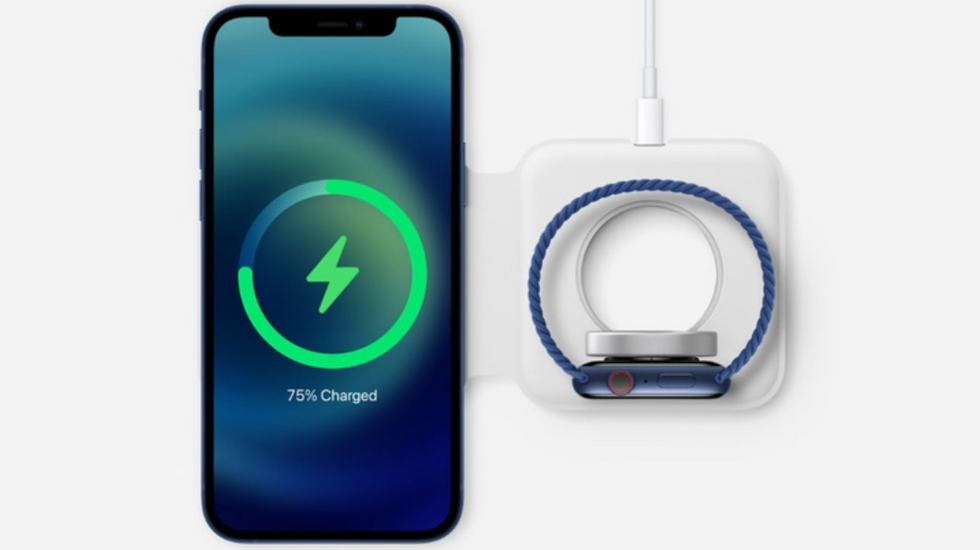 Apple's MagSafe Duo doesn't yet have a price or release dateApple
Finally, we have Apple's new MagSafe Duo charger. Shown only briefly during the reveal of the iPhone 12 in October, this is a fold-out charger designed for the iPhone 12 and Apple Watch.

Apple has priced the MagSafe Duo at $129 (but it doesn't come with a power adapter) and has said it will go on sale "at a later date". That said, the charger was spotted by MacRumors passing through Korea's National Radio Research Agency in early November, suggesting it will go on sale soon.
Aukey MagSafe Magnetic Charger – $18.99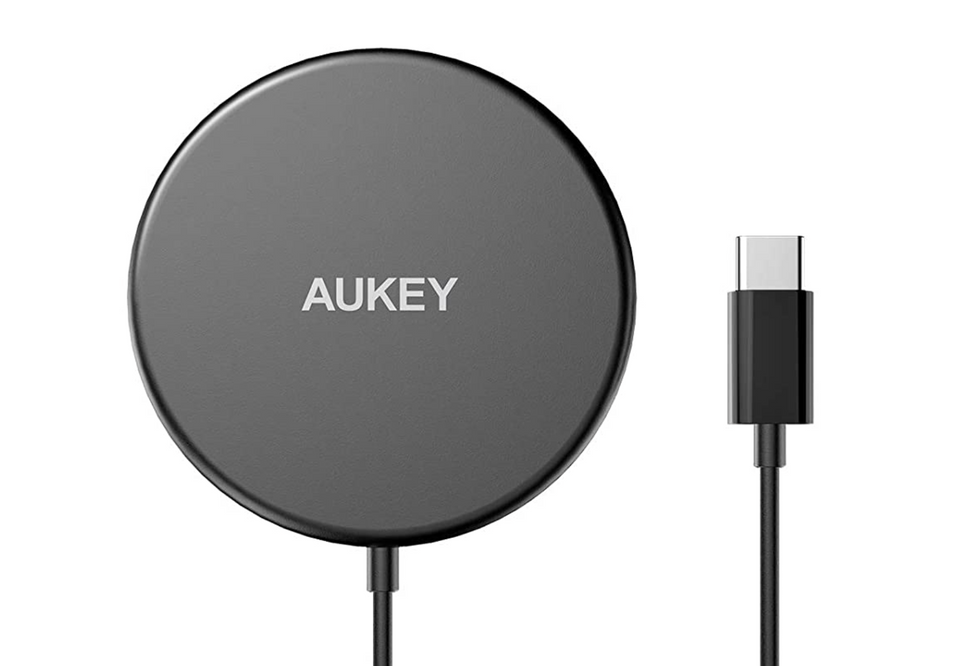 Aukey MagSafe magnetic chargerAukey
A more affordable alternative to Apple's own MagSafe charger, this model is by accessory maker Aukey and works at up to 15W using the Qi wireless charging standard. However, it is limited to a rate of 7.5W for iPhones, and is compatible with older models of iPhone too, but only connects magnetically to the iPhone 12 and its MagSafe system. It works with AirPods and all other Qi-compatible devices too, ad comes with an integrated 4' USB-C cable.

Belkin Magnetic Phone Mount with Face Tracking – $64.99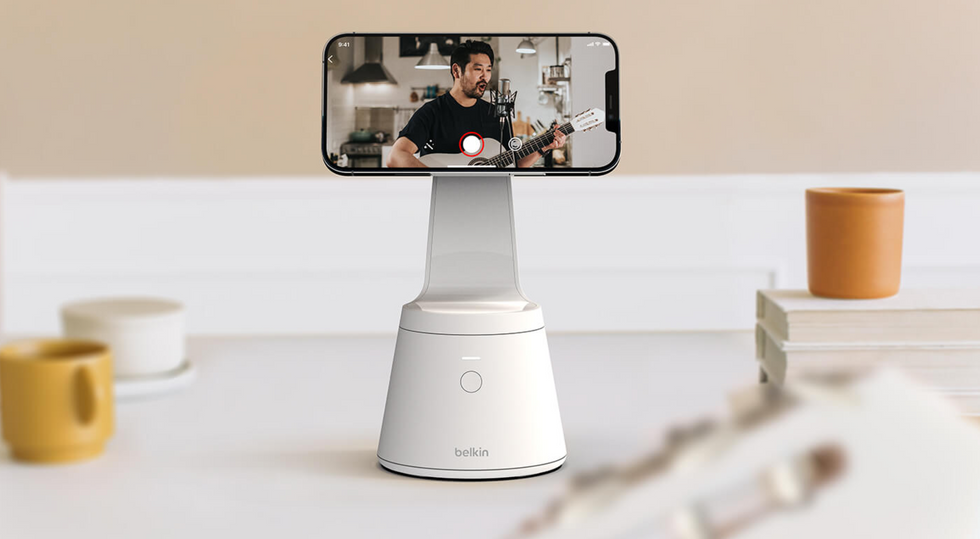 Belkin Magnetic Phone Mount with Face TrackingBelkin
This is perhaps the most interesting and unusual MagSafe accessory, in that it's a magnetic iPhone mount that connects to a companion app and moves to track your face.

The app connects lets you record video and integrates with you social media account, so you can use it to shoot video, such as an exercise class or cooking tutorial, then upload the video to Facebook, Instagram or anywhere else. The mount can hole your phone in portrait or landscape orientation, can be manually adjusted from -15 to 30 degrees, and automatically rotates 360 degrees to keep you face neatly in shot. As well as connecting directly to your iPhone, it also works with MagSafe cases.
Entirely wireless, the mount is powered by three AA batteries and only holds your iPhone, it does not charge it.