Apple is doubling down on privacy in its devices, bringing more controls to its users through updates rolling out this fall. These include — but are not limited to — reports on how often an app has tapped their location, contacts and more, to blockers that will stop senders from knowing when someone opens an email.
These features are coming to all new operating systems launching this fall, across iOS 15, iPadOS 15, macOS Monterey and watchOS 8.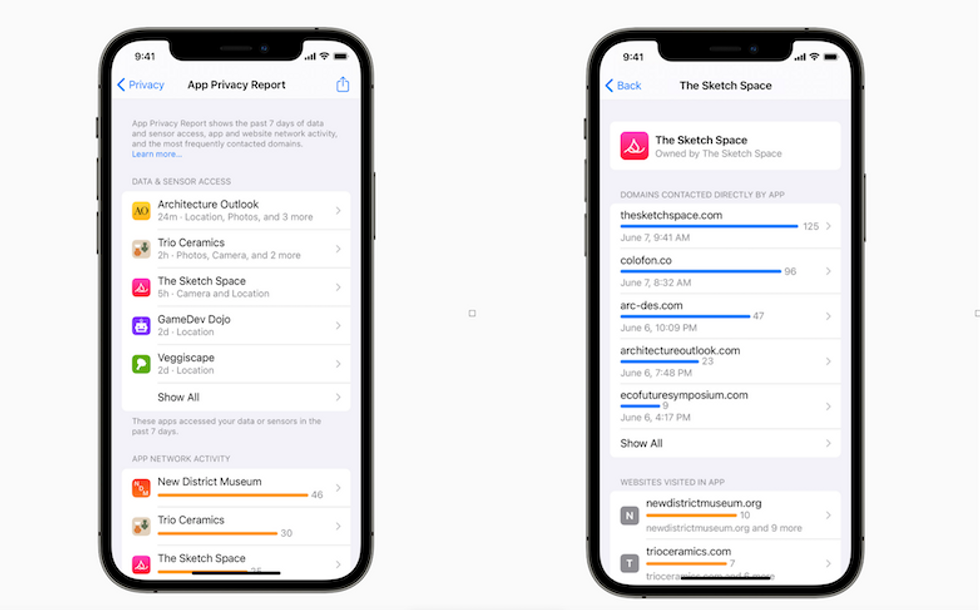 A new App Privacy Report will show what tools apps are opening — and what URLs they're connecting to as well.Apple
Starting with the Mail app, Apple is bringing some features that will block tracking of IP addresses and also stopping senders from seeing if someone opened an email.

There will also be a new App Privacy Report, which will show people — across all devices — how often an app has been able to see their location, photos, camera, microphone and contacts during the past seven days. Even more, the report will show which third-party domains, the URL address, that the app is contacting directly. While apps may ask for permission to view these, this report will actually show when the app, to the minute, tapped into those features, and people will be able to turn off those permissions through their Settings.
Processing around Siri, requests made for example to the voice assistant, will be moved directly on to the device. That means, for one thing, that people won't need an internet connection to ask Siri to open an on-device app. Apple says this will make these processes faster, but it also keeps these audio files on a device.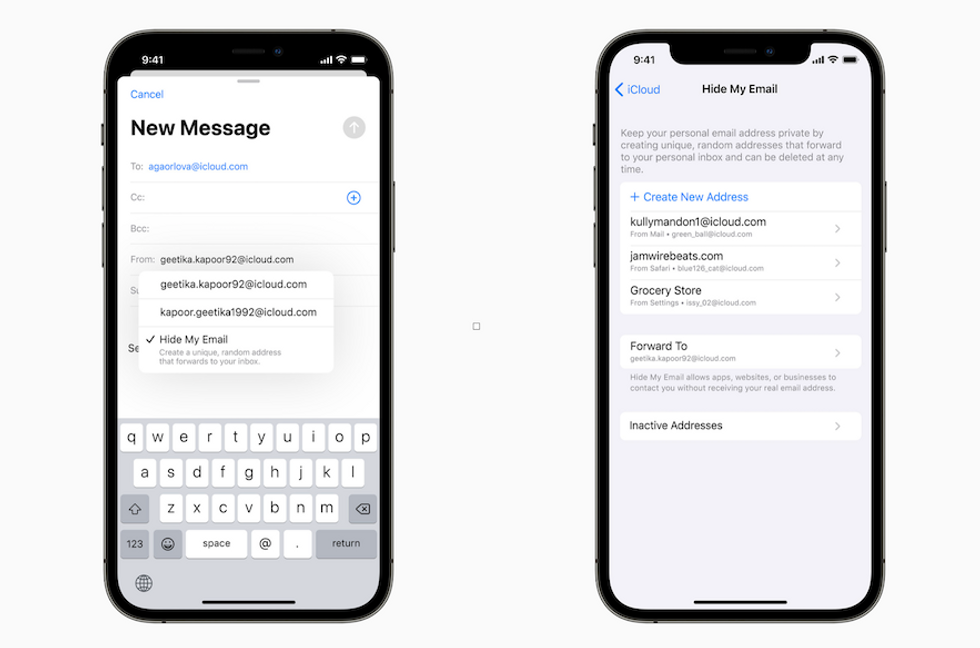 People will be able to hide their email address when sending an email, or even when filling out forms on SafariApple
iCloud+

Even iCloud is getting a privacy revamp, and that will include three new features plus a renaming to iCloud+ — and these features will be included automatically. The first is something called Private Relay, and it will happen on Safari, by keeping all traffic between a device and website Safari is encrypted, and also going through two relay points. That means no one will see what web set they're visiting, and people will also be assigned an anonymous IP address. People will be able to view the region someone is in, but not their specific location.
Second is Hide My Email, a feature that will let people create a random email address — which points to their personal inbox — if they want to keep their real email address hidden. This will be available in Safari, iCloud and Mail. And people can create, and even delete, as many of these addresses as they want.
Finally, iCloud + will also have more support for HomeKit Secure Video so people can connect more cameras in the Home app — and they won't count against their storage. This comes as Apple is adding new features around these devices, including a new package detection which will alert people when something has been left at their front door via a HomeKit-enabled camera.
Additionally, iCloud itself is getting two new features, not privacy related, which include adding people to a trusted recovery contact list so that they can help you retrieve a code to get you back into your account — but won't have access to your account. However, Apple is adding a new digital legacy tool which will allow users to assign someone to one day have access to all of their information.