Like GearBrain on Facebook
Apple used the opening keynote of its WWDC 2021 event today, June 7, to announce the new iOS 15 operating system for iPhones.
As ever, the software updates revealed today are available to developers now, then will be worked on by Apple over the coming months before landing with consumers this fall. The latest iOS usually arrives in September, just ahead of the release of the new iPhone.
There's a lot to get through when it comes to iOS 15. Instead of visual changes like we saw with iOS 14 last year, for 2021 Apple is going all-in on new features. Highlights include new features for FaceTime, Health, Maps, Wallet, Siri, notifications and more.
FaceTime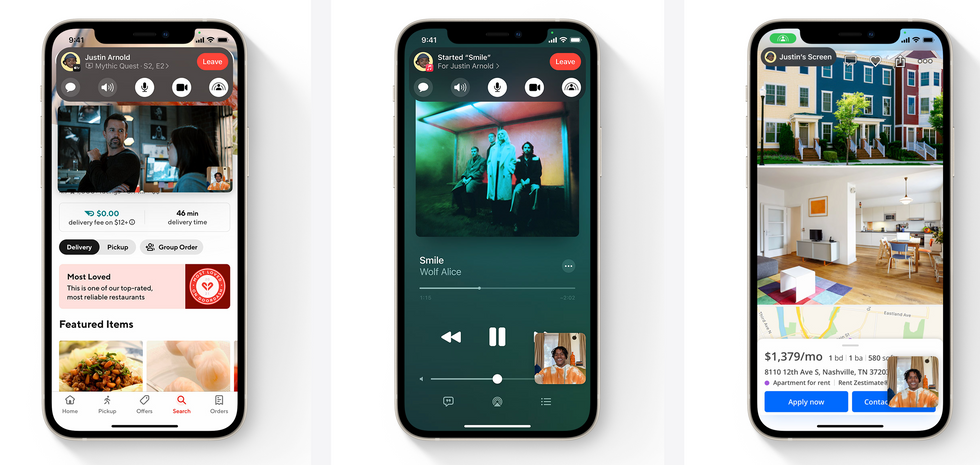 Websites, apps and more can be viewed simultaneous while on a FaceTime call Apple
Updates to FaceTime include improvements to audio quality, with an option to have your iPhone microphone focus in on your voice, or record more broadly to take in your whole environment. There's also a new Portrait mode, blurring the background to help sharpen up your face.

A big new feature for FaceTime is the ability to share content between whoever else is on the call. This means friends can listen to the same Apple Music playlist simultaneously, or even watch streaming video content in sync with one-another. It is also possible to view apps and the web browser while on a FaceTime call, and for everyone on the call to see the same thing. That way, it's easier for a group of friends to check out an Airbnb listing or restaurant menu at the same time.
Perhaps the biggest update to FaceTime is how, with iOS 15, the Apple video calls can be accessed via a web browser. This opens the door for Android and Windows users to join FaceTime calls organized by their iPhone, iPad and Mac-owning friends.
This is made possible with a shareable link for your FaceTime call; additionally, FaceTime calls with iOS 15 can be scheduled, which should make the app more applicable in an enterprise setting, with a link to the call added to participants' calendars ahead of time.
FaceTime is being updated in iOS 15 to make use of Apple's Spatial Audio feature . With this enabled, voices are adjusted to feel like they come from each person directly, rather than all coming from the same direction. In other words, the friend on the left of the screen will sound like they are to the left of your iPhone or iPad, rather than in the middle.
Focus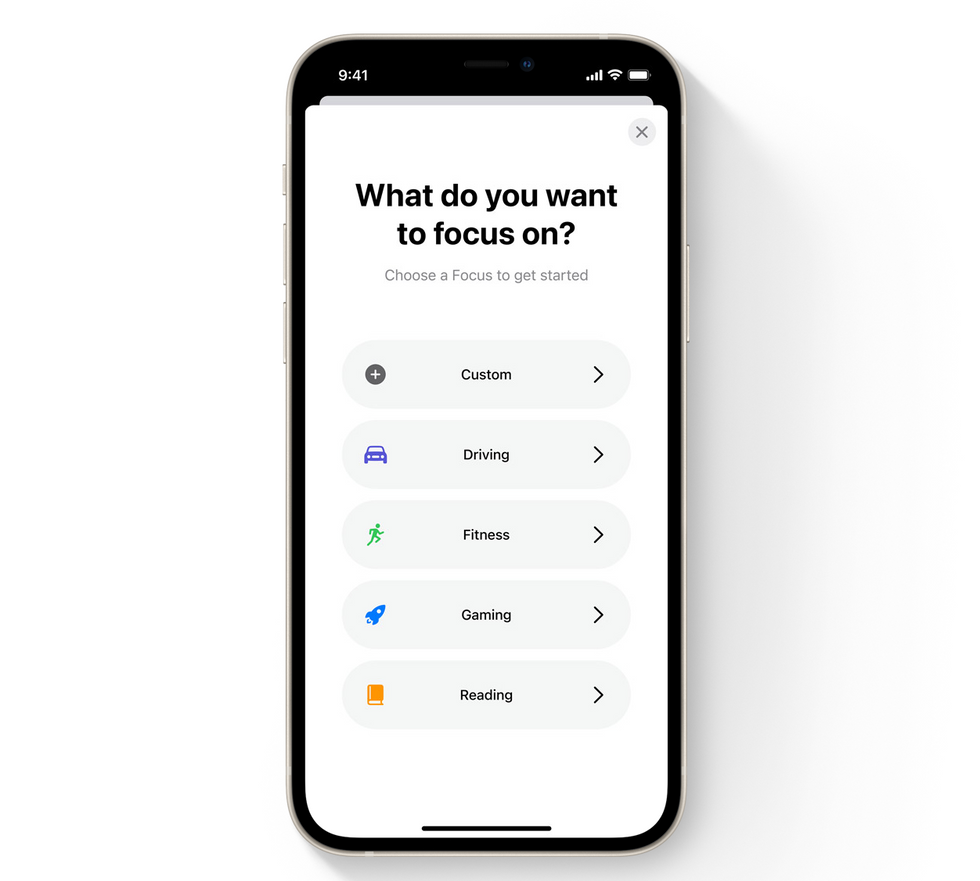 Focus feature of iOS 15 for the iPhone Apple
iOS 15 also includes a new feature called Focus, which is intended to help iPhone users concentrate on the applications and notifications they need, when they need them, while pushing distractions into the background.

Focus lets you customize which notifications appear during certain activities, like when you're working and when you are relaxing. The Focus system synchronizes across Apple devices and includes a function where notifications from various apps can be batched together, ready to be viewed at a time that suits you, rather than continuously throughout the day.
On a similar note, with iOS 15 it is possible to have the Do Not Disturb status of your iPhone appear for contacts when they are trying to send you a message. Senders can override Do Not Disturb when sending an urgent message, but hopefully your DND status will let them know when you don't want to be distracted by less important communications.
Driver's license in the Wallet app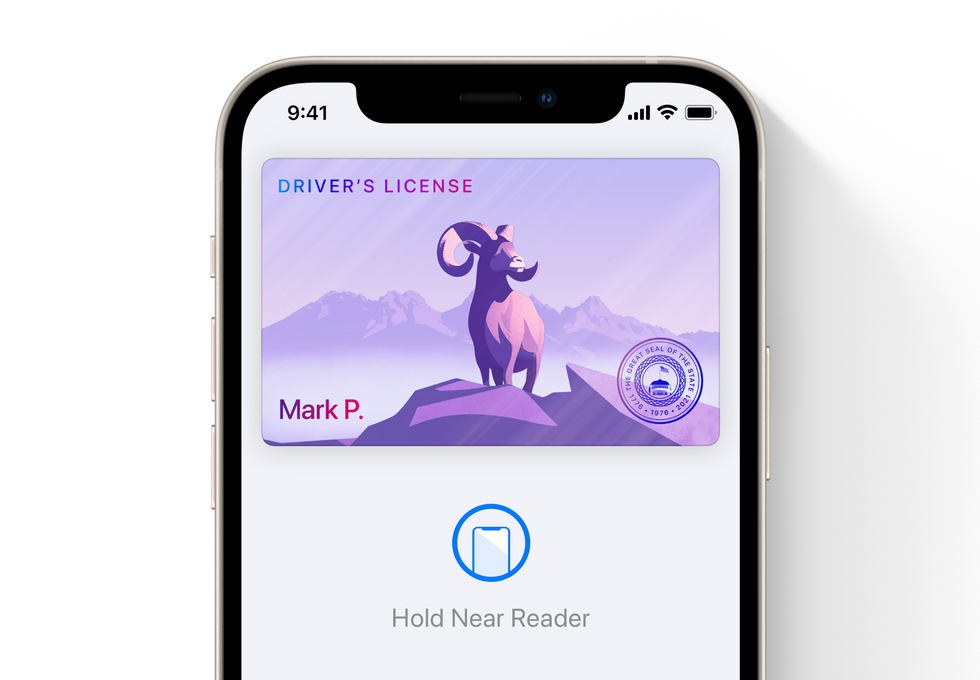 The Wallet app of iOS 15 will accept driver's licenses in some US states Apple
The Wallet app in iOS 15 has been updated to let citizens of participating US states scan their driver's license, save it on their iPhone and use it as identification. The Wallet app can also be used to store car keys (something announced at WWDC 2020, but rolling out slowly), and with iOS 15 key cards for workplaces and hotels will also be compatible with the app.

Apple says it is partnering first with the Hyatt hotel group, which will offer digital room keys in the iPhone Wallet app at over 1,000 properties worldwide later in 2021.
The Wallet app of iOS 15 will also work with certain smart door locks from companies like Schlage and Assa Abloy, which owns Yale and Chubb among others.
Live Text is an answer to Google Lens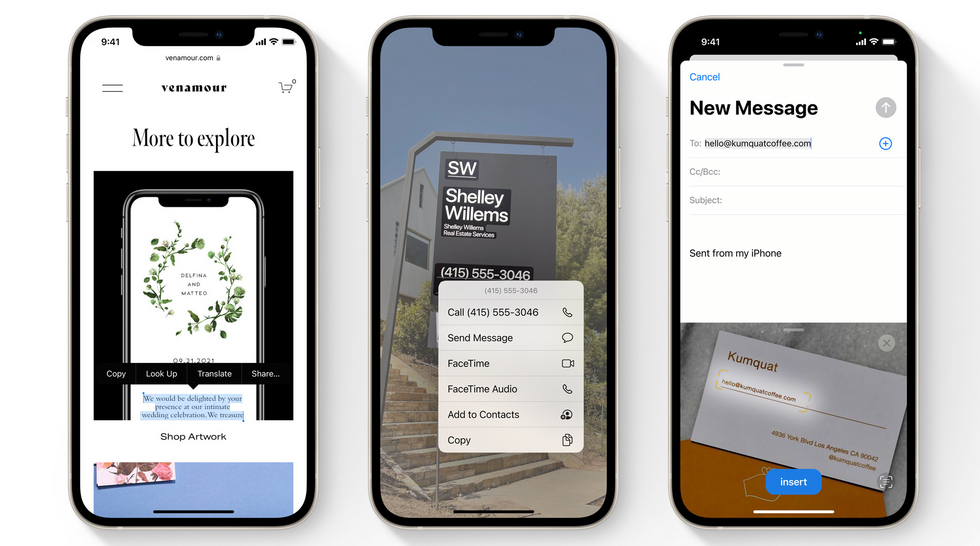 Live Text is an answer to Google Lens on Android Apple
Apple didn't talk about any changes to the camera app of iOS 15 – that will come when revealing the hardware of the next iPhone – but the update does include the company's answer to Google Lens.

Using artificial intelligence, the iPhone camera of iOS 15 can be pointed at a whiteboard full of writing, for example, then let the user select, copy and paste that writing as text in any app they like. This system also works in the Spotlight search tool, and even in old photos you already have saved on your iPhone.
For example, you can type the name of a restaurant and if you have a photograph of a menu or a receipt with the name visible, that photo will appear in the Spotlight search results.
Health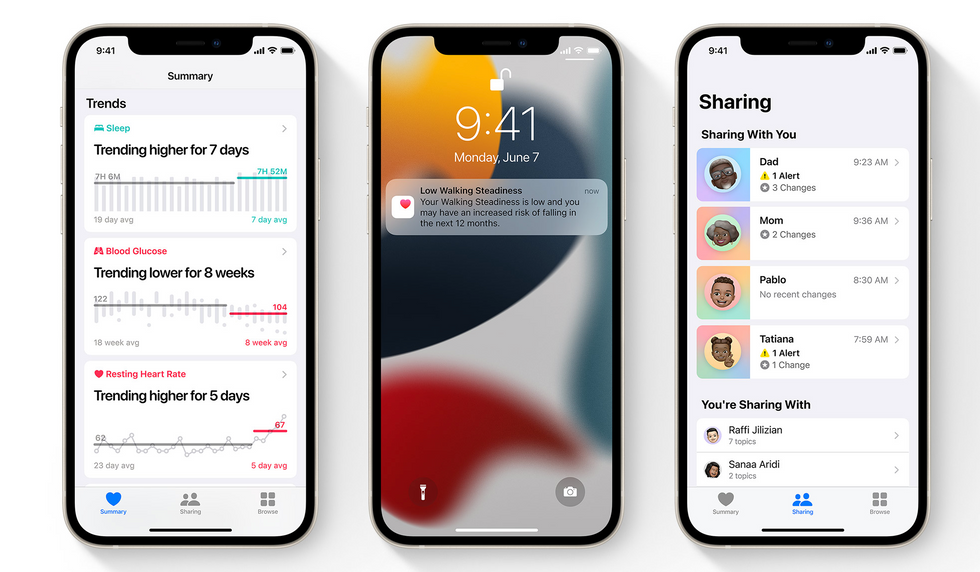 Updates to the Health app with iOS 15 Apple
Interestingly, Apple spoke more at WWDC about the Health app of the iPhone rather than that of the Apple Watch. A key new feature in iOS 15 is how an iPhone can use its motion sensors to understand how you walk.

By logging data for several walking metrics, the Health app can build up a picture of how you walk over many months. These data can then be used to determine how likely you are to accidentally fall over. If your walking and ability to balance correctly appears to worsen over time, the Health app of your iPhone can let you know, prompting you to see a health expert to investigate further.
Another detail highlighted in the Health app of iOS 15 is how family members can choose to share their health data with one another. That way, an elderly member of the family could let their child see alerts served up to them by the Health app, such as worsening balance and increased chance of taking a fall.
Maps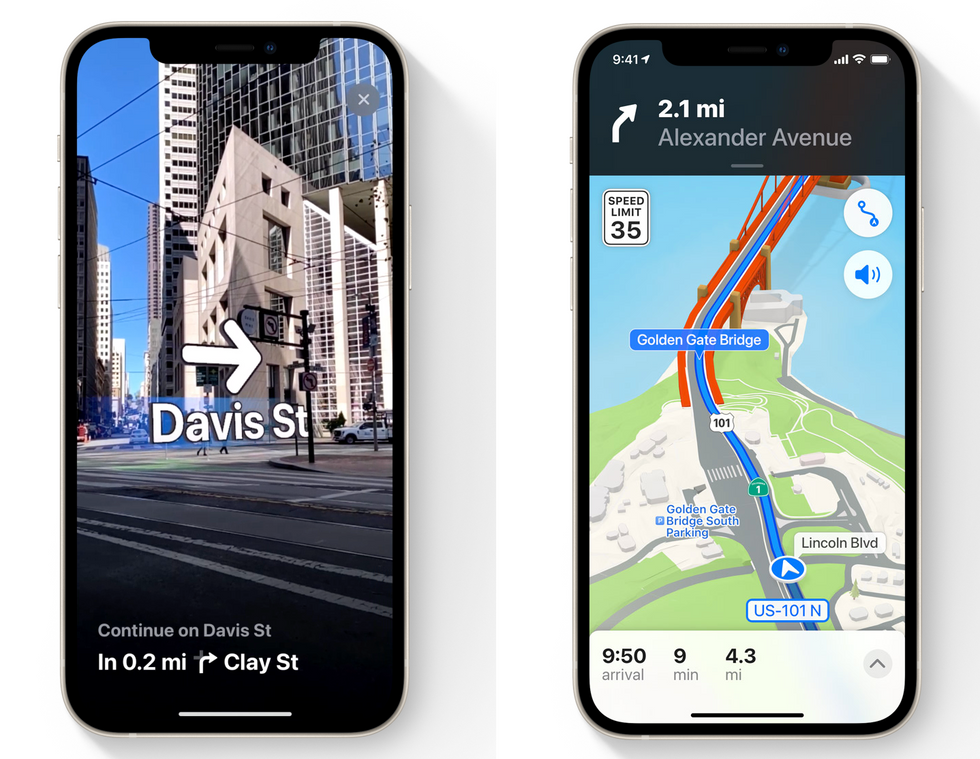 Maps in iOS 15 includes augmented reality directions Apple
The Maps app of iOS 15 is getting a visual update with more details imagery and 3D buildings, and a nighttime mode featuring moonlit environments.

A useful new feature uses the iPhone camera and augmented reality to help you find your way. For example, when you exit a station and aren't sure which direction to walk, the iPhone camera can overlay augmented labels and directions to help you set off in the right direction.
The Maps app also now includes transit notifications on the Apple Watch , which alerts you when you need to alight a bus.
Siri
Lastly, Siri has been updated so that it can perform some functions without needing a data connection. This means tasks like setting a timer should be competed more quickly, as the voice assistant no longer has to send every request to Apple's server for processing. Speaking of timers, iOS 15 is finally bringing the option for simultaneous timers, each with their own name.
Check out The GearBrain, our smart home compatibility checker to see the other compatible products that work with Apple HomeKit enabled devices.
Apple iPhone 12, 64GB, Blue - Fully Unlocked (Renewed)
Like GearBrain on Facebook