Apple has released data showing how little iPhone users are travelling by car, public transit and foot since coronavirus lockdown measures were implemented.
The anonymous data comes from routing requests made using Apple's Maps app, which is available on the iPhone and Mac. A routing request is when the app is used to look up directions from one place to another.
Read more:
The data, which is updated daily and available on this new page of the Apple website, shows how there has been a dramatic decline in the use of cars and public transit in countries and cities worldwide since lockdown measures were put into place.
Requests for walking directions have also fallen steeply, showing widespread compliance with requests by authorities for people to stay home and only make essential journeys.
Including all forms of transport at a national level, Apple has seen a 45 percent decline in routing requests in the U.S. since January 13, 2020, 46 percent in Germany, 70 percent in the UK and 85 percent in Italy.
Looking at the data more closely, public transit use in New York City has fallen by 87 percent, with walking down 81 percent and driving down by 64 percent. The entire dataset can be downloaded, showing the daily percentage change for every form of transport in every city and country measured by Apple.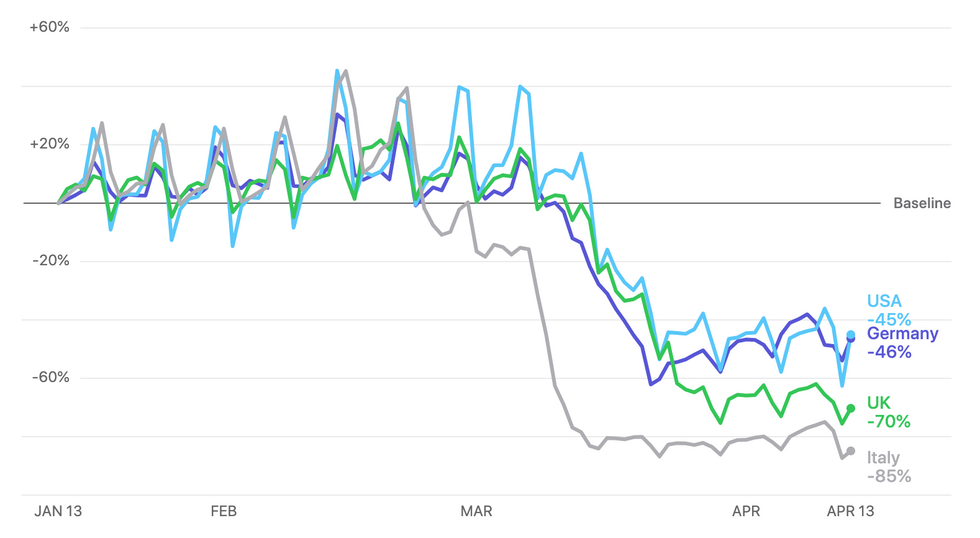 Data shows a steep decline in transport across the US and EuropeApple
Again looking at NYC, driving initially increased markedly (a trend seen elsewhere, too), up to a height of 125 percent of the January 13 baseline by March 7, before tumbling to 54 percent in 12 days.
Public transit use in New York City fell from 100 percent on March 5, to 25 percent two weeks later, then to just 13 percent by April 13, with driving at 36 percent and walking at 19 percent on the same day.
With regard to privacy, Apple said: "Privacy is one of our core values, so Maps doesn't associate your data with your Apple ID, and Apple doesn't keep a history of where you've been."
The company also added: "Data that is sent from users' devices to the Maps service is associated with random, rotating identifiers so Apple doesn't have a profile of your movements and searches."