Like GearBrain on Facebook
Although it hasn't yet been announced, and is likely to remain under wraps until at least 2022, news surrounding Apple's mixed reality headset is gathering pace.
The most recent tidbit of information to leak out from Cupertino, California is the weight of the headset, which according to Apple analyst Ming-Chi Kuo, could be under 150 grams. If accurate, this is an astonishing achievement, given how the Oculus Quest 2 headset weighs in at 503g.
Read More:
Kuo, who has a strong track record for accurate Apple predictions, said the Apple headset will achieve that low weight with help from a set of hybrid ultra-short focal length lenses. This is according to his latest research note, cited by 9to5Mac.
The device is said to use a Fresnel lens, a form of composite compact lens developed by the 18th century French physicist Augustin-Jean Fresnel. The benefits of this for the Apple headset are said to be improved field of view, as well as a reduced weight and thickness.
A further bid to save weight will reportedly include Apple making the lenses out of plastic instead of glass, but Kuo says it isn't known yet how this will affect their durability, given plastic's ability to scratch more easily than glass.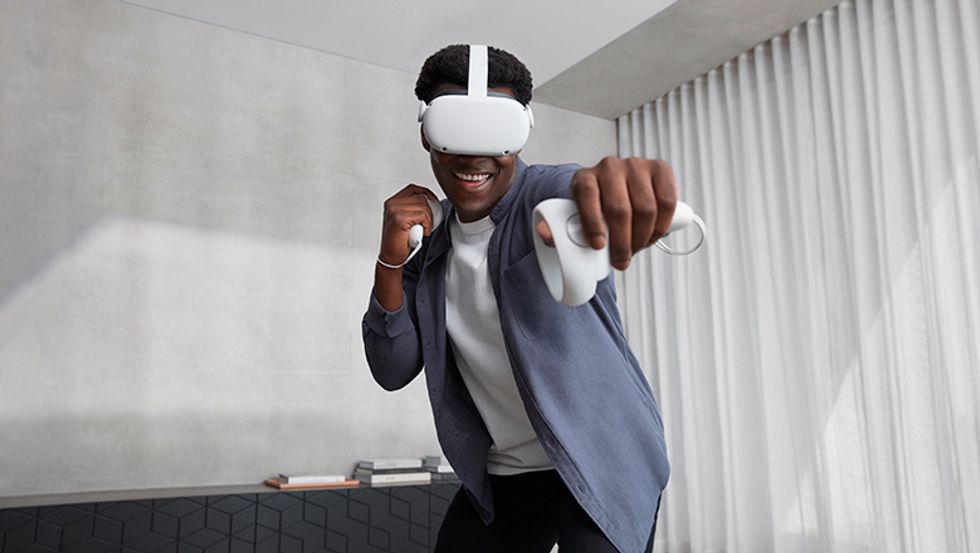 The Oculus Quest 2 weighs just over 500 grams Oculus
Kuo also repeated this week how he expects Apple to use Micro-OLED displays for the headset, in a bid to compensate for the reduced brightness caused by the Fresnel lenses.

Kuo has said a lot about the headset in recent weeks, and claimed earlier in March how the Apple VR device would have 15 integrated cameras to help with creating a virtual world for the wearer to explore and interact with. The analyst also believed the device will have an eye-tracking function to only sharpen the resolution of bits of the screen the wearer is looking at, in a bid to reduce performance requirements. Furthermore, Kuo said iris scanning for biometric security could also be possible.
Said to potentially cost in the region of $1,000 – over three times as expensive as the Oculus Quest 2 – the Apple headset, which doesn't yet have a name, is likely to arrive in 2022 as a premium iPhone accessory, It is thought to be joined by a pair of augmented reality smart glasses later, perhaps around 2024 or 2025.
Acer (AH101-D8EY) Windows Mixed Reality Headset Model VD.R05AP.002
From Your Site Articles
Related Articles Around the Web
Like GearBrain on Facebook